Garmin Monterra a 4-inch handheld Android GPS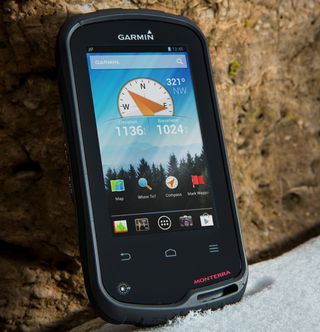 Garmin today announced the Monterra, a handheld GPS device with a 4-inch display running Android. It's got a proper WIfi connection, and full access to Google Play.
The device itself is rugged and waterproof, Garmin says. It's loaded with sensors you'd expect in such a device, including a three-axis compass, accelerometer and gyroscope, barometric altimeter and built-in UV sensor. It's running a dual-band GPS and GLONASS as well. It's got an 8-megapixel camera as well that records video in 1080p. Bluetooth 3.0 is on board, as is NFC (useful for ... NFCing in the wilderness) and is ANT+ capable for those fitness trackers.
One of Garmin's standout features on the Montera, however, is 3D MapMerge, which combines multiple kinds of maps, like TOPO, basemap or BirdsEye imagery.
The Montera will run $649 worldwide, or $699 win the U.S. with Navteq software on board. It'll be available sometime in the third quarter.
More: Garmin
Android Central Newsletter
Get instant access to breaking news, the hottest reviews, great deals and helpful tips
I don't get the point of this. Is it for hikers?

I could see this being useful to me as a hike, kayaker, motorcyclist. Posted via Android Central App

Depending on the battery life, for what you want, I would rather stick with either my Zumo 660,or the 550, they're both less expensive, and they only lack the camera feature.

Damn thats a little to pricy for me!

I agree. I've been looking for something to replace my Motoactv as I dropped it and the screen is all cracked. @ ~$700.00 I will look else ware.

This would be VERY useful for geocaching. Access to the Play store for the geocaching apps. Pricey, though.

Agreed. Running CacheSense or Neongeo right on the GPS itself... Drool!!! But still pricy. I understand the reason for the price, a lot of tech and a lot of protection for the tech, but it's still a lot of dough.

It seems like Garmin wants to survive as a company, but they're not really doing much to survive in the consumer market. The $100-350 price tag on their Nuvi line is insane when I can use my smartphone for the same thing. I put my stand alone car GPS on eBay YEARS ago when my smartphone and Gmaps replaced it. I still have my portable aviation GPS, but I've considered switching to some of the other options due to Garmin's insanely high prices. Garmin really makes some nice products, but they're pricing the stuff too high. I'm not really sure that there is a point to this new Monterra, I can do all of that with my smartphone and once it's in a waterproof case, they're equal. And I've saved $700....

I agree, their price point is way too high in a market where a smartphone gps is good enough for most purposes. They're shooting themselves on the foot with cost of map updates as well. They should offer reduced cost subscription options for map updates. Posted via Android Central App

*in* the foot Posted via Android Central App

1. Check your math
2. It has the good kind of GPS, and the good kind of compass, barometric altimeter and built it UV sensor. This is why the Device is high. You just don't find this sensors in any android yet,, so,, ppl got top pay up!
3. Yes they didn't include all high end specs, they could've put a 5 mp camera, (or no camera, just flash) to make this cheaper yet useful.

Just to be sure, this doesn't make regular calls right?

It does not look like it from the screenshot shown here, and there is no mention of any carriers so I do not believe it can. For the price listed, it should be able to.

Right, it should and LTE. It would've been a good choice for Verizon spoiled customers.

that would destroy the battery life. the whole point of this is to have insane battery life while running gps nonstop, so you can use it while hiking etc. without having to worry about it.

$700 is steep, but I'm curious what the battery life is going to be like. I still use a DeLorme PN-60 handheld GPS for geocaching. I don't have to worry about getting it wet or dropping it, and with the CabBatt battery I have for it I can use it all day long without running out of power. I'm not looking for a replacement yet, but this is interesting. The NFC capability may be a nice selling point as geocaches incorporating NFC tags seem to be popping up more often lately, and iPhone users are generally NFC-less thanks to Apple. The inclusion of ANT+ is helpful for being able to interface with Garmin's proprietary Chirp beacons. I'm interested in seeing what software this ships with. Since they run their own Opencaching site now, I'm curious to see if they include an app for that and leave you to find your own Groundspeak related app through Google Play. Also, is the GPS itself going to be on the same level as what their handhelds normally have or is it at the level of typical mobile devices? If they basically mail it in on the software and the GPS isn't up to their normal standards, I'm not interested.

Good question. Seemed to me like the GPS would be the good kind plus the bad kind. If you have read what sensors comes with and you go " the price is too high", more than likely means that the device isn't for you. That's ok. Let's see where this goes and hopefully one day we all can afford it

I guess I missed the line about the GPS from this article, but Garmin's announcement at http://garmin.blogs.com/my_weblog/2013/06/introducing-monterra-new-garmi... expands a little. "Thanks to its high-sensitivity, dual-band GPS and GLONASS receiver, Monterra finds its location quickly and maintains signal lock even in heavy cover and deep canyons." I'd be interested in hearing about some real world tests, but that at least sounds good. "Monterra is a heavyweight geocaching device, meaning it can hold millions of geocaches. Download caches from OpenCaching.com, or use a downloaded Android app, and users won't run out of room." Sure sounds like they expect you to go out and find your own app if you don't want to use their Opencaching site. I use Groundspeak's official Geocaching app to search for caches on the fly. You can use it when offline to access GPX files, but there's something that feels more clean about doing it on a device that has the features built-in. It's kind of like the differences in Android based cameras. When you turn a camera on, you want to be able to start taking pictures. You don't want to have to go navigate to the camera app and wait for it to open. I didn't see any specs on the battery life. They did say that it "has longer battery life". It's easier to give some real battery life information on normal closed system handhelds. It all depends what apps you run on this. I'm interested in seeing some real world testing on this.

They say this on their website about battery life: up to 16 hours (lithium-ion); up to 22 hours (AA batteries) https://buy.garmin.com/en-US/US/prod113522.html I'm interested in seeing this unit in person. Mostly because it would be a great addition to hiking and snowshoeing.

That's pretty impressive. I'm interested in seeing this unit in person as well.

It's a specialized market, not the same as the phone market. I suspect that they're doing well. I have their gps running watch and it's nice. https://buy.garmin.com/en-US/US/on-the-trail/handhelds/cOnTheTrail-cHand...

exactly! plus is great they're using android over using some custom rom or any microsoft cheapware. With android you get the Google Play Store and you can install the Amazon Appstore if you prefer; and be able to access hundreds of quality apps.

The problem with this is that many consumers will look at the price and say "I can just buy a phone and get an app for that much". Of course, they will be right! This will forever be nothing more than a niche product in a rapidly shrinking market.

It would do well if it was cheaper. Posted via Droid RAZR M on the Android Central App

Not necessarily. If you don't have much of a market anyway, dropping the price will only cut your profits down further with no volume to justify it. People like me wouldn't buy such a device at any price. It's why we don't even have dedicated nav devices anymore despite being dirt cheap. I think Garmin is going for hardcore cachers, hikers, and hunters. They won't sell many and know it. The high price means they won't have to.

I just use my old smartphone running a minimalist version of cmw. The phone is in an Otterbox Defender case ($35). For offline navigation I use Back Country Navigator $10 on play store. BCN uses topo maps, satellite, and road maps (free with app) . I have ATV overlays ($15) and Fish and Game boundaries ($5). Total price: about $65 plus my old phone. Posted via Android Central App

I don't think Garmin will sell many of these, since a good smartphone can do everything this unit can for about the same price, or much less. This just seems like rich kid's gadget, or something for professionals.
Garmin has some very nice equipment, but it is way overpriced, and too varied. They will eventually lose out to smart phones, and the only way they can survive might be to reduce the number of variations in their product line, and drop their prices. I think they just need to be more realistic. Posted from my Nexus 7 via Android Central App

NFC for..... GEOCACHING! Actually, this would be the ultimate tool for geocaching.

Wait wait. It takes AA batteries? That alone is a compelling feature. Posted via Android Central App
Android Central Newsletter
Get instant access to breaking news, the hottest reviews, great deals and helpful tips
Thank you for signing up to Android Central. You will receive a verification email shortly.
There was a problem. Please refresh the page and try again.