Samsung Galaxy Tab 8.9 review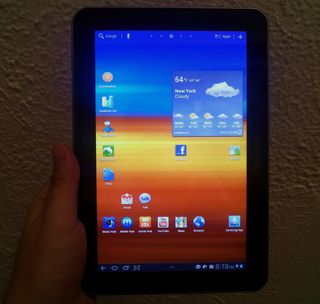 If you think there isn't much more to say about Samsung's Galaxy line of tablets, you're probably right. Since the Galaxy Tab 10.1 launched this past summer, it has been dissected and discussed a million times over. We love the screen, we love the thinness, and we almost love TouchWiz. And these feelings translate to the younger brother in the Galaxy Tab line, the 8.9. So instead of bending your ear about things we've already said, let me take a different perspective. We know what the Galaxy line has to offer, but what does the 8.9-inch form factor do to push the line even further? And most important, what can consumers get from the more compact size that they simply cannot with the 10.1?
Swipe to scroll horizontally

The screen is tremendous, the performance is outstanding, and the 8.9-inch footprint is the standard all tablets should live up to.

I wish Samsung could have squeezed a microSD slot in there. Also, the $469 base pricing is a bit high.

Row 1 - Cell 0



This is the Galaxy Tab we have all been waiting for. If you can stomach the price, and don't mind limited storage space, you cannot find a more refined, powerful, and beautiful Android tablet on the market today.
Just as the 10.1 impressed me with its sturdy-as-nails build, the 8.9 is a beautifully made device. It's a hair thinner than the 10.1; at 8.6 millimeters thick, it's technically the thinnest tablet on the market today. That'll change over time, drastically we're sure, but if you're into extremes, the 8.9 is as extreme as you'll get today. It's also noticeably thinner than the 10.1; I don't have a scale around to weigh the two devices, but the 8.9's smaller footprint does indeed include its weight.
And about that smaller footprint: I'm in love. As someone who forked over $500 for my Galaxy Tab 10.1, I'm kicking myself right about now. The 1.4-inch difference, while miniscule on paper, makes a world of difference. If you've handled a 10.1 and thought it was just a bit too big, you'll feel right at home with the 8.9. You'll be able to hold it in one hand without fatigue, and in both hands, you'll be able to type with your thumbs. Samsung clearly put a lot of thought into these different size points, and I for one am grateful. Take note, heavy readers: the 8.9-inch display is ideal for e-reading. You will not be disappointed.
Though the 10.1 and 8.9 share the same screen resolution (1200 x 800), the smaller screen reigns supreme, as its size lends itself to a sizeable bump in pixel density. And don't think you won't notice it. Compared side by side, the 8.9 looks noticeably brighter, sharper, and more colorful than its bigger brother. This isn't to say that the 10.1 doesn't have a gorgeous display, but the 8.9 is certainly more beautiful. And that's really saying something.
Size differences aside, the only other discrepancy you'll notice hardware-wise is the speaker placement. On the 8.9, the speakers are located on the bottom of the tablet, beside the charging port. Compared with the 10.1's speaker placement on the left and right side, I didn't notice any difference in sound quality. Both produce loud, clear volume, though remember, they are tablet speakers, and sounds as such. You won't be replacing your stereo speakers anytime soon.
Software
The Galaxy Tab 8.9 ships with Android 3.1 out of the box, running beneath Samsung's TouchWiz optimized for the Galaxy line of tablets. I've really grown to love TouchWiz on the Galaxy Tabs, as I think it's a huge improvement over stock Honeycomb. Aside from the aesthetic improvements, things seem much more user friendly. The row of "quick apps" at the bottom of the screen work flawlessly, though I wish they were customizable. TouchWiz does a number on Honeycomb widgets, and that's a good thing: they are resizable, prettier, and easier to customize.
All of Samsung's custom applications are here, too, including Media Hub, Social Hub, and Samsung's own app store. I really love Media Hub: its competitively priced, and the content is nothing to sniff at. I also really love the ability to purchase movies or TV shows and have them accessible across all of my Samsung devices. My interest in Social Hub is less enthusiastic, though that can be chalked up to my general distain for anything that aggregates my social networks.
Nothing can be said about TouchWiz that hasn't already been covered ad nauseam: if you're still curious and haven't had a chance to try it out in person, check out our detailed guide to TouchWiz here.
Performance
OK, here's where things get interesting. Remember when I said that this review would be more about how the Galaxy Tab 8.9 advances the Galaxy line where the 10.1 left off? Well, this is what I'm talking about.
The 8.9 has the same dual-core Tegra 2 processor, and the same 1 GB RAM, as its bigger brother, so you'd think that performance is created equal. You'd be wrong. Performance on the 8.9 is leaps and bounds better than the 10.1, and I have no idea why. I know, I know. Specs are the same, software is the same, Android is the same. Heck, even Quadrant produces the same score. What gives? I don't have an answer for you, other than that side-by-side performance between the two devices does not lie. The 8.9 is noticeably more agile than the 10.1: the stutters, hiccups, and delays that make the 10.1 at times challenging to use are nowhere to be found on the 8.9. apps open instantly, widgets load without hesitation, and multitasking is truly blazing. Things are fast, and I mean really fast.
And don't think you'll have for forsake speed for battery life. The 6,100 mAh battery last a long time, so long in fact that during my time with the 8.9, I only charged it a few times. When left in standby, on WiFi, you'll easily get a day to a day-and-a-half out of the 8.9. If you turn WiFi off when in standby, or turn the device off between use (it boots fast, so that's not too inconvenient), you'll get upwards of four to five days on a single charge. This thing never dies.
Let me make this clear: I find no joy in bragging about how fast the 8.9 is. In fact, it pains me that I forked over $500 before I got to see what Samsung is truly capable of. Hopefully the software and hardware optimizations that make the 8.9 fly can be added to the 10.1 in an update. I'm keeping my fingers crossed. We know you can make a bug-free tablet, Samsung. Now make sure all of your devices reach the bar you've set.
Cameras
Same old, same old. The front and rear cameras are identical to the ones on the 10.1, and have similar results. The 2-megapixel front-facer is more than adequate for video calling; in fact, testing out video chat over Google Talk produced really nice results. The rear camera has 3 megapixels and can shoot video in 720p. It's just fine in a pinch, but you'll find better on most smartphones on the market today. And to avoid the risk of looking really weird, we advise you to refrain from taking video with any tablet in public.
The wrap-up
The Galaxy Tab 8.9 is a really, really nice device, and I think it's safe to say that it is the best Android tablet on the market today. Take everything you loved about the Galaxy Tab 10.1, like the screen, the thinness, and the weight, and improve them just enough to push the Galaxy line of tablets to a level to be reckoned with. The 8.9 is super light, it's super thin, and it's finally the device I have been waiting for: big enough to enjoy content, and small enough to hold comfortably in one hand. This is a truly portable tablet.
And the 8.9's beauty isn't only skin deep. The Tegra 2 processor has been tweaked to really push the 8.9 along at breakneck speeds. I love how fluid the UI is, and how powerful the performance feels. This is how the 10.1 should perform, and hopefully, will perform after a few updates.
I didn't love everything. I wish Samsung could squeeze a microSD card slot in there somewhere, and HDMI-out would also be amazing. But if these are necessary sacrifices for the amazingly thin and light body, they are sacrifices I am willing to make.
I also think Honeycomb has room for improvement. There are certain tasks that shouldn't take nearly as many steps as they should, and bugs, while few and far between, are still present. For example, the market needs some tweaking. Fast. Bugs abound. But these are issues with Android 3.1, not with the Galaxy Tab 8.9.
If you're in the market for a Honeycomb tablet, you've met your match. The size cannot be beat, the screen is mind-blowingly gorgeous, and performance is top notch. The Galaxy Tab 8.9 advances the Galaxy line of tablets where the 10.1 somewhat disappointingly left off. This is the tablet that Samsung should be proud of.
The Samsung Galaxy Tab is available now in two sizes: the 16 GB model is priced at $469, and the 32 GB model is priced at $569.
Sign up for Black Friday email alerts!
Get the hottest deals available in your inbox plus news, reviews, opinion, analysis and more from the Android Central team.