If you're a true Note fan, the Note 20 Ultra is the only phone to get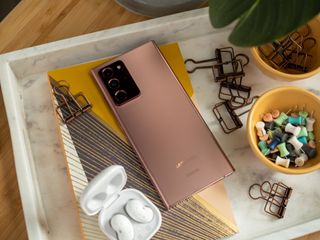 (Image credit: Andrew Martonik / Android Central)
For years, Samsung launched a single Galaxy Note, and it was the top-of-the-line phone for the company. With the Note 10 series, we got two Notes: one was smaller and with a few compromises, and both were effectively the same as the S10 series. Then we got the Galaxy Note 10 Lite, a cheaper device with an S Pen. And now we have the Note 20, which once again brings the Note name to a less-expensive phone that has corners cut. While the price looks appealing at first, this isn't the one Note fans want.
Let's review the differences between the Note 20 and Note 20 Ultra. The Note 20 has a smaller display, but also one that is only 60Hz — in a year when Samsung has gone all-in on 120Hz, and just spent an inordinate amount of time telling us how great 120Hz is and what it enables with the S Pen on the Note 20 Ultra. It has just 8GB of RAM instead of 12, and only 128GB of storage with no option for more or an SD card slot.
And it seems petty, but it's worth pointing out that the back of the Note 20 is plastic, not glass. Obviously it's superfluous if you're going to have a case on the phone 100% of the time; and it's worth noting the rest of the body is metal. But it's almost a point of principle — why are you trying to market this $1000 phone as high-end when it has a plastic back? Particularly as the S20, which retails for the same price, is glass.
These little differences may seem minuscule to the general smartphone buyer. In particular, I'll admit that most people wouldn't know the difference between having 8GB and 12GB of RAM, and the idea of using an SD card feels outdated. But looking at it all together, these things really mean something to someone who's historically been attracted to the Galaxy Note.
Yes the Note 20 Ultra is more expensive — $300 is a lot of money. It's bigger, heavier and has an awkwardly large camera bump compared to the Note 20. But Note fans don't care about any of that — they are willing to give up some convenience or stretch to deal with a larger phone to get more of everything. Wanting a Note is all about getting the most specs and features into a single device, even if there are trade-offs involved.
Samsung itself reiterates constantly that the Note line is for the "power users" and the "Galaxy fans" — the Galaxy Note 20 Ultra is the only model that still embodies that mindset, not the base Note 20. Thankfully for all of us, Samsung isn't walking away from the fans entirely. We still have the Note 20 Ultra, and it's clearly a proper Note that's well worth considering. It's just unfortunate that the brand is also being diluted by releasing a Note 20 that doesn't feel true to the line.
For the Note fans
(opens in new tab)
Samsung Galaxy Note 20 Ultra
It's more expensive, but you won't regret spending the extra money.
The Note 20 Ultra is the real Note, and it's worth stepping up to get all of the extra hardware it offers. The Note 20 just cuts too many corners.
Android Central Newsletter
Get instant access to breaking news, the hottest reviews, great deals and helpful tips
Andrew was an Executive Editor, U.S. at Android Central between 2012 and 2020.
And even that is interior to older devices in a lot of ways. They're both total rip offs.

Agreed. People are going to be disappointed in that battery.

I agree. I wish they stopped this crap of diluting the Note line. Although I'm not in the market for a new Galaxy Note (My Note9 works just fine), but if I was, I would never consider a Note that doesn't have a QHD screen. Never!

I'm upset that the weaker phone has a pure flat screen. I wish they would just stop with the edge displays and put this on all notes. ;/

The edge display curves are much less dramatic now on the S20 series and Note 20 Ultra. The glass curves much more sharply, really reducing the amount that you get accidental touches. It's mostly a way to just curve the bezel portion of the display.

Yes it looks nice- gives you that true bezel-less look. Glad they lessened the curve as I do get some accidental touches with the Note 10+

The base model note20, plastic back for a g-whizz? Too much, why did Samsung do this thing? To add insult to injury just a 60hz display, 😳 what, huh? Makes no sense!

The Note 20 Ultra will be great! They should have called the other thing the Note 20e..

The Note 20 Ultra should have been called simply the Note 20, and it should be at least $100 cheaper. The Note 20 should have been equipped with a regular Snapdragon 865 (instead of the plus) and be called the Note 20 Lite, and it should be $250 cheaper.

Seems to me the appropriate name for these two should have been the Galaxy Note 20 Lite and Galaxy Note 20! Good thing I decided to go with Oppo Find X2 pro last month!

"the idea of using an SD card feels outdated." Nope, I still use SD cards and refuse to get a phone that doesn't have one. I have over 100gb of local music and I'm not going through the nightmare of trying to transfer files via MTP.

Nope even the Note 20 Ultra is not a "true" Note.
Too many compromises for the price they are asking. Time to move on from Samsung. My Note 9 was the last "true" Note.

Same here, moved from note 9 also

Samsung neglects Europe and the Middle East. Here their phones come with a weak Exynos 990 processor, and not with the latest spec from qualcomm 865+
Android Central Newsletter
Get instant access to breaking news, the hottest reviews, great deals and helpful tips
Thank you for signing up to Android Central. You will receive a verification email shortly.
There was a problem. Please refresh the page and try again.