The future of augmented reality may actually be in shopping apps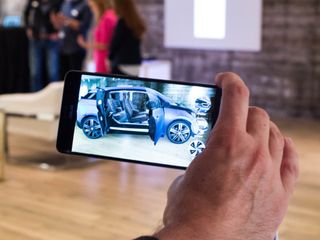 We've already established that it's the pervasiveness of online shopping apps killing the shopping mall. But what about augmented reality? Could that change the way we purchase things in the future?
I spent an hour this week at a pop-up showcase for the ASUS ZenFone AR. It's been nearly eight months since the smartphone was announced, and though we still don't have a launch date, it's bound to be on sale soon for anyone interested in a device that can do double duty. The 5.7-inch smartphone is compatible with both Tango and Daydream View.
The showcase itself featured varying demonstrations of the device's native augmented reality abilities, including apps like Google's Expeditions for the Classroom and Slingshot Island. What stood out most glaringly, however, were the two stations at the beginning dedicated to helping you buy things.
First up was Wayfair, an online marketplace for furniture and home goods. It already offers a bit of a faux reality element in its current Play Store implementation, but anyone with a Tango-enabled device will have access to its augmented reality features. The app lets you preview a fully four-dimensional furniture sample scaled relative to your environment. You'll even see the size of the box it'll arrive in, so you know how much cardboard chaos to expect in your tiny apartment.
The second app in the demonstration corral was one from BMW. It helps potential adopters primarily visualize their reality with BMW i3 or i5 car. The app even allows you to interact with the dials on the virtual dashboard, and you can change the colors of the exterior and interior at will.
These particular apps aren't groundbreaking in any manner — not if you compare the way AR is used in classrooms, for instance — but they are an ample reminder of how fundamental augmented reality will be for online commerce. This technology will let consumers try on a product before buying it — and they don't even have to leave the house! Retailers certainly see a future for it, too, as Wayfair and BMW aren't the only companies investing in this sort of thing. Amazon and The Gap allow you to preview clothing in real time, while Lowe's will show you what your kitchen is like with a new coat of paint.
"We see a lot of use of this technology in retail, for measuring your garage or buying big-ticket items like kitchens for example," Google's Eric Johnsen had said of augmented reality, in an interview with Bloomberg earlier this year.
Of course, none of the apps mentioned are perfect in their current implementation. Wayfair doesn't have a complete inventory catalog for its augmented reality feature, and The Gap's virtual dressing room app doesn't even let you preview the khakis on your own body. And anyway, not too many people have access to AR-enabled devices. There's no telling how well the ZenFone AR will sell, either, considering its launch time will likely coalesce around the Galaxy Note 8's.
There's a possibility that the new ARKit on iOS could help move this future forward, however, since it makes it easier for developers to hop on board. IKEA's already on board to build an app, and considering Apple's status in Silicon Valley, other high profile retailers are bound to be announced as the technology picks up more steam.
That's not to say that the entire future of AR rests on how well it performs on the iPhone. But rather, with more people accepting the idea that a 4D visualization is just how you preview things in this day and age, the more it's bound to become more standard practice over time.
Sign up for Black Friday email alerts!
Get the hottest deals available in your inbox plus news, reviews, opinion, analysis and more from the Android Central team.
Florence Ion was formerly an editor and columnist at Android Central. She writes about Android-powered devices of all types and explores their usefulness in her everyday life. You can follow her on Twitter or watch her Tuesday nights on All About Android.