Fleksy 5.0 gives you more control over your keyboard with extensions and new themes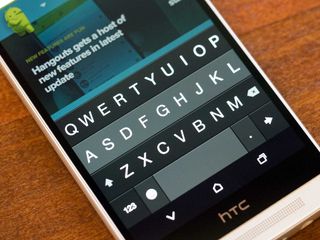 Popular third-party keyboard Fleksy has launched a major update today with version 5.0, expanding the capabilities of the keyboard, and letting users personalize it in new ways. Fleksy now lets you extend the keyboard, while also adding several new themes to their lineup.
Extensions in Fleksy let you change the keyboard to suit your needs. Fleksy 5.0 comes with five extensions/seven extensions, including a GIF keyboard, cursor control through the spacebar, and a one-handed mode. To activate extensions that add an extra row to the keyboard, swipe up with a finger/two fingers on the top row of the keyboard. You can have up to three extensions active at a time.
Fleksy's other updates include a number of new theme packs, including branded theme packs for Frozen and The Hunger Games. There are now 30 premium themes, including a new theme that changes color depending on the app that you're using. Fleksy for Android has also added Launcher functionality.
Fleksy 5.0 is rolling out on the Google Play Store (opens in new tab) right now.
Used fleksy for some time. Really liked it, but I also really like to swipe, so I went back to Google keyboard Posted via the Android Central App

Nothing beats the Kii Keyboard. It's a combination of everything good about Swype, Google, Swift, GO and others. Not to mention it's completely customizable and can use other keyboard themes etc. Most customizable keyboard I've ever found. I like that I can add a PC Keyboard layout as well.

I haven't seen Kii in the market? Did it get taken down? It was a great keyboard. Posted via Android Central App

I've been using SwiftKey, but the simplicity I'm seeing in that keyboard is appealing.... Posted via the Android Central App

I've been using SwiftKey for ages and every once in a while I switch over to Flecksy to give it a try but I always end up using SwiftKey. Posted via the Android Central App

That's me too. Maybe time to try Fleksy again. Or Kii?

The word prediction engine is missing in Fleksy and while the auto correction works great and the layout is nice, SwiftKey in my opinion is hard to beat.. At least on my GS3 :)

I've followed the beta for this and it has improved a lot. I like it but it also has a tendency to over correct meaning you have to read back what you've written carefully as there could be some serious typos! I also like using swipe so tend to favour the Google keyboard but I keep coming back to this. Can anyone tell me where the one handed mode is? I haven't seen that... Posted via the Android Central App

More like Fleksy corrects differently. Fleksy corrects for typos(its main feature), but it won't help you if you can't spell the word in the first place. Posted via Android Central App

I keep switching back and forth between Fleksy and SwiftKey. I feel like I can type quickly with Fleksy, although I do have to watch which word corrections appear. There are times when swiping is a better option, so I switch to SwiftKey for those. I'll have to check out the new features. They do sound interesting.

This update has been out since the weekend now. Flesky barely updated their Google playstore page with 5.0. Posted via the Android Central App

I have been using this keyboard for a few months now. This 5.0 update is awesome! I especially love the keyboard theme that changes color depending upon the app. Very cool! Posted via the Android Central App

How do you get the number row working I have it set to work but it's not showing. Posted via the Android Central App

Swipe up on the top row Posted via the Android Central App

This update is great! I still find myself going back to SwiftKey for some reason though... Probably has to do with the fact that I miss swiping too much. It's awesome to see how much Fleksy has improved since beta though! Posted on my Galaxy S5

Does it finally offer a numpad instead of numbers in a row? It's one of the main reasons I kept going back to SwiftKey. And no, I'm not talking about fields that are numbers only; I know Fleksy uses numpad for those cases.

I recently switched to Fleksy. Posted via the Android Central App
Android Central Newsletter
Get the best of Android Central in in your inbox, every day!
Thank you for signing up to Android Central. You will receive a verification email shortly.
There was a problem. Please refresh the page and try again.