First look: Lenovo's crazy Magic View smartwatch concept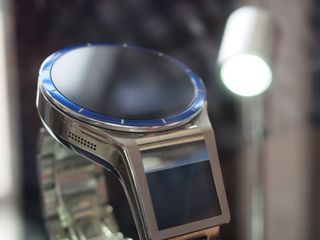 For Android followers and smartwatch fans, the most interesting announcement out of Lenovo's TechWorld event in Beijing might have been the company's crazy new concept design for a smartwatch, dubbed "Magic View." Part traditional smartwatch, part secondary display, the device introduces an intriguing new way to look at pictures or video on your wrist. Whether it'll ever take off in a consumer product remains to be seen. In the meantime we've had the chance to test out the watch in Beijing. Check past the break to learn more.
The Magic View concept is a pretty bulky beast, as might be expected for a limited proof-of-concept. Physically, it's about the size of LG's webOS-based Watch Urbane LTE The watch face itself seems like a distant cousin of the Moto 360, made by the Lenovo-owned Motorola. The "flat tire" cut-off portion of the screen remains in place, but besides that there bezels are about as thin as the 360's. For a prototype, it's not bad looking aside from the very obvious bulk.
Image 1 of 2
Image 2 of 2
It looks and behaves like a smartwatch. On the software side, however, Lenovo tells us it's not running Android Wear, but custom software based upon Android. Many of the UI elements and interactions are familiar, but it's clearly running something other than Google's standard wearable OS.
But the star of the show is Lenovo's new Virtual Interactive Display (VID), which lives below the main LCD on a panel of its own. This panel appears opaque from a distance, but hold it up to your eye and you'll see a full-sized image. It's not unlike the handful of eye-based wearable displays we've seen in recent years, including Google Glass and Sony's Smart Eyeglasses. The picture is clear, but significant movement has the potential to blur things out of focus.
Lenovo's demo units were loaded up with a few sample apps which make use of the VID. Firstly, a straight up video player served as a demonstration of the display's size and clarity, bot of which were pretty good. That said, we used the Magic View indoors, and it's unclear how well the technology behind it will adapt to daylight viewing.
Another demo involves a 360-degree Google Street View style panorama of a stadium, with the watch's sensors used to control the motion of the image, effectively giving you an interactive portal into wherever this spherical photo was taken. At a technical level it's an impressive sight to behold, though there's no doubt you're going to look a little goofy holding this thing up to your eye in public. It's also not clear how this is going to be any easier than pulling your phone out of your pocket, though the manufacturer is touting privacy as one reason you might want to view stuff on a tiny display only you can see.
Ultimately that's why we're still looking at a concept smartwatch, not a consumer product. And what's more, it's unclear how a second display would impact already tenuous smartwatch battery life. So there are challenges to be overcome here, it'll be interesting to see how Lenovo goes about implementing the VID in a more consumer-friendly product. In the meantime it's a fascinating technical showcase.
Image 1 of 15
Image 2 of 15
Image 3 of 15
Image 4 of 15
Image 5 of 15
Image 6 of 15
Image 7 of 15
Image 8 of 15
Image 9 of 15
Image 10 of 15
Image 11 of 15
Image 12 of 15
Image 13 of 15
Image 14 of 15
Image 15 of 15
Alex is global Executive Editor for Android Central, and is usually found in the UK. He has been blogging since before it was called that, and currently most of his time is spent leading video for AC, which involves pointing a camera at phones and speaking words at a microphone. He would just love to hear your thoughts at alex@androidcentral.com, or on the social things at @alexdobie.
Hurry up, build it and TAKE MY MONEY :)

Doing stuff for the sake of doing stuff can work out well for consumers sometimes. Time will tell where this..experiment will end up :P

This really doesn't solve a problem that a lot of people have.

Does it really need to, though? The original Galaxy Note didn't really solve any real problems, but it was unique and interesting. Tablets still don't really solve any real problems, unless a medium-sized Netflix screen counts, but they're super popular. I'm actually really excited to see of they take this mainstream, although the lack of Android Wear is a little disappointing (though probably necessary). Posted via the Android Central App

And that's really the only reason we should make anything.

Freakin awesome! dreaming of electric sheep

I honestly think this is the coolest smartwatch ever made and if they can make it with a reasonable price tag, it'll sell. Will it sell in Apple Watch numbers? No, but I think the watch itself is better than Apple's. Honestly, I think this is the most innovative wearable I've seen. Posted via the Android Central App

The question is, how much of an idiot will I look like while using it? Posted via the Android Central App

Just as much as my visually impaired friend. He has his watch almost into his eye to check time. Posted via the Android Central App

Quite. Why not just strap your phone to your wrist. Posted via Android Central App

Quite a bit i am sure, but no more dorky than anyone who walked around with Google Glasses. I must have missed something in the article. Why is it so cool to hold a watch up to my face to watch a video instead of just looking at on my phone that has a better display and be easier to hold? I guess it may be helpful for those who are getting snapchat videos from people they need to keep private.

First things to notice is the black bar without read the article. Posted via the Android Central App by OnePlus One

I wouldn't pay much attention to the moto 360 like black bar at the bottom of the screen. This is a concept/prototype watch. It's the second screen they were focusing on for this concept. They most likely built the prototype using the moto 360 internals instead of building something new.

I'M SITTING IN MY OWN URINE!!!

Errr what? Posted via the Android Central App

Well you would fit in at a Star Trek convention, just dress up like Kirk and speak into your smartwatch beam me up Scotty. Posted via the Android Central App

I'm throwing money at the screen but nothings happening....

That is one ugly beast! And I still don't understand the use of it. Why would I want to watch a video, look at Google maps, etc.. with my watch up to my eyeballs? And people think texting and driving is dangerous, how many wrecks will this cause? "Officer I was looking at the navigation on my watch". Guess I'm just not a smartwatch kind of guy. Posted via the Android Central App

Looks like another flat tyre fail.

I don't know about you but i would definitely buy it. :D Posted via the Android Central App

Can't wait until these watches project holograms, we're getting there people... The future is upon us! dreaming of electric sheep

Remember when mobile phones first started?
They were hard wired into your car and were huge.
Then the first handsets, big, clunky and bulky. Then they got cool, they got small, the Star phone, then later the Lotus, fit in a shirt pocket, flipped open fast enough like a Star Trek communicator.
Look at the size of that watch, might as well strap a monitor on your wrist, at least you'd be able to see it maybe outside in bright sunlight.
Marketing is fun to watch, pun intended. First you need/want small, then everyone who is going to have one has small. Then you need large and after everyone that's going to have one has large you need it in a watch, because your too lazy to pull large out of your pocket or hand bag so they are selling us huge watch's and convincing us we HAVE TO HAVE ONE.
I wonder what's next? Implants perhaps, cause you know we have to go back to small now that everyone has large. Posted via the Android Central App

This has been spewed over and over and over. Times change, so do the needs (wants) of people and technology.
I thought smartwatches were silly and didn't really fill much of a need until I actually started using one.
Being able to just flip my wrist around to check the time, a new notification, weather, etc without having to pull my phone out of my pocket every few minutes does wonders for my battery life on my phone, not to mention the convenience of it is amazing.
Stop being an old grandpa that hates change, if you dont want it, dont buy it, but a lot of us like new stuff.

Battery life: 12 minutes. Posted via the Android Central App

Ha. This seems like the next step for snapchat. Now you can make those photos really private.

I understand it's a concept, but the bridge between the first and second screens would have to be flexible to make this actually wearable, unless you have some crazy 45 degree angle on your wrist. The first image of the slide show under the "real" first image shows the "top" of the watch protruding away from the wrist due to the hard angle.

First thing, that comes to my mind, is that it looks lopsided, asymmetrical, and heavy as a smartwatch. It needs some redefining. Why is there an additional screen on a smartwatch? (Isn't one screen on a smartwatch, plus your smartphone enough?) I'm all in for prototypes, because they usually lead to good products, with advanced, useful features and breakthroughs. I'm not sure on this one. But I can't dismiss it, especially if I haven't tried it. (Just my opinion.) Time will tell... Posted via the Android Central App

I'm not a watch guy, but I can see a lot of nerds loving it ... kinda ugly imo Posted via the Android Central App

I wonder how high they were when they came up with the idea for this watch haha Posted via the Android Central App

That was along the lines of my first thought Posted via the Android Central App

No thanks. That little display has few uses and after my two tries with Samsung Gear products I'm done with "custom" software. Posted via the Android Central App

Nothing wrong with gear. Not perfect but the only ones I have heard say they hate it is the Nexus types. Posted via the Android Central App

Jesus Christ rebel couldn't have said it any better

Finally! A way to watch porn on the subway without the disapproving looks from strangers. Oh, wait...

This will fail, I guarantee it.
Android Central Newsletter
Get the best of Android Central in in your inbox, every day!
Thank you for signing up to Android Central. You will receive a verification email shortly.
There was a problem. Please refresh the page and try again.