Firefox Focus browser with built-in ad blocking lands on Android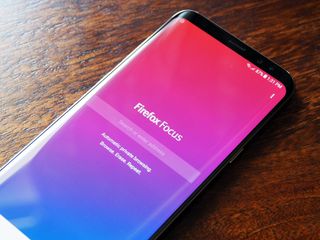 (Image credit: Jerry Hildenbrand / Android Central)
The Firefox Focus browser made its debut last year on the iPhone and iPad, and now the company is bringing the privacy-focused browser to Android (opens in new tab). The highlight of the browser is built-in ad blocking, which not only gets rid of ads on websites, but also prevents web trackers from serving you ads across the internet.
Ad blocking is enabled by default, and the home screen is sparse but for an address bar where you can enter the URL of the site you want to visit, and an action overflow button that gives you access to the browser's settings. Yahoo is the default search engine, but you can choose between Google, Amazon, DuckDuckGo, Twitter, and Wikipedia. You won't find any tabs, and there's the option to delete your browsing history with a single tap of the erase button located in the bottom right corner.
The browser automatically loads in "stealth mode," which disables screenshots and greys out whatever website you're viewing from being visible in the recent apps list. By automatically blocking ads, Firefox claims that it can deliver pages faster while consuming less data.
The Android version has a counter that shows you how many ad trackers that are blocked per site, and you can turn off the tracker blocker with a quick toggle if a particular page isn't loading correctly. Firefox will also deliver a notification if it detects that the browser is still running in the background. And you can also set it as the default browser on your phone.
There's certainly a lot to like here, particularly if you're interested in protecting your privacy online. The Firefox Focus browser is now available for free from the Play Store (opens in new tab). Who's looking to give it a go?
Firefox Focus New to Android, blocks annoying ads and protects your privacy
Last year, we introduced Firefox Focus, a new browser for the iPhone and iPad, designed to be fast, simple and always private. A lot has happened since November; and more than ever before, we're seeing consumers play an active role in trying to protect their personal data and save valuable megabytes on their data plans.
While we knew that Focus provided a useful service for those times when you want to keep your web browsing to yourself, we were floored by your response – it's the highest rated browser from a trusted brand for the iPhone and iPad, earning a 4.6 average rating on the App Store. Today, I'm thrilled to announce that we're launching our Firefox Focus mobile app for Android.
Like the iPhone and iPad version, the Android app is free of tabs and other visual clutter, and erasing your sessions is as easy as a simple tap. Firefox Focus allows you to browse the web without being followed by tracking ads which are notoriously known for slowing down your mobile experience. Why do we block these ad trackers? Because they not only track your behavior without your knowledge, they also slow down the web on your mobile device.
New Features for Android
For the Android release of Firefox Focus, we added the following features:
Ad tracker counter – For the curious, there's a counter to list the number of ads that are blocked per site while using the app.
Disable tracker blocker – For sites that are not loading correctly, you can disable the tracker blocker to quickly take care of it and get back to where you've left off.
Notification reminder – When Focus is running in the background, we'll remind you through a notification and you can easily tap to erase your browsing history.
For Android users we also made Focus a great default browser experience. Since we support both custom tabs and the ability to disable the ad blocking as needed, it works great with apps like Facebook when you just want to read an article without being tracked. We built Focus to empower you on the mobile web, and we will continue to introduce new features that make our products even better. Thanks for using Firefox Focus for a faster and more private mobile browsing experience.
Get the Android Central Newsletter
Instant access to breaking news, the hottest reviews, great deals and helpful tips.
Harish Jonnalagadda is a Senior Editor overseeing Asia at Android Central. He leads the site's coverage of Chinese phone brands, contributing to reviews, features, and buying guides. He also writes about storage servers, audio products, and the semiconductor industry. Contact him on Twitter at @chunkynerd.
How does it interact with any pre-existing ad blockers on the device?
Sounds pretty good...

I'm going to try this out and see how it compared to Dolphin with its built in ad blocker.

I disagree. It seems that the point is privacy, not minimalism. I can't imagine using a browser without tabs anymore. It's like basic minimum functionality for me.

That's the nature of the internet now, it has to be basic, just to do it's job. Anything less and you have varying degrees of "ad mania" . Default will always be chrome for my phone, but there's others that say ad blocking abilities, but in practice, no.

Yeah it really is too basic. I just fired it up and gave it a spin. This definitely cannot be a default browser but it certainly is perhaps the most private centric browser I have ever seen

I want to try it, I really like Firefox on the PC so I'm curious.

Difference between this and Brave?

That was my first thought, too. Tabs is the answer. At least from first glance. Brave is my daily driver. I'm going to see where this has a place as a supplement. Or, rather, if it does.

Only supports mobile view, no way to force desktop view so I already deleted it.

It's great for a no ad experience, and yes, it loads pages faster( even though sometimes, when the ads are trying to break through, you may wait until the browser stops them), it's no nonsense. What I don't like, is there's no way to save, or have bookmarks. I don't care about desktop view in a mobile phone, mobile view works better for me. I have adguard running on my phone, and I see no conflicts.

How is it compared to Samsung Internet Browser with ad blocker?

So, let me get this straight. A browser that is supposedly dedicated to blocking ads and your privacy uses YAHOO as it's default search engine? Does anyone really think they do a shred less tracking than Google? They just weren't as good at monetizing it. If they really meant it about privacy and ads they should have gone with Duck Duck Go.

Exactly. Duckduck go works pretty well. I can't understand why they didn't use it as the default search engine

The important thing for me is speed and reliability. I can block ads now, so that's not a new benefit, I can use 5 blockers simultaneously on the Samsung Internet Browser. I'll be giving it a go however. If it's silky smooth, fast and reliable, I'll use it.

It is not compatible with my Nexus tablet. Designed for phones only.

Is this article for real? Encouraging use of an ad blocker? Try to read this site using an ad blocker and your get a big pop up saying
It looks like you're using an adblocker.
Adblockers make us sad. We use ads to keep our content happy and free. Please support us by whitelisting us. You can report badly behaved ads by clicking/tapping the nearby 'Advertisement' text. Try to use this site without an ad blocker and you get bogged down in adverts, and it loads very slowly.