Family Link gains per-app time limits and bonus time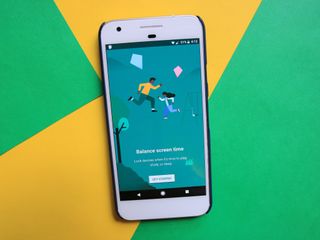 What you need to know
Google is adding per-app time limits and bonus time to Family Link.
Per-app time limits will allow you to limit the amount of time your kids use in certain apps.
Bonus time lets you give your kids more screen time in five-minute increments without having to adjust the global level.
As Android continues to evolve, it does so with your family in mind. With Android 10, Google baked Family Link parental tools directly into the OS to make them easier than ever to use.
Now, Google has more good news for all the parents out there as Family Link has gained two new features. The first is a per-app time limit which will help you curb your kids from spending all day playing games, when they could be using more educational apps. That means less Fortnite for little Timmy and more Duolingo.
The next new feature will come in handy for those times when the kids just won't stop begging for "five more minutes." With "Bonus time", parents will have the ability to give additional screen time in five-minute increments.
That's a lot easier than the old way which required you to raise the global limit, only to have to lower it again later. This makes it nice and simple to reward your kids, without making it a hassle to adjust the limit constantly.
Both of these features were previously announced back in May at Google I/O, but have just now begun rolling out. Update to the latest versions of the Google Family Link app for parents (opens in new tab) and the one for children and teens (opens in new tab) to start using these features today.
5 things parents need to know about buying their kid a phone
Get the Android Central Newsletter
Instant access to breaking news, the hottest reviews, great deals and helpful tips.
Now if they could bring back support for multiple users on one device. We have a smartphone for our home phone. Three of my younger kids don't have their own phone but use this one with permission. This also applies to when they borrow my phone. They each have their own user set up so they don't mess with my stuff, but I can't add familylink to their accounts on my phone. I can't get data on who is using it more than another because of this. On our spare phone my 12 year old always complains about the 5 year old level purchase limits so the phone stays safe for my youngest. This used to work Google! Fix it!