EVO 3D Overclocked to 1.7GHz, Sensation 4G to follow soon [Updated: Now available at 1.8GHz]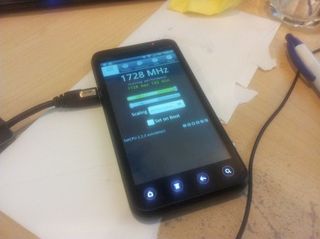 Here's something to whet the appetites of EVO 3D and Sensation 4G owners alike, an overclock to 1.7GHz! Michael Huang, the developer of SetCPU, posted this picture to Twitter of the EVO 3D running his application and clocked at 1728MHz. Yes, the EVO 3D is still S-ON and still only has temporary root (no custom ROMs or kernels) but this was accomplished with a loadable kernel module. For those of you who may not know, the Qualcomm MSM8660 utilized by the EVO 3D and Sensation 4G is a dual-core chip clocked at 1.2GHz out of the box, so this is a healthy increase over stock. Huang promises it's coming soon, so you'll have to hold your horses for a little bit longer. With S-OFF, full root, custom ROMs and kernels, is it possible we'll see 2GHz in the near future for these devices? Sound off in the comments.
Update: The overclock for the EVO 3D has been released now and the clock speed has been upped to 1.8GHz. You can check out the thread on XDA.
Thanks, hckyplayer024! Source: @coolbho3k
Whaaaaa.. That's insane, can't wait to try it out

Big shout out to Michael Huang, leading the way of future development on such a great phone!

I can't wait to see CM7 (maybe 8 by then) with these kind of speeds. I remember the massive speed boost my OG EVO got when I first installed cm and overclocked it. Here's hoping.

Footnote: Full battery discharged after 4 minutes at 1728MHz. :P

No, not really. I have my evo Shift overclocked to 1.5 and I get about 14 hours of battery life.

Sheeeeesh! Imagine at 2 ghz my 3d will be a monster!

So imagine this, plus CM7 or CM8 with ICS. Two 1.7 or 2.0 cores running optimized ICS. Madness I say

No, this is SPARTAAAAAA!! lol sorry

Not too surprising considering that the cpu in these phones is spec'd at running 1.5 ghz, htc just stock underclocked then for battery reasons.

This is great to see. I have been conducting my research into ROOTING and the best way to do it. One day down the road I will do exactly that with my EVO 3D for now I am satisfied.

This coming from the moron who said "rooting is for 2 plus year old phones"? Riiiiiight.

meh.....Thats cool and all but....impractical for every day use. Promised to have FC's and more than likely auto reboot every time you tried to use more than 2 or 3 apps.

OMFG if my sensation 4G will speed like that this will be nutz cant wait to root n this phone n wit CM the best of the best

I'm sure that's really good for the battery.

it is not bad for the battery as long as you have a way to make sure its not overheating. I have over clocked many phones and its just a matter of not exceeding recommended battery temp.

So buying the upcoming extended battery will only yield me 8 minutes of ON time at those clock speeds? I guess we will have to wait for those super-batteries to come out, I believe I reposted a link somewhere, have to find it.

This is great. Really excited to try it.

You can OC anything but the battery will last an hr if you do anything,not real useful in day to day use.Batteries are the problem with all electronics it is the weak link.

Sniff, sniff. Smells like some 3d BBQ :-)

that is an amazing OC. how come the OG Evo could barely pass 1.1 ghz?

I apologize got my ignorance, I had someone root my phone & I installed setcpu and tegrak overclock ultimate on my epic 4g. every time I over clocked pass 1.0 my phone kept freezing Every 30 min, I would have to remove battery to reset phone. Even now just being rooted my phone freezes up every day and it's very unresponsive. I'm considering unrooting. Any advice?

find a more stable oc speed you cant just turn up the power and expect it to work you need to have a specific frequency on each kind of phone

That over heating in melt down in your pocket just got hotter. :-)
Android Central Newsletter
Get the best of Android Central in in your inbox, every day!
Thank you for signing up to Android Central. You will receive a verification email shortly.
There was a problem. Please refresh the page and try again.