Eve: Valkyrie will support cross-platform play on Oculus Rift, HTC Vive, and PlayStation VR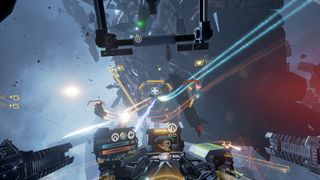 Eve: Valkyrie, a space combat simulator and one of the more prominent launch titles for the Oculus Rift, has been previously revealed to also be coming to the HTC Vive and PlayStation VR. Now, developer CCP has revealed that the game will feature cross-platform play. This means that you'll be able to fly through space with those that own either of the other two.
From Polygon:
CCP hasn't announced when cross-platform support will arrive for the game, but it's good to known that no matter which headset you prefer, or are able to get your hands on, there will be plenty of people flying alongside you.
Cool. Now just work on that level grind.

It's cool that it'll allow cross platform play with PS VR, but we PC gamers shouldn't be tricked into thinking of the vive and rift as "platforms". They're peripherals, like gamepads. There's an argument for the controllers you need, but the headsets should just work. We shouldn't let ourselves be conned into a " format war ". It's best to assume I'm being sarcastic. if I'm ever serious I'll type "/s" to make it clear.

Totally agree. I'm sure there are some proprietary APIs and stuff for specific features to each, but that's just like how AMD and nVidia each have their own special addons that developers can add to games.
Marketing likes people to think one way or another though. Posted via the Android Central App

Where can I download eve Valkyrie Posted via the Android Central App
Android Central Newsletter
Get the best of Android Central in in your inbox, every day!
Thank you for signing up to Android Central. You will receive a verification email shortly.
There was a problem. Please refresh the page and try again.