The EU wants to mandate USB-C ports on smartphones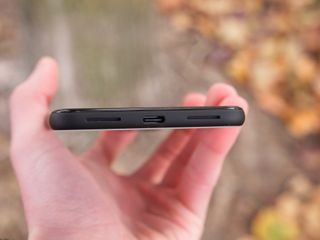 (Image credit: Joe Maring / Android Central)
What you need to know
The EU is moving towards mandating USB-C adoption on electronics.
The bloc had previously adopted a voluntary directive back in 2014, but the results were less than satisfactory.
Now, USB-C might be made a mandatory inclusion irrespective of the price-point or OEM.
USB-C is more or less a standard in 2020. Smartphones like the Pixel 4 come with it, Apple's iPads have adopted it, and even laptops are powered with USB-C ports. Yet, while it's everywhere, it's not entirely ubiquitous. Some lower-end devices from brands as storied as Huawei and Nokia still ship with Micro-USB ports. So while it's a standard on all flagships, it hasn't reached the saturation point where the EU is satisfied.
The bloc had pushed for the establishment of a common charging standard that would fit "all mobile phones, tablets, e-book readers and other portable devices" back in 2014, and adopted a policy of gently nudging industry leaders towards USB-C adoption. It's now 2020 and said policy hasn't been entirely successful.
"The Commission's approach of "encouraging" industry to develop common chargers fell short of the co-legislators' objectives. The voluntary agreements between different industry players have not yielded the desired results," the EU said. The measure was intended to decrease electronic waste, with chargers generating 51,000 tons of waste annually.
While smartphones like the Samsung Galaxy Note 10 and the OnePlus 7 Pro are more popular and visible, it is other low-end smartphones that drive and dominate the market due to their low-cost.
Huawei's P-Smart 2019 and the Nokia 3.2 will sell in high enough amounts that they'll end up keeping Micro-USB alive for years longer. XIaomi's Redmi 7A, one of 2019's top-selling phones, is also equipped with a Micro-USB port. That's not even accounting for the industry of replacement cables which will also serve to generate more waste as users buy spares and replace faulty ones.
With that perspective, it's little wonder the EU is looking at adopting more binding measures.
One of the best
(opens in new tab)
The fastest
Anker's Powerline II is the USB-C cable to get if you're interested in speed. It has some of the fastest data transfer speeds with up to 10Gbs and some of the fastest charging speeds with up to 100W.
Android Central Newsletter
Get instant access to breaking news, the hottest reviews, great deals and helpful tips
Nokia and Huawei? How about iPhones?

Means nothing without a standard protocol though. Sure, the connector will be the same but it doesn't mean they will work with any charger or USB-C connection or that you are guaranteed not to fry your phone with the wrong charger.

Watch Apple fight tooth and nail against this.

because they won't be able to Gouge with the lightning cable lol

Apple is already switching to USB-C on a lot of devices. iPhone will be next

Not in the EU but it seems this might hold back innovation and drive up costs. If you are required to have a USB-C will you be as fast to innovate to the next technology. Is there a cost difference to the manufacturer? It may be small but may drive up the cost of budget device. Replacing cables doesn't seem like it would change much. We just replaced last USB-Micro smartphone in our house and it's replacement happens to come USB-C. Now I have a lot of waste from existing cables that won't be used much (we still have some USB-Micro non-phone devices) and had to spend money to buy several more spare USB-C cables (Because my cables always disappear behind my back!).

This thinking makes no sense. A company that needs to work with one port, or multiple ports, is always cheaper having one standard as that standard can be bought in bulk.

Standardisation ALWAYS brings down costs and reduces profit margins, that's why manufacturers try to have "lock-in specs" look at all of Apple products from the chargers to the arcane interfaces such as firewire. Give them their due they are very successful. Look at their profits (and the tax they don't pay). Cisco too have their "lock-in specs". HSRP, EIGRP, their PoE provision. They all do it to retain profit margin.
As for all wasted cables buy an adaptor cable whilst your device is still current.
As for cables dis-appearing behind your back, perhaps you need to speak to the likely miscreants ;-)

Keep your old micro USB cables and buy a pack of C adapters. They're cheap as chips and work really well.

This is a waste of time and money for everybody involved. From the non elected officials that run the EU, to the civilians that live in the countrys under the EU, and the companies trying to sell products inside the EU.

I have to agree. Last time they did this, we had at least 15 different charges coming and going. That made sense to limit all of the ports down to one, Micro USB. In today's world, you have only two main cable type. There's more types of USB C than there are cables types out in the wild. Fix that, please.

Yes. But usb 2.0 type C cables should be banned so we will only have usb 3 capable cables

No it is not. This will drive cost down for consumers as chargers no longer need to be supplied with a phone. One standard also means less chargers being thrown away. Currently 5-6 million a year in the EU alone. So it is an environmental issue as well

This article gets everything completely wrong about the push they're making. The cable and the port on the phone aren't what the directive is aimed at, its the wall chargers. They want the wall warts to all be switched over to USB C, which a lot are moving towards. (even Apple) They're not going to care what plug the phone has.
Android Central Newsletter
Get instant access to breaking news, the hottest reviews, great deals and helpful tips
Thank you for signing up to Android Central. You will receive a verification email shortly.
There was a problem. Please refresh the page and try again.