Essential Accessories for LG G5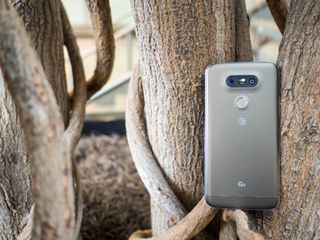 Do you have your phone on you at all times ready to respond to every call, text, and email that comes your way? Do you use your phone as your primary TV, game console, and music player? If that sounds like you, then you my friend, are a power user.
Great accessories are the icing on the phone cake. You already have the the phone you want that works amazingly well, now you want those little extra pieces of hardware that just make your life that much easier. We've rounded up some accessories for the LG G5 you won't want to miss out on.
Spigen Rugged Armor case
You can't do much better for the price than Spigen's excellent Rugged Armor cases, which fits like a glove on the G5.
A single piece of soft, flexible TPU, the Rugged Armor case nonetheless provides a considerable amount of protection for its $12.99 price, with ample space to access the G5's rear fingerprint sensor and bottom USB-C port.
Aukey dual-port car charger
If you use your LG G5 for everything you possibly can, then you might find yourself tethered to a power outlet more often than you'd like. If you find yourself needing a charge on the road, then the Aukey dual-port car charger is a great solution.
This car charger plugs into your car cigarette lighter and has two USB ports, so you can charge twice the devices. The top port is a Quick Charge 3.0-compatible port and is specifically meant to get the fastest charge out of the USB-C connection. So, grab the Aukey dual-port car charger, ditch the wall socket, get out on the road, and charge your G5 in no time.
LG G5 official battery charger
The LG G5 is one of the few devices on the market with a removable battery, which means — obviously — that you can buy a spare one to keep around in an emergency.
LG's official G5 battery charger comes with a spare battery and a convenient little case that can charge it independently from the one in your phone. If you run out of juice and can't charge your phone on the go, having a fully-charged battery backup comes in pretty handy. Trust us, we've been through it! With a 2,800mAh charge, the G5's battery should last you all day, but just in case it doesn't, this spare one is a great addition to your kit.
Encased desktop charger
Charging your phone in your office can be a bit of a nightmare. If you are trying to do your work, and use your phone at the same time you probably start wondering why you only have two hands.
Encased makes a neat charger that allows you LG G5 to remain upright. It may not seem like much, but when you think of how many times you touch your phone in a day, having the ability to do so without holding it sounds pretty nice doesn't?
You can plug the charger into your computer's USB port but we suggest plugging it in directly to a wall socket for the best effect.
Joto LG G5 armband case
For anyone who uses apps to workout — whether it's heavy cardio or pumping lots of iron — an armband case is a great accessory to have. You can strap your phone to your arm and not worry about dropping or damaging it.
Joto's armband cases is specifically made for the LG G5 so it fits the phone really well and feels really secure. The back of the armband also has a few card slots for you to store bank cards or a little cash so you can even run to do your errands no problem!
Added bonus of this armband is it's sweat-resistant, so it works well even for those really long runs, or intense workouts.
IQ Shield screen protector
Screens are delicate, and can too easily be scratched and chipped but that doesn't need to happen to your LG G5. Screen protectors are life savers — or more accurately phone savers — that are a really good investment for anyone who want to keep their phones screen looking brand new.
IQ Shield offers a screen protector that is a little difficult to put on, but once you do it right it is immaculate. It uses a mild amount of liquid (very minor, don't be afraid) to really make that protector stick to the screen. IQ Shield offers a lifetime warranty and will send you a new screen protector free of charge anytime the product is damaged or defective in anyway.
Need more things?
This is just scratching the surface of cool things you can buy to go along with your LG G5. Check out these sweet clear cases for the LG G5.
Get the Android Central Newsletter
Instant access to breaking news, the hottest reviews, great deals and helpful tips.
Daniel Bader was a former Android Central Editor-in-Chief and Executive Editor for iMore and Windows Central.