Emperion teases a 'phone' running Windows 10 on ARM that can run Android apps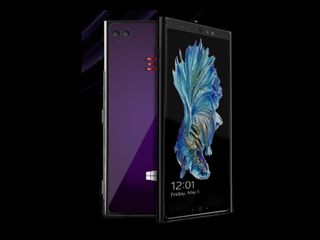 (Image credit: Emperion)
What you need to know
Emperion teased a "phone" that runs Windows 10 on ARM.
Windows 10 on ARM can't make phone calls, however.
The "phone" can also run Android apps without an emulator or switching between operating systems.
Microsoft allegedly worked with Emperion to "put the Nebulus together."
Windows Phone fans might have a reason to rejoice. Emperion teased a phone on Twitter that runs Windows 10 on ARM. This would be the first device of its kind and opens the doors for the mobile experience of Windows. Jeremy Sinclair reached out to Emperion and got more details about the device. He was kind enough to share those details with us for this article. Emperion refers to the phone as the Nebulus in its discussions with Sinclair.
Before diving into the device further, it's worth highlighting that this news is a single tweet and some follow up answers. Emperion did not release a press release or an official statement with the information. With that being said, let's take a look at what Emperion says about the phone.
There's plenty of information to digest with this device, but here are a few key takeaways. First, the device is running Windows 10 on ARM with Emperion's own UI. It runs on an overclocked Snapdragon 845 processor. Emperion states that "Microsoft have been instrumental in helping us put the Nebulus together and they've been a great help!"
Emperion will sell the phone SIM-free through its website and are currently in negotiations with a cellular provider in the UK. The company has plans to ship the device in the US.
The Nebulus will be able to able to switch to a desktop mode through USB-C or wireless, similarly to Continuum.
Emperion also specified that the Nebulus will be able to run Android apps, stating, "We've included the ability to use Android apps from within windows without an emulator or having to switch between operating systems.
The device will be single SIM and carrier unlocked. It will have expandable storage up to 2TB through microSD. It also has a headphone jack.
Emperion will offer just one model of the device. Emperion states that they "feel that a flagship should remain so for the lifetime of the product in our range."
Finally, we should note that Windows 10 on ARM does not have native telephony abilities meaning we're not sure how this can actually be a "smartphone" in the traditional sense. Perhaps they will use Skype and LTE for calls and messages, but for now there are still many more questions than answers including whether it will be any good (or if it's just all hype).
Very interesting. Too bad it's from a company no one ever heard of. I guess if it was cheap enough to play with before the company goes bankrupt :P

I don't have any clue who these guys are but this surely sounds like an interesting device. I have concerns about a new phone using the SD845 in 2020 though and I don't have any hopes for an unheard of OEM making a phone with a flagship caliber camera out of the gate. However, it's all very possible. I love the design though as it's giving me Nokia Lumia 920 vibes. I loved that phone.

I'm intrigued. Take my money. Give me back windows phone.

I am very interested, and would plunk down money if from microsoft or a reliable company. However, this REKES of wharton brooks all over again. Check out the location and owners of said company, are they similar? Located in the same area as "wharton Brooks" ? if so, They tried to pull the wool over microsoft phone fans eyes. however, instead of getting a cash grab of millions, i think they got 4500 bucks. Ha ha. Back to best buy geek squad for them!

It's far from Windows Phone. It's Windows 10 with Android shackled onto it. There are a couple great Android skins that make it work VERY closely to how Windows Mobile used to. I miss WM, but it's time to move on. Even Microsoft moved onto Android.

If it runs well, I'll buy one. I really miss Windows Phone. SquareHome 3 is all that makes Android livable to me.

1. Who trusts MS not to screw up your phone and desktop at the same time with an 'update'?
2. Who gets to decide what is safe to 'update' to this phone, and what is the actual update process?
3. How long will this company and it's 'special UI' actually be in business?
4. What is cheaper, this boutique phone with questionable support or just buying a shoulder bag to carry your tablet with you instead of trying to use Windows10 on a phone? If HP got sunk by MS on phones and couldn't make it work by themselves, either, why would anyone want to go with a unit by a company that is promoting vapourware? Just bite the bullet and use a tablet to do tablet work. I don't know of anything this would do better than an Android phone, like a Note, where the MS apps let you do all you SHOULD be doing on a phone screen.
Android Central Newsletter
Thank you for signing up to Android Central. You will receive a verification email shortly.
There was a problem. Please refresh the page and try again.