We asked for thinner and lighter phones — and now we complain about them?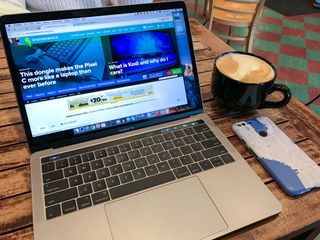 Over the past few years, there's been a clear trend across the smartphone industry to go thinner, lighter and more compact in attempt to give you the most screen size per cubic millimeter of phone size. We were surprised when phones snuck under the 10 mm thickness threshold, and now 8 mm is about the norm. Bezels have consistently shrunk to accommodate ever-higher screen-to-body ratios. Battery capacities have generally stagnated due to (admittedly small) advancements in battery tech being counteracted by physically smaller cells. We've lost, for the most part, things like front-facing speakers, stereo speakers, headphone jacks and more — all in the name of having even more compact phones wrapped around big screens.
But even still, we clearly aren't satisfied — apparently we want these companies to keep going. A new phone cannot be announced without seeing complaints in our comments and on Twitter about it having screen bezels that are too big, a back that's too thick or rounded, or a screen that's too big (in an effort to keep bezels small and the body thin) to wrap your hand around.
But coinciding with these complaints about phones still being too big, whenever we see a phone go super thin and compact, which is apparently what everyone wants, there are somehow still complaints. Samsung released the Galaxy S8, which maximizes screen real estate and reduces just about everything else, and people complained there wasn't enough phone to hold onto. The same complaints have already started relating to the LG V30, which is expected to have a curved display. Motorola launched the extremely thin and light Moto Z2 Force, and we complained it's too thin and light, saying that we'd prefer more battery instead.
So my question is: what, exactly, do you want? When you ask for a thin, light, compact phone with a big screen ... but that also still has a large battery and all of the other extra features, you're asking for something that cannot exist with current technology. I feel like a broken record, but it bears repeating: everything you do in a smartphone has a consequence associated with it. You can't shrink bezels without also affecting thickness. You can't add battery without adding weight. You can't make a phone thinner without compromising camera component size. Everything you add to a smartphone takes up room inside, which means something has to be removed or the phone has to be thicker (or both).
Big smartphone companies, for all of their seemingly large disconnect from the "real" consumers out there, have seen time after time that the thinner, lighter and sleeker the phone, the better it sells. Everyone in the comments on Android Central articles can make as many claims to the contrary as they wish, but the average consumer wants thin and light. Yes they want other features, too, but thin and light are high on the list and those features immediately sell phones in the store. And as I noted above, even the smartphone fans here at AC truly want thin and light — they just aren't as amenable to giving up anything to get it.
So what's a company to do? They go where the market wants them: thinner and lighter phones with smaller bezels ... and therefore smaller batteries and fewer "fringe" features like front-facing speakers. Every phone has compromises.
Beyond those philosophical thoughts, here are some other quick takes on the week:
Daniel's Moto Z2 Force review encapsulates most of my feelings on the phone. While all phones have some level of compromise within them, Motorola seemed to make too many compromises, and also wrong compromises. I'll work up more of my thoughts on the phone in the coming week or two.
Motorola's black-and-white camera sensor really is fantastic. Shame the camera experience is so slow and the color photos are just average. Not good enough for this level of phone.
The LG V30 looks very exciting. And though there are plenty of V10 and V20 fans upset about the V30 losing its rugged appeal, as I noted above that's just not what the industry wants.
I have a few crazy weeks ahead, with everything coming together ahead of Samsung's Note 8 launch in NYC on August 23, and then IFA over in Berlin just a few days later. Going to get crazy — and fun.
Enjoy the rest of your Sunday, and have a great week.
-Andrew
Be an expert in 5 minutes
Get the latest news from Android Central, your trusted companion in the world of Android
Andrew was an Executive Editor, U.S. at Android Central between 2012 and 2020.