From the Editor's Desk: Welcome to Barcelona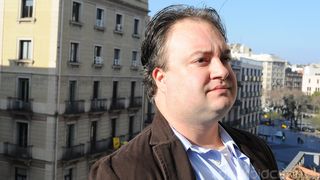 We're back, once again, for Mobile World Congress in Barcelona, Spain. This is my fourth year here. And like previous years, this one appears poised to present its own challenges as well as opportunities to showcase new tech.
On one had it's easy to look at the schedule, what we know is coming -- and what we think we know is coming -- and shrug it off. HTC, usually the highlight (or at least one of them) at MWC, has already announced its flagship for 2013 in the HTC One. Samsung's not expected to do the Galaxy S4 for a few more weeks, though it did already drop the Galaxy Note 8.0 on us. (And it did so on a day usually reserved for travel and/or accidentally leaking devices on the sides of buildings.)
So what's left to look forward to? LG's going to roll out a slew of new devices. ASUS always brings something interesting. And I'm curious to see where things stand with Mozilla and its Firefox OS, which we've played with before. Ubuntu may get the nerd credit, but it's Mozilla that's set to have the first dedicated hardware. It's not Android, specifically, but it's set to take on Android in emerging markets. So my interest is piqued.
Plus, Mobile World Congress moved to a new venue this year. I'll sorely miss the view of the Fira de Barcelona, with the towers at the entrance and the castle looking down from the hill. But the Gran Fira (just a train change and another stop down the road) promises better logistics, we're told, and is a much newer, more modern venue. So we'll see if that makes up for whatever majesty is lost.
And the food. Oh, the food and wine in Barcelona. If you can ever get the chance to come here and gorge on tapas for a few nights, I highly recommend it.
Before we get to work this Sunday -- yes, there's a lot of stuff going on today, on the eve of the actual show -- a few more thoughts on recent events.
So Falcon Pro has run up against Twitter's API token limits. As I wrote on Google+, this should surprise exactly no one. Twitter announced six months ago that this is how things would work going forward. Petitioning Twitter to change its mind now is futile. It's simply not going to happen. The time to speak up was last year, when the API changes were announced. And by "speak up" I mean quit using Twitter, and encouraging others to do so as well.
Interesting take from developer Koushik Dutta, on how the limits are actually a good thing, placing some actual value on Twitter apps. I agree that it's a good thing for developers. But I'd argue that it's a good thing for good developers. Separating the wheat from the chaff isn't a bad thing. But there's a much higher barrier for entry now for anyone looking to develop a Twitter client. And we've already seen some promising apps essentially be cast aside because of it. (See Boid, Tweet Lanes.)
From an end-user perspective, though, Twitter's heavy-handedness still sucks. But it's also a really interesting business model. Build up a free service, attract everyone to use it, then lock it the hell down.
For the record, I've gone this entire column without mentioning DashClock Widget. Until now.
That's enough for this week. It's work time here in Barcelona. Enjoy.
Get the Android Central Newsletter
Instant access to breaking news, the hottest reviews, great deals and helpful tips.