Dscout review: going beyond Project Ara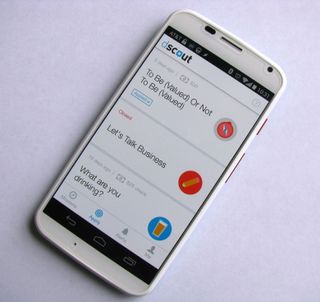 The survey app from Project Ara is back, and it's paying out
Many of you might've heard of dscout before; it was the app that Project Ara used while trying to hone in on its prototype. Users would complete surveys in the hopes of eventually being rewarded with a unit later in the project. And like many of you, when we fell behind on that (which for me was when they started having us make fake phones that we were supposed to get feedback on from other actual, physical human beings) most of us kinda forgot the app was there.
Well, there's a reason to open it back up again, or install it if you don't have it yet: dscout is giving out something better than the chance at prototypes: cold, hard cash. Well, they're giving out checks, mostly, but they're giving people money to be opinionated on their phones, and I'm sure there's more than a few readers out there who love to speak their minds and wouldn't mind padding their wallets for it. But is the app good enough to bear your opinions and possibly your soul to?
Have fun, get paid, talk crap about everything
Dscout is a simple model: you complete surveys on your phone for money. And since it's done through an app, it's easy to have respondents submit videos and pictures in these surveys, but more importantly, you can do these surveys anywhere. Stuck on the bus, waiting for a meeting, topless in bed, anywhere. You can even pause and come back during a survey. So long as you finish it by the deadline, it's easy, and it pays. I've only gotten into three surveys so far, but the three I got into paid fifty bucks a piece. The checks show up a few weeks after the survey's over, so it's not as nice as the instant money that Google Opinion Rewards spits out, but it pays way more.
Now, that said, there aren't a booming supply of surveys right now. They'll be maybe two or three open at a time, or they'll be nothing for a good week. That may be changing soon, since dscout just got more investors and is expanding, but for now, it is still a bit of a problem. You don't have to open the app to check every day, though, since dscout will send out emails when there's a survey to apply for. And while some have been location specific (it's market research, so some of it is geographically sensitive market research), others simply haven't applied to me. I'm not a coffee drinker and I don't really spend a lot of time in hotels (yet, that may change if I work here long enough), so I can't really apply for them. But Intel has done studies on dscout, and there was a survey about the future of Android. Those are the surveys that made me happy. Because I got $50 apiece to tell companies what I spend so much time already talking about.
Now, when you find one that's open and you like, you can see what the reward is before signing up. This one's a bit lower than previous surveys, but it's still enough to pay the internet bill, or go in the fund for what I intend to buy out of the Motorola event in September. You're also given a description of what the mission will entail if you get in.
After that, we hit the application link and head in. You answer the questions just as you would for any application, and when you come to pictures and video, you follow the onscreen directions. for pictures, you also have the choice to use pictures from the gallery, giving you the benefit of re-using pictures or using better cameras than theirs. With videos, however, you are stuck with theirs, as most videos are timed and the timer will play on-screen as you record and stop when you're out of time.
This isn't the worst camera interface ever, but at the same time it's a bit difficult sometimes for someone who's been spoiled by the Moto X camera's tap anywhere to take a picture.
Once you're in, most missions are over a few days to a week. You'll usually have four to ten items to submit per survey, called snippets. Snippets will always have either a photo or video element to them. Most will take you less than five minutes, but on more intense snippets, where you're asked to explain your opinions at great length, they can get a bit tedious.
I'd love a dscout survey to tell devs how much I want dark apps. Dark apps forever!
The interface for the app is simple, clean, very very white, and lacking a useful back button while applying or submitting a snippet. If anything is wrong, you either have to back out of the entire process and get to the overview of your submission, or you have to wait till the end to correct it.
It's nice to get money, but to get money, you have to apply to surveys, and until we see more of them, I'm not sure how well dscout can catch on. That said, the money I've gotten so far has made me a believer in dscout. Once they get more clients, more surveys, and a better back button, it'll be a wonderful way for consumers to help tell companies what they want.
Android Central Newsletter
Get instant access to breaking news, the hottest reviews, great deals and helpful tips
Ara Wagoner was a staff writer at Android Central. She themes phones and pokes YouTube Music with a stick. When she's not writing about cases, Chromebooks, or customization, she's wandering around Walt Disney World. If you see her without headphones, RUN. You can follow her on Twitter at @arawagco.
Alas, it needs an invite code :(

Scratch that. It worked now.

I didn't need an invite code.

Mine went berzerk. The Signup button didn't work at first, so I could only either sign in or enter a code. Then, it crashed. Then, it let me sign up. oO Weeeeird.

I was able to install it from the UK, but there doesn't seem to be a sign up option, only login. Posted via Android Central App

Mine's stuck at "Saving your profile..."

Same here... uninstalled/reinstalled, can't get past that point. GS5

Me too Posted via Android Central App with my Samsung Galaxy S5

I fc'd the app, reopened after I got my email and it was good Posted via Android Central App

Did that and reinstalled the app and it still got stuck at the same page.

I pressed back and the app went into apply for a mission thing. We might have overloaded them.

Quite right! Unfortunately, dscout's server did not handle a traffic increase as well as we would have liked. We're working as quickly as we can to resolve the issue. Most people should be able to sign in, sign up and so forth smoothly again already. Many thanks for your patience. Drop us a line at help@dscout.com (or write me at aryeh@dscout.com) if you continue to have trouble or have anything else you'd like to tell us.

It will be nice to try this once it works

Stuck on saving profile screen here too..... Posted via Android Central App

This app requires permission to read sensitive log data. Totally unacceptable. Can't pay me enough to sign up for that.

Really? I don't see any such permission... Unless you're referring to "retrieve running apps"? Posted via Android Central App

You're not looking at the full permission list. Scroll down to the bottom of the app page and click on the Permission details there. It's the first thing on the list.

Version 2.64 can access:
Device & app history read sensitive log data
retrieve running apps Identity find accounts on the device Location approximate location (network-based)
precise location (GPS and network-based) Photos/Media/Files modify or delete the contents of your USB storage
test access to protected storage Camera/Microphone take pictures and videos
record audio Device ID & call information read phone status and identity Other receive data from Internet
use accounts on the device
full network access
view network connections
prevent device from sleeping
control vibration

Hi folks, Thanks to Ara Wagoner for the kind words! We at dscout are pleased as punch to have so many people check us out at once. In fact (as Argabos pointed out), our server was a little too pleased — but we're reeling it back in as we speak and have some really exciting new projects coming up — especially for Android users. If you're still having trouble signing up, you might want to force-quit dscout (or, barring that, delete and reinstall it). Thanks so much for checking out dscout, and please accept our sincere apology for any hiccups caused by your abundant enthusiasm! We'll do a better job handling traffic spikes in the future. All the best,
Your friends from dscout P.S. Feel free to drop us a line at help@dscout.com any time if you have problems or comments to share.

"Stuck on the bus, waiting for a meeting, topless in bed, anywhere." O_o Posted via Android Central App

We now know the three most common places to find Ara. :-P Posted via Android Central App

I winced when I read that, assuming that trolls would fill the comments with harassment. Glad to see that it hasn't happened. Posted via Android Central App

How does it work? Posted via the Android Central App

Can anyone tell me how to transfer iPod songs to a Mac?
http://www.leawo.org/tutorial/how-to-transfer-music-from-iphone-to-mac-c...
Android Central Newsletter
Get instant access to breaking news, the hottest reviews, great deals and helpful tips
Thank you for signing up to Android Central. You will receive a verification email shortly.
There was a problem. Please refresh the page and try again.