Dropdot lets kids connect the dots on Android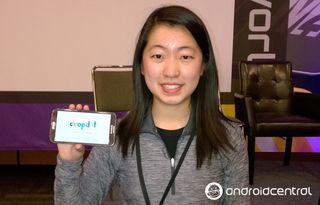 At Apps World last week, we met both veteran and inexperienced game developers alike. Some creators were preparing to publish their first games. That counts fort Summer Wu, whose first title Dropdot has just gone live exclusively on Android.
Dropdot is a connect-the-dots game for young children. It packs a simple user interface, a wide array of puzzles, and even some stealthy educational benefits. The game will be free for the first few months of release, so parents with toddlers and preschoolers are definitely going to want to grab it. Learn more and get a sneak peak at the game's puzzle creation feature after the break.
Dot to dot
The gameplay in Dropdot couldn't be simpler. Each puzzle starts with a blank screen populated by numbered dots. Kids just need to touch each dot in order, which draws lines between the dots. As more of the dots become connected, the hidden picture fades into view. Finish and you've got a complete photo or drawing to see.
Dropdot offers 16 theme packs consisting of 10 packs each. Themes include cars, animals, flowers, and even Chinese numbers. By connecting the dots on Chinese numbers, a kid could actually pick up those numbers. And whatever puzzle your child is solving, the game pronounces the number of each dot as she connects it. You can also switch the dots from numbers to letters in order to encourage alphabet learning.
Slightly older kids will enjoy the optional scoring system. When turned on, the game awards points and a star rating based on how fast players complete each puzzle. Not that connecting numbered dots is all that hard to do, but the scoring feature makes more of a game out of it.
Seeing as how Dropdot is aimed at young kids, it has been designed to be as safe for them as possible. The game doesn't have any ads or links to web browsers or social media sites. The little ones will get enough of that stuff when they're older.
Prepare to make your own
During our interview at Apps World, Summer was kind enough to show me a preview of the upcoming puzzle creation feature. The feature is still in development, but it already works really well.
Parents or children will be able to take a photo from their phones or tablets and place dots all around it to create a puzzle. The order in which you tap the screen will become the order of the dots. The dots can also be repositioned by touching and dragging. It's a quick and easy process. Kids should get a kick out of seeing familiar faces and images appear as they complete these custom puzzles.
The puzzle creation feature should be added as part of a free update within the next few weeks.
Dot dot dash
Dropdot is a great first development effort from Summer Wu, who will be attending Yale University in the fall. Get the game while it's free so your kids can start connecting the dots – and learning while they do it.
Get the Android Central Newsletter
Instant access to breaking news, the hottest reviews, great deals and helpful tips.