DODOcase Hardcover for the Nexus 7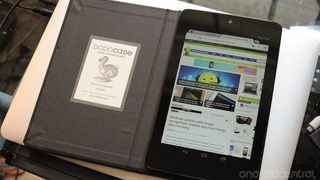 Behold! The DODOcase Hardcover for the Google Nexus 7 Android tablet. We're in search of the perfect case for the Nexus 7, a task that's as daunting as it is fun. This latest offering brings us a folio-style hardcover case that has some simple but appreciated flair.
But will style trump substance here? And will our Nexus 7 remain in the Dodo, or will it travel on in search of a new protected life? Only one way to find out. Read on for our complete thoughts on the DODOcase Hardcover for the Nexus 7.
Cases can be a tricky thing, excelling in one area while falling far short in another. The Dodo Hardcover is somewhere in the middle there. It's your basic folio-style design, complete with elastic band to keep things in place when the cover's closed. (And it's used to help prop up the case on slick surfaces.) The cover itself is sort of a faux-leather, but it leans more toward the vinyl side than anything organic. (That's not a huge let-down, I think it's just more apparent to me because of the case I've had on my Kindle Fire.) The rear of the folio has the DODOcase (that's the official branding, by the way) logo embeded in it.
The corners of the case are cut off; I'd prefer rounded, but they're not horrible. Closed, the hardcover case indeed feels a little like a thin book, which is by design.
Open the case for the first time, and you see a cool little DODOcase logo stick on the left-hand side, and instructions on top of the cardboard filler on the right. There's some nice design and attention to detail here. You might now notice a slight bulge near the lower right of the sticker on the left-hand side. There's a small embedded magnet there, and it'll force the Nexus 7 to turn on when you open the cover.
But now it's time to actually affix your Nexus 7 to the DODOcase. There are three adhesive strips on the right-hand side of the case. Remove the backing, and then press the tablet to the case. It took me a couple tries to get it positioned just so -- too far one direction and it'll hang out of the case, too far in the other and the folio won't close. The good news is that the case is designed to have the tablet removed and replaced. If the strips lose their stickiness, wipe 'em down with water. If they're all-the-way-dead, you can get new ones from DODO. (Now's a good time to mention DODO's excellent FAQ, which answers little questions like this.)
A couple of concerns about using adhesive strips -- there's nothing physically holding the tablet in the case from the front side. While the adhesion feels pretty strong, I like the extra security you get when a tablet's held in from the front. There's less of a chance of it falling out that way. I'm paranoid like that. The other is that -- at least at first -- the adhesion can lead to some creaking sounds. I'm anal-retentive like that.
Pros
Extremely slim lines, with a nice, solid fit
Lets you prop up the Nexus 7 in landscape mode for proper video viewing
Embedded magnet wakes the Nexus 7 when the case is opened
Cons
Adhesive strips leave us a tad worried, and can lead to creaking sounds
There's no real low-angle viewing, DODO's pictures to the contrary
Because of the way the Nexus 7's bezels are angled, the power and volume buttons can be a little awkward to reach
The bottom line
For $34.95, the DODOcase Hardcover for the Nexus 7 is a decent tablet case. It's not without its quirks -- but what is? The slim styling is a big plus, as is the fact that you can get it in black, red, blue or purple. For an extra $9.95, you can add a three-character monogram in gold or black, small or large.
Order info: DODOcase.com
Image 1 of 9
Android Central Newsletter
Get instant access to breaking news, the hottest reviews, great deals and helpful tips
adhesive strips? Seriously? No go on the Dodo!

interesting. I'm like the official case for now. But would like 'prop-up' mode

You folks should do a review of the Portenzo case. Just sayin'.

That looks like a nice case... Now all I need is a Nexus 7 to fit (coming on B-day)

I am very disappointed with the DoDo case for iPad. After extras and add-ons it was a little over $100 after shipping.The price is not what bothers me. Its that it started falling apart and is no longer usable not even one month after getting it. Even worse is the horrible customer service. Or lack of I should say. My email has been ignored. There is no customer service number to call. I was excited to get the DoDo case, I now know it was wrong to get it.

I looked into dodocase and i just don't like the adhesive tape idea. I looked into portenzo case which is basically Dodocase on steroids. With the intellistand feature you have like 4 viewing angles and add a magnet latch so that you dont need that ugly band and its quite stylish. Also it comes in every color you want inside and outside. And that tray is made of bamboo ,i think, which protects and looks great. And it has a sound boosting feature. Look into it Phil I spent $60 and its great

Im still waiting patiently for my Poetic case from Amazon.. just saw it was delayed 5 additional days from the initial Aug 20 estimate :(

I received my Poetic 2 weeks ago you're gonna love it...I had 4 cases prior. My only complaint is the placement of the stylus holder blocks volume keys ... enjoy!

That seems to be an issue on some of the early ones. The one I got has it about ¼ of the way up from the bottom. The one thing I wish is the spine was a little stiffer.

I'm travelling soon and wanted some protection, but also wanted landscape viewing angle and magnet. Found the Moko Slim Cover on amazon for $15 that I thought I would try and it has worked really well. Not a big fan of faux leather cases, but for the price, it does everything I want it to do until a better one comes out. http://www.amazon.com/gp/product/B0083P0MI4/ref=oh_details_o01_s00_i02?t...

The dodo case is plain awful, unreliable, and overpriced. A Treegloo or a portenzo case can be had for approximately the same price (more for add ons and customizations). Not to mention the craftsmanship of those cases is far better than a dodo case.

I'm not sure I could trust a case to protect my device that is named after an extinct bird that became so due to its inability to protect itself from being eaten into extinction. lol

I just got my Alano Portenzo case last week and let me say it is amazingly better than the DODO. Granted it costs quite a bit more but the quality is also higher. First off there is no adhesive tape. The tablet sits in a hand carved wooden frame with rubber and foam bumbers to help it nicely settle in. The outer case is made of real leather and includes the same magnet to activate the "smart case" feature. And it has magnets in the back so you can disconnect the back of the case halfway and create a stand. I'm working on a review myself but you guys should look into getting one in. Worth the money hands down!

Glad I did not cheap out and got the Alano Portenzo case. This DoDo case looks lame as hell, It's the mullet of cases.

I got the i-BLASON at amazon I love this case it props up tabby (my nexus 7 name) in landscape and portrait. Only $25. http://www.amazon.com/i-BLASON-Detachable-Landscape-Portrait-Function/dp...

Moko case is the best I have seen other than plain tpu. Find it on eBay. Turns screen on and off, has nice landscape notches, padded so you don't hear clicking on your pocket. Has handstrap , and closes nicely. Speaker holes, access to everything. Only PU leather case I have found that doesn't stink.

got the amzer jelly case and i love it, very good case and very good price. fits like glove and protects the device.

Hi, I am looking for a good jelly case for my Nexus7, can show me a pic of your jelly case? I am using a pouch now, which I don;t like it. Thx. :)
Android Central Newsletter
Get instant access to breaking news, the hottest reviews, great deals and helpful tips
Thank you for signing up to Android Central. You will receive a verification email shortly.
There was a problem. Please refresh the page and try again.