Do you need a 'gamer phone' if you're a hardcore gamer?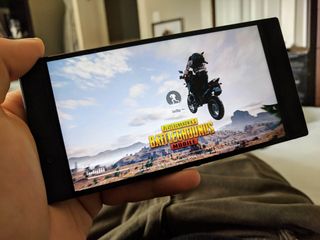 (Image credit: Android Central)
It wasn't so long ago when the phrase "gaming phone" might have only conjured up vague memories of the Nokia N-Gage. While the N-Gage was a punchline at the time, others could see the concept was just a bit ahead of its time
That was way back in 2003. Fifteen years later, mobile gaming is wildly popular and proving to be quite profitable for many game developers. Naturally, this has led to companies such as Razer and ASUS jumping on the bandwagon and designing high-end phones with gaming as their main focus and selling point.
Given the growing parity between the top flagships, what do gaming phones bring to the table that differentiate them from the rest of the pack? More importantly, will hardcore gamers feel the difference if they upgrade to a gamer phone?
Best Android Phones for Gamers
Designed with gaming in mind
It's fair to say that with rare exception all smartphones released in the past five years are capable of playing most games in the Google Play Store. The touchscreen has been all but mastered as a controller for all sorts of game genres and allows for both casual and more involved gaming experiences.
To that end, you might wonder what more a hardcore gamer might want, and companies like Razer and ASUS have begun to answer that question. I've spent a ton of time using the Razer Phone as my daily driver as I test and review the latest Android games. Having used the Razer Phone along with other standard flagships from Samsung and Google, there are a few key design choices that should be included in any great gaming phone:
Front-facing speakers are an absolute must for a good gaming phone. Consider holding your phone in landscape orientation with your phone's speakers orientated on the bottom of the phone near the charging port — more often than not, your palm will completely muffle the sound. Alternatively, if you're propping your phone up to play with a Bluetooth controller, having the audio coming right at you just makes sense.
Bigger bezels aren't a deal-breaker for gamer phones. This kind of goes along with the first point, but shrinking bezels aren't always the best for hardcore gamers. There's no denying that this design looks futuristic and cool, but practically speaking when you're holding your phone sideways for a lengthy gaming session, there's nothing wrong with a bit of extra chin or forehead on your phone. It makes the phone easier to hold and can prevent your hand from cramping up too much.
Gotta have the best specs available. Just like the world of PC gaming, to get the best performance out of your games you'll need a device with the best tech available. For smartphones in 2018, that means the latest processor, a big brilliant display with a high refresh rate, a massive battery, and as much RAM that you can fit in there. The unfortunate bit is that, unlike PCs, you're not able to open your phone up and upgrade the components yourself.
Gaming accessories is a nice touch. One thing we've seen with the ASUS RoG phone and the Motorola's Moto Mods are phone accessories designed to enhance gaming, either through a controller attachment that gives you physical buttons and thumbsticks or other add-ons to improve your phone's performance. We may also see a rise in the trend of mobile desktop docks allowing you to plug in and play mobile games with keyboard and mouse, although that's still a bit of a niche segment at this time.
In terms of pricing, gaming phones are positioned to be premium flagship devices and demand a pretty high price tag. The Razer Phone is still $699 (opens in new tab), and Samsung has targeted gamers with its latest, the Galaxy Note 9, which starts at around $1000. We're not likely to see "budget gaming phones" any time soon.
More immersive gaming experience
Beyond the hardware itself, a quality phone designed for gamers will be supported with software tweaks that are designed to remove distractions and some of the quirks in the Android operating system. Samsung has led this charge by including Game Tools and Game Launcher on the Galaxy S7 and all subsequent flagship releases, which not only let you block incoming notifications when a game is running but also provide quick access to take a screenshot or start capturing video of your gameplay.
Razer has its own gaming settings, called Game Booster, that let you customize on an app-by-app basis whether your phone prioritizes game performance or extends battery life. This has proven to be a really awesome feature that I would love to see built into the core Android OS.
The inclusion of these tools go a long way to mitigate some of the frustrations that come along with mobile gaming. Not having to worry about notifications or battery life lets you keep your focus on the game itself.
Future proofing for apps such as Steam Link
The Razer Phone and ASUS ROG phone represent the first wave of high-end smartphones designed for gaming, but there's sure to be follow up devices that will further refine what a gaming phone is.
At the same time, the ways in which we game on our smartphones will continue to evolve. Consider Steam Link, an app that lets you stream PC games over Wi-Fi to your phone. It's still in beta but already quite functional and in spite of the limitations of being on the same Wi-Fi network as your PC, it's easy to envision a future where you'll be able to stream the best games from your PC to your phone from wherever you are in the world.
We're also likely to see more cross-platform compatibility included in games moving forward like we've seen from Fortnite. With the ability to access your account across console, PC, and mobile, hardcore gamers can play Fortnite whenever and wherever they want — although Fortnite for Android still leaves much to be desired in its current state.
Still, investing in a gaming phone is a really smart idea if you're excited for the future of mobile gaming.
Is your next phone going to be a gaming phone?
Do you consider yourself to be a hardcore gamer? We want to know what you think about this trend of phones for gamers! Sound off in the comments below.
Marc Lagace was an Apps and Games Editor at Android Central between 2016 and 2020. You can reach out to him on Twitter [@spacelagace.
Ive owned a razer phone for 7 months now and turns out it makes a great phone in general. ... As long as you dont care about the camera, I'm one of those people.

So... even though it's not *TECHNICALLY* a gaming phone, the China-only (Huawei) Honor Note 10, it's going to be my next "gaming" phone! It has a decent CPU (Kirin 970), a CPU+GPU turbo button, which might not seem like it does much now, but it boosts the performance while still keeping everything cool. Plus, it has great speakers even though they fire out of each side of the phone. All this for $550 USD imported. Only downside - you cannot use 4G here with that phone. It only works on one band of AT&T 4G.

..you forgot to mention the two of the most important aspects..the huge 6.9" widescreen and a 5000Mah battery!
Definitely a good buy

No you don't need it, get a big phone to use as a Wikipedia when you get lost in a game I have a tablet mounted to my desk that always has Google open in case I get lost in game

There really aren't that many good paid games on Android in the first place. And since the driver support is bad I can't play ShieldTV games on my OP6.

The current gaming phones offer some interesting features. I would say I do more gaming than most people I know, sometimes going at it for up to two hours non-stop. For my usage, I don't know that I would notice the higher refresh rate of the Razer or any differences the cooling highlights would make on the ROG. The HTC U11 stays pretty cool, and after almost an hour of Riptide GP2 and similar games, the phone's internal temperature was only 102 F, which is only a few degrees warmer than body temperature. That, and the stereo sound is plenty loud, shaking the phone in my hands and making others at the beach or park come over to see what I'm doing. Now, for someone who has the time to play for five hours straight, you might want to take a look at a little heavier duty cooling, even bigger speakers, and power options. The ROG phone nailed it with the extra USB ports on the side, and although their cooling system is not optimal, it's better than trying use a spreader to pass heat through an insulating glass back (like on the Note 9).

My Pixel 2 XL is a pretty good gaming phone.

I think the Honor Play is a decent budget gaming phone which is available in India for 20k INR. This is the 4gb 64gb spec with kirin 970.

Just for kicks I bought Riptide GP2 for my old iPhone 5S, and also installed it on my HTC M8. It was actually ok on both phones, and although it loaded slower on the iPhone, the frame rate seemed to be better. That can probably be chalked up to either a slightly better GPU in the iPhone, or the fact that the HTC was pushing over a million more pixels (1,346,560). The heating patterns were vastly different, with the metal panel on the back of the iPhone heating up right in the middle, and the M8 spreading the heat across the entire metal back of the phone. The reason for the difference is that HTC designed the internals so the SOC is in back against the metal body, and has a thermal spreader five times the size of the one in the Note 9. The iPhone has no such thermal spreaders, so the SOC becomes the hot spot. Still, the iPhone played smoothly, and the hot spot only became objectionable after three rounds. Audio wise, it was no contest, but the iPhone speaker did not get covered up much because the phone is so darn small. Gotta love front facing speakers though, and it's almost impossible to block the M8 speakers, even on purpose. Both have the old school 3.5 jack, but while the M8 jack position HELPS hold the phone by letting the headphone connector rest between your index and middle fingers, the iPhone connector juts out into your palm.

As a PC Gamer, I find this ridiculous. I play CS:GO, WoW, LoL and Planetside 2 highly competitively, with relaxation from the likes of SCS Software's ATS and ETS2, Cities:Skylines and Transport Fever, while my more single player library include Witcher 3, GTA5, Wargame: Red Dragon. With all this under my belt, I got a Google Pixel 2 for Android use. Big(ish) battery, Great Screen, Forward Speakers, Great Cameras, decent specs. Every mobile game I have tried feels clumsy and overly simplistic. While I found Warspear Mobile MMORPG to be half decent, for now mobile gaming does not offer me any reason to buy a gimmicky 'gaming phone'.

I would have to agree that it's hard to justify a gaming phone when there are a lack of compelling games that "need" it. I'm more into racing and adventure games myself, and they play great on my current U11, but even for shooters and GTA, I don't see what critical problems a gamer phone solves. They are one of those "nice but not necessary" assets.

I am also a mobile gamer. When I am in desperate need to kill some time, I play a match-3 game whose name I do not remember. I also have a puzzle game, whose name I do not remember either.
There's no reason for me to play in a small-screen device, even a tablet won't cut it for me. As far as I'm concerned, gaming is a 24"+ screen, a mouse and a keyboard.

My Moto Z2 Force has been great for gaming and handles everything I've ever thrown at it, and with the gamepad mod it's a great emulation device too.
Android Central Newsletter
Thank you for signing up to Android Central. You will receive a verification email shortly.
There was a problem. Please refresh the page and try again.