Do you need a 'gamer phone' if you're a hardcore gamer?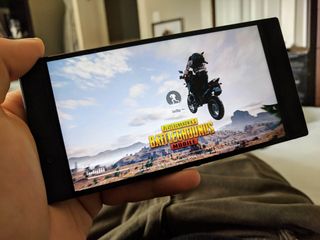 (Image credit: Android Central)
It wasn't so long ago when the phrase "gaming phone" might have only conjured up vague memories of the Nokia N-Gage. While the N-Gage was a punchline at the time, others could see the concept was just a bit ahead of its time
That was way back in 2003. Fifteen years later, mobile gaming is wildly popular and proving to be quite profitable for many game developers. Naturally, this has led to companies such as Razer and ASUS jumping on the bandwagon and designing high-end phones with gaming as their main focus and selling point.
Given the growing parity between the top flagships, what do gaming phones bring to the table that differentiate them from the rest of the pack? More importantly, will hardcore gamers feel the difference if they upgrade to a gamer phone?
Best Android Phones for Gamers
Designed with gaming in mind
It's fair to say that with rare exception all smartphones released in the past five years are capable of playing most games in the Google Play Store. The touchscreen has been all but mastered as a controller for all sorts of game genres and allows for both casual and more involved gaming experiences.
To that end, you might wonder what more a hardcore gamer might want, and companies like Razer and ASUS have begun to answer that question. I've spent a ton of time using the Razer Phone as my daily driver as I test and review the latest Android games. Having used the Razer Phone along with other standard flagships from Samsung and Google, there are a few key design choices that should be included in any great gaming phone:
Front-facing speakers are an absolute must for a good gaming phone. Consider holding your phone in landscape orientation with your phone's speakers orientated on the bottom of the phone near the charging port — more often than not, your palm will completely muffle the sound. Alternatively, if you're propping your phone up to play with a Bluetooth controller, having the audio coming right at you just makes sense.
Bigger bezels aren't a deal-breaker for gamer phones. This kind of goes along with the first point, but shrinking bezels aren't always the best for hardcore gamers. There's no denying that this design looks futuristic and cool, but practically speaking when you're holding your phone sideways for a lengthy gaming session, there's nothing wrong with a bit of extra chin or forehead on your phone. It makes the phone easier to hold and can prevent your hand from cramping up too much.
Gotta have the best specs available. Just like the world of PC gaming, to get the best performance out of your games you'll need a device with the best tech available. For smartphones in 2018, that means the latest processor, a big brilliant display with a high refresh rate, a massive battery, and as much RAM that you can fit in there. The unfortunate bit is that, unlike PCs, you're not able to open your phone up and upgrade the components yourself.
Gaming accessories is a nice touch. One thing we've seen with the ASUS RoG phone and the Motorola's Moto Mods are phone accessories designed to enhance gaming, either through a controller attachment that gives you physical buttons and thumbsticks or other add-ons to improve your phone's performance. We may also see a rise in the trend of mobile desktop docks allowing you to plug in and play mobile games with keyboard and mouse, although that's still a bit of a niche segment at this time.
In terms of pricing, gaming phones are positioned to be premium flagship devices and demand a pretty high price tag. The Razer Phone is still $699, and Samsung has targeted gamers with its latest, the Galaxy Note 9, which starts at around $1000. We're not likely to see "budget gaming phones" any time soon.
More immersive gaming experience
Beyond the hardware itself, a quality phone designed for gamers will be supported with software tweaks that are designed to remove distractions and some of the quirks in the Android operating system. Samsung has led this charge by including Game Tools and Game Launcher on the Galaxy S7 and all subsequent flagship releases, which not only let you block incoming notifications when a game is running but also provide quick access to take a screenshot or start capturing video of your gameplay.
Razer has its own gaming settings, called Game Booster, that let you customize on an app-by-app basis whether your phone prioritizes game performance or extends battery life. This has proven to be a really awesome feature that I would love to see built into the core Android OS.
The inclusion of these tools go a long way to mitigate some of the frustrations that come along with mobile gaming. Not having to worry about notifications or battery life lets you keep your focus on the game itself.
Future proofing for apps such as Steam Link
The Razer Phone and ASUS ROG phone represent the first wave of high-end smartphones designed for gaming, but there's sure to be follow up devices that will further refine what a gaming phone is.
At the same time, the ways in which we game on our smartphones will continue to evolve. Consider Steam Link, an app that lets you stream PC games over Wi-Fi to your phone. It's still in beta but already quite functional and in spite of the limitations of being on the same Wi-Fi network as your PC, it's easy to envision a future where you'll be able to stream the best games from your PC to your phone from wherever you are in the world.
We're also likely to see more cross-platform compatibility included in games moving forward like we've seen from Fortnite. With the ability to access your account across console, PC, and mobile, hardcore gamers can play Fortnite whenever and wherever they want — although Fortnite for Android still leaves much to be desired in its current state.
Still, investing in a gaming phone is a really smart idea if you're excited for the future of mobile gaming.
Is your next phone going to be a gaming phone?
Do you consider yourself to be a hardcore gamer? We want to know what you think about this trend of phones for gamers! Sound off in the comments below.
Get the Android Central Newsletter
Instant access to breaking news, the hottest reviews, great deals and helpful tips.
Marc Lagace was an Apps and Games Editor at Android Central between 2016 and 2020. You can reach out to him on Twitter [@spacelagace.