Daydream Audio: What to do when there's no headphone jack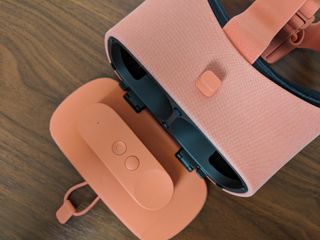 The Pixel 2 was revealed alongside the newest iteration of Google's Daydream View headset, and while this phone is amazing for VR it is rather conspicuously missing something. That something is, of course, a headphone jack. This isn't the first Daydream-ready phone with no headphone jack, but it is certainly the most popular.
Since wireless headphones don't offer the best experience for VR due to issues with latency. While this isn't ideal, it's no reason to panic. We've got your options covered for getting the best audio experience.
USB Type-C Adapter
While there isn't a 3.5mm headphone jack to plug your headphones into, there is an easy way around this. Your Pixel 2 comes with a USB Type-C to 3.5mm adapter. All you need to do is plug in your adapter, and then plug your headphones into this.
This is certainly the easiest way to get around that lack of a dedicated headphone jack for your adventures in VR, especially since the adapter comes in the box with your new phone. This method also allows you to use your existing headphones without needing to purchase a new set of headphones.
USB Type-C Headphones
If using an adapter isn't really your style, then picking up a new pair of USB Type-C headphones. Obviously, these headphones will only work with a Type-C computer or phone, but they can be perfect for VR with your Pixel 2.
Just like with a pair of 3.5mm headphones, they start out fairly inexpensive at about $20 and get progressively more pricy from there.
No headphones, no problem
For the first time, not using headphones with your Daydream View isn't going to detrimentally affect your experience. The Pixel 2 is rocking some serious stereo front-facing speakers, which means that you don't actually need headphones in order to enjoy games in VR.
While you'll definitely be able to hear what is going on, it's also worth it to remember that this also means that everyone around you can also hear what is going on. Depending on what kind of VR experiences you're downloading, you might want to be slightly more careful than usual of making sure there isn't anyone else in the room. Especially if you're playing horror games in a house with impressionable minds that could overhear the chaos.
Questions?
With the addition of stereo speakers to the front of the Pixel 2, you no longer need to ensure that you've got a solid pair of headphones in order to enjoy everything that VR with Daydream can offer. Are you a bigger fan of using headphones for your adventures, or does the freedom of not having to wear headphones at all appeal to you. Let us know about it in the comments below!
Get the Android Central Newsletter
Instant access to breaking news, the hottest reviews, great deals and helpful tips.
Essa Kidwell is an expert in all things VR and mobile devices who can always be found with an Oculus Go, a Pixel 2, and an iPhone 7+. They've been taking things apart just to put them back together for quite some time. If you've got a troubleshooting issue with any of your tech, they're the one you want to go to! Find them on Twitter @OriginalSluggo or Instagram @CosmeticChronus.