Cut the Rope officially released for Android, available on GetJar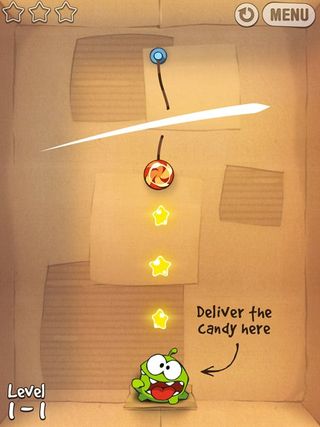 The wait is over. The hints are done. Cut the Rope has been released for Android, and it's available exclusively on GetJar. If you've yet to play it, it's a simple premise: A piece of candy dangles from a rope. Your job is to cut the rope and drop the candy into the little frog-thingy's mouth (his name's Om Nom, by the way). Sounds simple enough -- and the game play is so intuitive, my 4-year-old loves this thing -- but the latter levels can be a bit tricky. And speaking of levels, there are 175 of them, so you'll be busy for a while.
Give it a whirl. For the low, low price of free, you can't go wrong. Full press release is after the break.
Download: Cut the Rope for Android
CUT THE ROPE FOR ANDROID DEBUTS EXCLUSIVELY ON GETJAR
Full version offered for free on GetJar before any other app store
SAN MATEO, Calif. – June 24, 2011 – Cut the Rope, the award-winning game from mobile game development studio, ZeptoLab, is now available for Android devices and is launching exclusively for one week as an ad-supported, free game on GetJar, the world's largest free app store. The hugely popular app was an instant phenomenon in the iOS App Store, reaching the #1 spot globally, and recently won the coveted Apple Design Award for the Best iPhone Developer showcase as well as a BAFTA award for Best Handheld Game. Cut the Rope for Android will be distributed widely on additional app stores following the GetJar exclusive.
"Demand for Cut the Rope on Android has surged since we first launched on the iOS platform last year," said Efim Voinov, CTO at ZeptoLab. "We have worked diligently to bring the same level of quality gameplay and fun to Android users that iOS users have been enjoying over the past year. We are excited to partner with GetJar to offer our fans a free version of the game during its first week on the Android platform and we look forward to the response from this new audience."
Cut the Rope is an addictive, physics-based game that appeals to all ages. Om Nom, the adorable and ravenous little green monster, has one passion - candy! Players must cut an increasingly complicated series of ropes to release candy into the mouth of Om Nom, while capturing a series of stars on the way down, in this highly innovative and stimulating puzzle game that combines outstanding physics, 175 tricky levels, and fun, colorful, high-definition visuals.
GetJar, which has amassed nearly 2 billion downloads across 190 countries, is a popular resource for exclusive app launches among game developers. Unlike other app stores, the company offers developers a global consumer audience that is eager for free, hot games and other applications.
"Cut The Rope reflects the best of the best in mobile gaming today. The ingenious level game design, quirky protagonist and totally addictive gameplay are a testament to how good gaming is becoming on Android," said Patrick Mork, GetJar CMO. "We are proud to partner with the team at ZeptoLab to help bring this epic franchise to Android owners the world over."
About GetJar
GetJar is the world's largest free app store with more than 1.5 billion downloads to date. The company distributes more than 150,000 mobile applications across a variety of operating systems including Android, Blackberry, Java, Symbian and Mobile Web. In 2010, GetJar was named a Technology Pioneer Award Winner by the World Economic Forum and listed by TIME magazine as One of the 10 companies that will change your life. GetJar is headquartered in Silicon Valley with offices in the UK and Lithuania. For more information, please visit www.getjar.com and follow us @GetJar.
About ZeptoLab
ZeptoLab is a mobile game development studio responsible for the creation of the worldwide sensation, Cut the Rope, and the award winning, Parachute Ninja. Founded by brothers Efim and Semyon Voinov, and based in Moscow, Russia, ZeptoLab develops addicting and fun games for the iOS and Android platforms. The creative designers and engineers at ZeptoLab have redefined mobile gaming with unique physics-based gameplay that capitalizes on touch technology to engage die-hard and casual gamers alike. For more information, visit www.ZeptoLab.com.
Get the Android Central Newsletter
Instant access to breaking news, the hottest reviews, great deals and helpful tips.
So why not the Android Market?

It might be the ZeptoLabs is using the same strategy that Rovio did, releasing it on Getjar first. Remember that Angry Birds didnt release on the Android Market first either? Well, the same thing could be happening here.

I fail to see the strategy in this move. When Rovio released Angry Birds on GetJar it brought their servers to their knees and Rovio ended up putting Angry Birds in the market. Since I wanted the auto update capability I installed the Market version and I lost what I had done with the GetJar version. If that's their strategy, it's not well thought out.

wait.. so what's the diff with this one and the one Ive been playing for the past few months already? They're both by ZeptoLabs

getjar?? I didn't know about it? And does the app have tablet support??

which .apk do us EVO 3D owners choose since we're not on the list? the one for the regular EVO or the Sensation? Thanks for the link AC!

I used the regular EVO one, works great for me.

Thank you thank you thank you! I hope ad free comes soon. I WILL BUY!!

got it! it does have ads but they dont get in the way

got it! it does have ads but they dont get in the way

ignore this computer lagged and i clicked save twice

Working great and looks great on the Thunderbolt!

Good start, now someone needs to go hara...um I mean politely request that the developer of Tiny Wings ports it over to Android.

***update*** Works good on my G-slate :) thanks!!!

getting error on the download page, when using rooted Nook on 2.3.3 cyanogenmod 7.0.2-encore

Only problem I've had is when I exit the app HTC sense on my EVO 4G reboots.

Works just fine. I'm glad the dev optimized the app for higher resolution devices. There's a night and day difference between a Popcap Android game and this game on my Samsung Fascinate.

Looks like I might be waiting until it gets into one of the other app stores. When I try to grab it, the phone keeps downloading the GetJar download helper). When I launch GetJar, it takes me back to the mobile site, but clicking on the game to download just gets the helper file again.

Download the apk on your computer and sideload/ put in dropbox. That will bypass the getjar download.

Awesome Drop FTW: https://market.android.com/details?id=com.dashwire.drop&feature=search_r...

works great on sprint epic 4g, i downloaded to computer 1st, then side-loaded threw my files

Looks great on my nook, download the .apk to my PC then uploaded to dropbox to install it.

I am not a big fan of GetJar, so I was a bit disappointed with the announcement this morning. Also, maybe I've been spoiled by Amazon but ad supported is not really free in my book. That being said it's a great app (I bought it on my iPad last year) and I'll pick it up when it makes it to one of the real markets in a pay form.

anyone know why a Cut the Rope shoud need access to "Your Personal Information - Read Contact Data"

Probably so they can text your contacts advertisements.

Just downloaded it on my EVO 3G straight from the website to my phone and it works great.

Works pretty flawlessly on my HTC Droid Eris w/CyanogenMod7-Gingerbread...

Ugh, I use Amazon and the Android market already... I think I'll wait this one out.

You don't need to download GetJar or any other market if you download it on the PC and send the apk to your phone ;)

Amazon and Android market is enough for me. I'm not going to install a 3rd market just for this game. Sorry GetJar!

You don't need to download GetJar or any other market if you download it on the PC and send the apk to your phone ;)

Works great on my Thunderbolt.

I can not get it to work. same problem as the other guy. I tried to download to computer but now the driver won't install so I can plug phone to computer. very frustrating. my phone was hooked up to the computer before. Maybe it was the last system update. bleh. why won't it just download through my phones browser . whatever. :(

Try Awesome Drop. No wires, no accounts, just 1 web page and 1 app to transfer files from your computer to your phone. Simple. https://market.android.com/details?id=com.dashwire.drop&feature=search_r...

Installed on my samsung 10.1 works and plays great. I downloaded it straight from the getjar link that was provided here.

I've wasted three hours of my like trying to download this game. I officially give up.

Alas, no luck getting this to run on my Replenish.