CTV Olympics 2012 review - why Canadians are cheering at their phones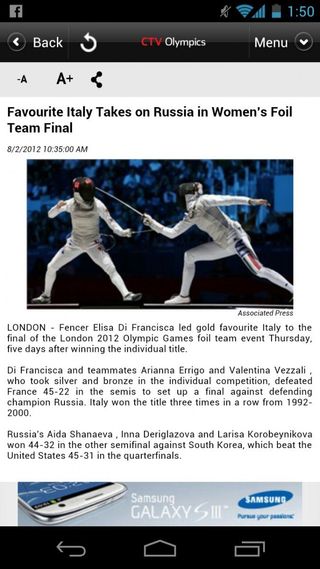 With the Olympics in full swing, Canadians will likely want to check out CTV's app since they've got the lock-down on coverage. Luckily it's free, you'll just have to put up with a bunch of pre-roll ads.
CTV Olympics London 2012 for Android has the full spread of coverage that you could want - medal counts, tons of video, articles, and lots of social options for sharing content. Of course, since this is CTV, only Canadians will be able to get in on the app, but that's alright - Americans have an NBC Olympics app that looks like it should offer roughly the same coverage.
Style
CTV Olympics on Android is really cleanly laid out. Along the top there are tabs for Latest News, Watch Now (for video highlights), and Today to see what's up. You can't swipe between tabs since some tabs have more than one page-worth of content. The menu button in the top-left offers access to a viewer's guide to see what's being televised when, medals tracking (including a dedicated page for Team Canada), results and schedule, and some links to external sites for contests and social networking.
Loading times are a little slower than I would like, but not unbearable. Every video has a pre-roll ad (usually from Bell), plus there are banner ads just about everywhere. For a free app, it's hard to complain.
Function
There's a live video feed available showing what's currently on TV, though it's often time-delayed. I caught the women's 8 rowing about 3 hours after they won the silver. That may be close enough to live for most people, plus there's a wealth of replays and highlights available, so you'll never run out of Olympic action to watch. The viewer's guide provides an especially handy section to browse by sport with quick links to replays of individual events.
Articles are pulled from CTV, the Associated Press, the Canadian Press, and other respectable sources. Text size can be bumped up or down for readability, and shared easily to whatever social networks or apps you like. Notifications are available for breaking news, but unfortunately there aren't any notifications for reminders of when events are starting, which could be a deal-breaker if you want to catch the action as soon as possible.
Pros
Great live and replay video
Plenty of options for sharing content
Cons
Pre-roll video ads and banners
Not ideally suited for watching events live
Conclusion
I'm perfectly happy with what CTV Olympics London 2012 has to offer by way of mobile coverage; so much so that I'm not quite sure what Bell has to offer that would be worth $5/month for their live mobile TV add-on. If you're in Canada and want to watch Olympics action, CTV's Android app is a great place to start.
To be honest, I've only been marginally interested in following the Olympics until playing around with this app; catching some of the live-ish video can be pretty exhilerating especially if you've got a device with a larger screen and the sport isn't completely ridiculous (see equestrian dressage).
Android Central Newsletter
Get instant access to breaking news, the hottest reviews, great deals and helpful tips
Simon has been covering mobile since before the first iPhone came out. After producing news articles, podcasts, review videos, and everything in between, he's now helping industry partners get the word about their latest products. Get in touch with him at simon@futurenet.com.
Major caveat being that the app isn't currently Jellybean compatible, which leaves out the Nexus 7 and any updated Galaxy Nexus. If you installed it prior to it going off the Play Store, the videos will play ads perfectly before going back to the homescreen. Not happy and score one for the iPad...

Ummm, there's a typo:
"Of course, since this is CBC, only Canadians will be able to get in on the app" I thought this app was from CTV, not CBC, wrong broadcaster...

You forgot to mention that ALL VIDEO for this app is WiFi ONLY. It is completely useless as a "mobile" app if you want to watch anything on the go. My phone's data connection is faster than my home internet connection for Christ's sake. If you have a WiFi connection, there is a good chance there is a television nearby, so why waste your time with this app? Many users have also been reporting wrong statistics, wrong links to events, etc (Look at the reviews on Google Play). As a Canadian, it is a very disappointing to see such a poor quality Olympics app from Canada's lead broadcaster.
Android Central Newsletter
Get instant access to breaking news, the hottest reviews, great deals and helpful tips
Thank you for signing up to Android Central. You will receive a verification email shortly.
There was a problem. Please refresh the page and try again.