Crank your volume to 11 with Volume+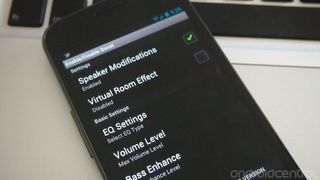 Ever wish you could crank the volume on your Android device up to an 11 so you could actually hear the notifications or boost the volume during calls? After purchasing my Galaxy Nexus I found that the sound level was a little low for my preference, and I immediately began looking for ways to boost the volume. There are a bunch of sound applications in the Google Play Store, but unfortunately many of them just seem to help change the sounds, and not actually boost the volume. Luckily for me a search of the Android Central forums led me to a great application, Volume+, that just so happens to have a free and paid versions.
I began with installing the free version to see what types of enhancements it could bring me, and I was immediately pleased with the results. One the application is launched there are options to change speaker, headset or Bluetooth settings, as well as giving the option to upgrade to the full version. If you are looking to get louder notifications from the device speakers, or crank the music a bit higher, click on speaker modification then check the first option. Towards the bottom it gives you a volume level option in which you can add +1 - +4 to the sounds, depending how loud you want it to go. The paid version will bring you all the way up to +8, which is likely more than any of us will really need. In addition to volume enhancements you can change the bass levels and in the paid version there are EQ settings as well.
If you desire to have louder volume during calls on your headset or Bluetooth you can make modification to those in the same fashion as the speaker. This allows you to make things a little louder than the headset you are using wanted it to be, so proceed with caution while cranking this up. Overall the application is great, it is super simple and that is all it needs to be. Let those pesky quiet notifications be gone, and take control of your sound levels today!
Download: Volume+ (opens in new tab)
Get the Android Central Newsletter
Instant access to breaking news, the hottest reviews, great deals and helpful tips.
Jared started off writing about mobile phones back when BlackBerry ruled the market, and Windows Mobile was kinda cool. Now, with a family, mortgage and other responsibilities he has no choice but to look for the best deals, and he's here to share them with you.
I use this APP with every device I have.. its a 10 ... cant say more.. great for raising the volume.. especially for the gym

I sent an email to the forums awhile back stating that this app was worth a in depth review.
It took a while but here it is, and now y'all know why my Evo 3D and I, live and die by this app. P. S.
In the description it give the dev website where you can download it for free.

I had this app but it doesn't work on the droid turbo

Couldn't you just make 10 louder? But this one goes up to 11...

App Description states it is best to be rooted...Running this app on a Stock ROM/Kernel may result in it not working...

The developer is completely awesome. I emailed him after realizing certain apps don't respond to Volume+ (Spotify) in Android 4.1. He emailed me back within minutes, eager to learn more so that his program will work with Jelly Bean. Love it. Used to use Cyanogen's DSP, but since ICS, it just won't work right.

I have the free version and wasn't sure about the paid one but hearing how the dev is, I will buy it just for that. I love supporting active devs that work on there products. Same reason I bought CoppApp.

I also emailed him the other day after loading installing Jelly Bean. He responded the following day. I am going to wait a Jelly Bean compatible version before purchasing the full version.

Will definitely give this a try. The alarm on my Galaxy Nexus sounds too soft compared to the Vibrant I used before.

Last I checked it did not work though on my glaxy nexus running Jellybean, anyone had any luck with it?

Also Note: I found in the forums when I downloaded the Free version to then go to Settings > Sound > Music Effects, and select Volume+ on my GN.

I have a GN, and I found that the main reason the sounds are so low is that the baseline decibel level of the stock sounds were set too low within the ICS software. I installed the sounds from my blackberry storm, and it was MUCH louder. There is a huge difference now. Be careful with speaker modification software. There is nothing wrong with the speaker, and cranking it too high could easily blow it. The stock sounds were obviously just too low to begin with. Once I installed other sounds, I uninstalled the speaker modification apps that I downloaded. They were no longer needed.

I returned the gnexus, mainly because of the disappointing speaker and camera. Plus the radio sucked. My dinc is 2 years older and is louder and takes better photos. Its not just the sound files, cause even the generated nav voice is terribly low. Maxing the nav volume, I barely heard it in the car with the radio lightly playing. No where near the volume and clarity of the dinc.

This app is fantastic if it ever worked. I have the paid version on a rooted TF Prime and on my G-Nex running AOKP. This app will work if I uninstall it and then re-install it. After the next reboot it does nothing. I installed it on my dads G-Nex as well...same thing. Give it a week Jared and let us know if you still love it.

There is also a forum version available if you go to the developers website and register for an account. I don't think you have to pay for it just become a member. This version will let you go all the way up to +20 I believe. Been using it on my gnex running AOKP for a few months now and it works great to boost the volume.

It is saying that is didn't work well with stock Gingerbread. I just tried it in headset mode and it seems like it is working very well. I'll have to see how the notification sounds work.

What phone are you using? Hows the back speaker for calls with it?

I like using the no sound no vibrate button. Ah, true silence lol.

I bought it and have been using it on my GNex GSM, however it doesn't appear to working properly or at least not at the same level under Jelly Bean. I have use it in the past with ICS stock and AOKP across all the different builds with no problem. It for sure enhances the audio levels, yet again not the case for JB. I have shoot an email to the developer. Anyone else having this issue under JB?

PSA: Volume+ app no longer works in Jelly Bean, Android 4.1 We expected more from you Jared; as a tech blogger. No JB yet? Tch..tch...

I downloaded 4.1 from one of the android central links with a few of the bug fixes, volume+ still works for me.

I bought the full version for my AT&T Vivid, it didn't help at all, absolutely no change in volume. Tried everything didn't raise the volume of calls or notifications.

I'm assuming it wouldn't work, but would this, or another app, increase the in call volume through the ear piece? I've got an HTC One X and I find the call volume is consistently too low.

This app only works on Gingerbread (2.3)

No, it works great on my ics Rezound. The splash screen when first install it says gb only but I guess that needs updated

if you have an Exynos based Galaxy (non-Nexus) phone (S, S2, S3) Voodoo does a better job than this program.

Doesn't PowerAmp already go up to 12? So this would make my brain melt.

This was invaluable with my EVO 3D whose speaker volume blew, haven't installed it yet on my EVO LTE but I'll probably give it a shot, even tho the speaker volume is much more usable on this device.

How many people use custom notifications and ring tones? I added my fun notification of the Transformer sound and it's far, far louder than the other sounds that came with my GNexus. The speaker phone when talking was nice and loud for me too. I really think the issue is the stock sounds are all too quiet.

After having played around with various ROM's on my GNEX I finally decided I'd had enough tinkering and went to the stock Google Android JB 4.2 ROM. While the sound levels were never an issue with teh AOKP ROM's I am finding with the stock ROM it's painfully low so I sat out to find a volume booster app. I still haven't found one that works. This one looked so promising, but i installed it, set the volume to the max (+4) and started playing some music. No difference. You can tick around the various +0 to +4 levels, absolutely no difference. Disappointed. (Edit- the authors entry at Google Play clearly says this is not to be used with Stock ROM. I don't see what is the point of the app then, as all the 3rd party ROMS already handled this, it is the stock ROM that has the problem).

I needed more volume on my new phone so i did a Google search and found this app. I am very pleased with volume plus it did exactly what i needed it to do Thank you so much Jared for sharing

What's the difference? Well that's one more, isn't it?