Com1 takes to Indiegogo crowdfunding to launch metal-clad Android Wear smartwatch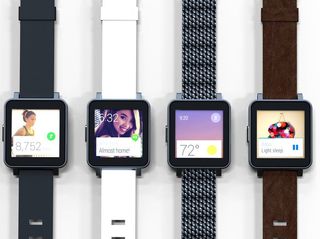 Com1 is looking to launch its new square-faced, metal-clad Android Wear watch, and the company is looking towards consumers to help fund the project. Launching on Indiegogo, pricing right now starts at $125 and goes up to $170 depending on if you want an aluminum or stainless steel housing as well as watch strap configurations.
The square-shaped watch looks like a mix between a machined unibody MacBook design meshed with LG's square-shaped G Watch.
The Com1 runs the Android Wear platform and is water resistant with an IP67 rating. The watch is powered by a 1GHz XBurst-based Ingenic JZ4775 processor and comes with gyroscope, accelerometer, magnetometer, pedometer, GPS, heart rate sensor, and a pressure, humidity, and temperature sensor. Packed with a 400mAh battery, the device is rated for up to 2 days of battery life.
The device has a 1.6-inch AMOLED display with a 320 X 320 resolution for the watch face.
The developers hope to ship the Com1 watch by January if there aren't any delays.
Is this a watch that you'd be interested in? Or are you waiting for more options to hit the market before deciding on a smartwatch to purchase.
Thanks to Zachary for the tip.
Source: Indiegogo
Get the Android Central Newsletter
Instant access to breaking news, the hottest reviews, great deals and helpful tips.
Would find it really difficult to buy into without being able to read reviews beforehand. Good luck to them though, very well priced by the looks of it! Posted via Android Central App

By the time this comes out we will be into 2nd Gen Android Wear watches. My AC App signature lacks a witty comment.

How will Android updates be on this thing? Posted via Android Central App

All Android Wear devices update directly from Google Posted via the Android Central App

I know that is how it is supposed to be, but will that still apply to small time products like this one?

I am sure, it doesn't matter about manufacturer, they come from google directly. If google didn't let Samsung modify it, they won't let a small company do it either Posted via Android Central App on 1+1

I'm not so much worried about them skinning it as much as whether they are going through the correct process with Google, or are they just hacking it onto their hardware and calling it a day. Posted via Android Central App

It seems a little hard to believe... No video of the watch, a speaker, FM Radio, (NFC payments) , sensors galore. This is either a fishy project or one of the best watches. I'm not even sure HOW they even got Wear on there,

There should be a video up in the next couple of days so keep posted!

Yeah all the scammers are moving to IndieGoGO now. Kickstarter now has a rule that devices need to have real working prototypes before they get accepted.

No no no no no. This is a massive scam. Flexible funding, unrealistic and unnecessary specifications. Please do not give any money to this product.
.
.
.
.
.
.
Oh, who am I kidding. Donate to whatever crowdfunding you want. Just don't be surprised when you have another "Pressy" on your hands come January.
For those that don't know: http://www.androidpolice.com/2014/08/26/pressy-review-i-had-no-clue-some...

Dude the comments on that article had me laughing so hard. Posted via Android Central App

Idk if the mother in law comment was real or not but that's hilarious. Haha Posted via Android Central App

Yea that's the one that got me too. Posted via Android Central App

Yep. I'm done with crowd funding. I got burned on the "Hotwatch". Here it is nearly a year later, 9 months after it was originally scheduled to ship and I still don't have it. At this point I could get a much better smart watch for what I paid for that stupid thing. With that being said though this watch looks really nice and I hope it makes it to store shelves before it's already outdated. Posted via the Android Central App

Even if we don't get funded you still get a watch, also a video is coming soon. Thanks
Chase

Hi Chase, Can you talk about how you will be able to produce these watches if your funding falls short? Your Indiegogo page suggests you need the initial funding for molds, manufacturing, and shipping. How will you build a small number of watches without molds and dedicated manufacturing?

I sincerely hope that this is true. Otherwise you will have scammed at least $15,000 out of people. You have also put together an impressive list of features for a smart watch. But at this point, I have zero faith in any crowd-funded product. I wish you luck in creating a usable product that people will want to buy.

Hey android central! You're website is on this advert by samsung Galaxy Note 4 -- Then And Now: http://youtu.be/oxhSnNZH3Rk

I think they know. Samsung pokes a little fun at Apple's move into bigger iPhones in latest ad http://www.androidcentral.com/samsung-pokes-little-fun-apples-move-bigge... My AC App signature lacks a witty comment.

DAMN! I watched the ad at least 5 times - and never realized it! I am sooo ashamed of myself right now...

I'd get one but by the time it actually ships second gen will be out

I don't like crowd funding for gadgets. They're always tricks and you never even get your investment back. Posted via Android Central App

Apparently this was advertised as having 3 GB RAM and 32 GB internal storage a few days ago but they've since changed it Posted via the Nexus 5

I think I'm gonna donate to this one. I think $125 is a fair price to pay for unexplained delays, unanswered emails and undelivered products. Sign me up!

OnePlus! Posted via the OnePlus One 64GB Sandstone Black. The best phone in history.

I laughed but then realize you use one haha. Posted via Android Central App

I do too Posted via Android Central App on 1+1

Check out our cmments on the campaign, we've added an upgraded display, a heart rate sensor, and a GPS for the upcoming Android Wear update. We've gotten very positive feedback! Chase

Definitely interested in that two day battery life and the price seems reasonable. These things are going to be popping up all over the place now though so who knows how many we'll have to pick from by January.

No thanks, very happy with my Moto 360. Ian B

I'll wait and see if they come through with it. If they do, I won't mind paying the extra $75 for not being an "early bird." That takes the top tier watch to $245 which is still a great deal if it does/has everything they claim it will. Posted via Android Central App

I REALLY want to fund one. But part of me thinks this thing will not be good. Posted via Android Central App

Has anyone tried contacting the only person contactable on the project? I have a hard time believing this project is real. I would love it if it was, but the way they have handled adding new features sporadically, having no videos or prototype models, and flexible funding leaves me very wary of the project. If it is real, I would invest in a heart beat, but I would really like some definitive proof of this project being real. Is there any way to contact Google to see if Com1 is a real thing from their end? They are probably able to see who is using their software on certain devices, right?

Hey guys you can reach me on either our Twitter account or Facebook, It wont let me post links but you can get them on the Indiegogo page

Are you connected to the project in some way? I don't see your name on the Indiegogo page. Also, the Indiegogo page has no reviews from major tech companies that often review these types of projects.

I am indeed, new addition :) I can answer any questions you might have, or you can drop me a mail on the fb page.

None of the sites - Facebook, Twitter, or your website - answer my original questions. I am still finding the same information on every site. Where are all of the prototype models? And more importantly, how can you add some many expensive sensors without increasing the price of your product? If you want me to take the project seriously, a video is the first step. But what about reviews from Android Central, Android Authority, Android Police, TechCrunch, CNET, and all of those major sites that do reviews of these types of products? Someone outside of the company reviewing your watch would be huge for your credibility and would definitely increase your backing. Do you plan to have it reviewed by one of these major sites before your project ends in a few weeks?

Hey, were not trying to make profit off the watches during the campaign we just have to cover the costs.. Were working with our manufacturer on the prototype and will have a video up shortly

Hey, sorry i missed the end of your message, yeah we have some stuff in the works, ill update this thread when we have the link.

If you're part of the project then how come you seem to be based in Ireland, have said with regards to the Com1 watch "I dont care who makes it, just has to do what i need and for 100 euro you cant go wrong!" and likes Himself, hahahah Justin Bieber got the g4yest tattoo EVER, Havin a sly wank on the nitelink, Turning to a friend, nodding towards someone and saying "I would" ;), Dont have sex. cause you will get pregnant , and DIE., I hate it when your watching tv and tiger woods randomly comes round 4 sex, "am gonna text that cunt", The guy who got his cock stuck in a bench!!, SHEmazing, You Only Had One Job, I hate it when you're with MC Hammer and he doesn't let you touch anything., Falling Asleep While Texting Someone In Bed, Cineworld Dublin, Unofficial: Banksy, Cutser & Duke? Either you aren't part of the project, or the project is a scam?

Hi Daf, what does my personal profile have to do with the project, just courious? Im working with the guys for their marketing and joined the guys 2 days ago

With a random processor, idk if it would perform that well (but you never know) I'm thinking I'll get one instead of the moto 360 and I will not open it until I see reviews then I'll decide whether to sell it (without losing much money because of the $50 early bird savings) or keep it Posted via Android Central App on my LG Nexus 5 (Sprint)

Ya, this doesn't look very legit. 75,000? Because Samsung, LG, and moto did all their product design for less than that, right? I'm calling bs.

That's way too little. It pretty much confirms BS or at least someone who's a bit clueless. Posted via Android Central App

Wow! Up to 2 days of battery life! Oh, wait a minute. "Up to" 2 days. Gee, I wonder what that means. Posted via the Android Central App

If this turns out to be real, I want one. Even if it doesn't, I want one. It's not round, and it doesn't have a heart rate monitor, but it's the cheapest one by far, though I still don't have a credit card to pay for it with. Posted via Android Central App

is this Android watch available in India.

Anyone else think that this sentence is weired? "The device has a 1.6-inch AMOLED display with a 320 X 320 resolution for the watch face." I mean: does it really need the "FOR THE WATCH FACE" part?

I think Android Wear is excellent. But, in 12 months time, I really hope for a noticeable improvement in features. Also, battery life. These devices are really highlighting the need for some new tech in that area - the batteries we use now just aren't good enough. Whether it is kinetic, or quicker charging, we just need something by the end of next year. I'd take a HTC One M8 next year with a 805 processor and new battery tech. Snapdragon chips have done their part, now battery technology needs to. Posted via Android Central App

Now this seems like a good price. How does Kickstarter work again? I only backed console os. So I commit to give the money and it isn't taken until the time ends? Oh, it is funded with indie gogo, how does that work?
Posted via Android Central App on 1+1

You pledge a bunch of money. If they meet your funding goals you pay up. Then you wait as the project is delayed and you've forgotten why you wanted it. Eventually you get something that barely fits the original description. In this case they've given themselves 4 months to design, build and ship a smart watch, on a shoestring budget... Posted via Android Central App

Seems legit considering lg g watch is $179 and this will retail for $200+. I don't see the charger when I look at the indiegogo page. It shows that it charges by 4 pins in the back... Would be awesome if it hits all of its stretch goals and gets nfc payments but I doubt it will get that far. Posted via Android Central App on 1+1

During the campaing we've upgraded the Com 1 to have a 320x320 AMOLED Display, a Heart Rate Sensor, and now GPS for the upcoming Android Wear update. Thanks
Com

QI charging. ... is what I want.. none of this pin stuff.... Put it on my flat charger at night or office and go.... no wires or attaching this and that.... pick up and go Posted via Android Central App

The Com 1 actually has 512 Mb of RAM if you check the campaign again!

cant find your campaign on Indiegogo...it states it's in draft mode....

Where is the campaign!!!???