Clash of Clans update summons Lava Hound and increases upgrade caps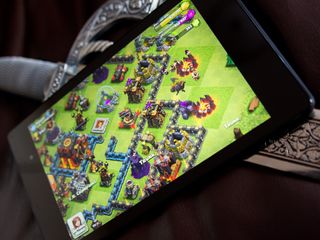 A big update to hit freemium game Clash of Clans has gone live, introducing a new unit and increasing the maximum upgradeable level on many others. The Lava Hound is a new type of flying tank that can take the hits while other units move in for the kill.
You'll need dark elixir and a Dark Barracks to cook him up, and once air defense takes him down, he'll explode into a bunch of tiny lava pupppies. Barbarians and Archers can be upgraded to level 7 now, Archer Towers to level 13, and Dark Barracks to level 6.
There are plenty more additions though. Here's the full changelog for Clash of Clans 6.253.5.
Lava Hound
This brand new flying Dark troop loves to hunt Air Defenses
Tough and reliable, it takes tons of damage before erupting into many smaller units!
New Upgrades
Barbarian & Archer level 7, Archer Tower level 13 and Dark Barracks level 6
Balancing and interface improvements
Upgrade full rows of walls at once with the option to pay Elixir instead of Gold!
Hero heal times and Valkyrie training time are greatly reduced
Healers now stick to healing bigger groups of units
Replays show the attacking army, can be paused or will show time remaining if live
What do you think, clashers? Will Lava Hounds figure prominently into your attack strategy? Be sure to read up on our tips, tricks, and cheats for Clash of Clans if you're just getting started.
Get the Android Central Newsletter
Instant access to breaking news, the hottest reviews, great deals and helpful tips.
Simon has been covering mobile since before the first iPhone came out. After producing news articles, podcasts, review videos, and everything in between, he's now helping industry partners get the word about their latest products. Get in touch with him at simon@futurenet.com.
Yeah, once I get TH9........barely going to 8......

I'm at TH8, but not ready to UG yet.... :/

I'm the same, my base still looks and feels very TH7

13 hours until TH9 for me but weeks away from caring about the new troop. It is the little things with this update that make me happy. Clash on!

Join: FOR THE LOYAL! .... Don't forget the exclamation point. Posted via the Android Central App

skip TH8 and go straight to TH9, BLACK LIONS clan, 26 members

WE have a clan page, come check us out....https://plus.google.com/u/0/communities/111764124267962961109

Elixir for gold. I love the sound of that. I can upgrade my walls to the highest lvl Posted via Android Central App

It doesn't work, shows only gold while upgrading. Do we need to upgrade the town hall to get this to work?? Posted via the Android Central App

My bad, should've read all comments. Level 6 walls for elixir upgrade. Posted via the Android Central App

join us wickenden elite. Clan war starts tomorrow. level 65 plus

TH LVL 8 and down are really going to pummeled now. Air defenses already sucked and now 2 Lava Hounds and shit ton of Balloons can whip out your entire base easily. It's going to take at least TH9 with archer queen, all air defenses around LVL 7 to defend. I have a few other items to upgrade on my LVL 8 th and I'm on the way to LVL 9

DAMN, WELL LEMME GET BACK INTO IT...

Link for tips is dead?? Posted via Android Central App

Get a 3ds and play some real games

Lol Posted via Android Central App

been on th8 for a couple days now.. not upgrading till I max out everything (walls/troops/defense). Posted via the Android Central App

I am quite happy with this update. Especially the hero refresh time being shortened. The other day I heard my king wake up only 30 seconds into an attack on me. Completely useless and oh so frustrating! Posted via Android Central App

"Upgrade full rows of walls at once with the option to pay Elixir instead of Gold!"
How do I do this??? Posted via my Z10 using Android Central App

Walls should be on level 6 in order for the option to be available.

Thanks :) Posted via my Z10 using Android Central App

I was glad to see the option to upgrade a full wall at once.