Chase Mobile app now lets you log in with your fingerprint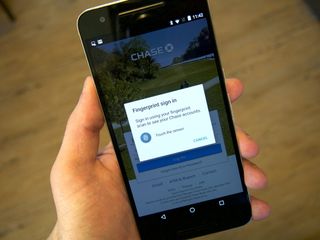 If you're a Chase Bank customer, using the firm's Android app just got a bit more secure. The latest update to Chase's app brings support for signing in with your fingerprint — should you have a compatible phone running Android Marshmallow, that is.
Here's the full breakdown from Chase:
Use fingerprint sign in to log in. Your device must use Android OS v6.0 (Marshmallow) or higher. Certain features will still require that you enter your password.
Please note that due to different implementations of Android fingerprint by device manufacturers, this feature will not be available for all devices.
Chase is the second bank, following Bank of America, that has added fingerprint support to its app in recent days. If you're a Chase customer, you can download the latest version of Chase Mobile from Google Play (opens in new tab) now.
Awesome, it works really well. I have been waiting a while for banks to take advantage... Good on ya. Finally Posted via the Android Central App

Check an app called FingerSecurity. Locks any app with your fingerprint.

Now if they would hurry up and get Chase Pay released. Posted via the Android Central App

Why? Samsung, Google and apple pay allready exists. Posted via the Android Central App

My phone can't get Samsung pay. Android pay won't let me add my Chase debit card. And nobody cares about Apple pay. Posted via the Android Central App

Dang. That sucks. Sorry to hear that. Wonder why android pay hasn't picked up the chase card? It had mine grandfathered in from Google wallet Posted via the Android Central App

I had mine grandfathered in as well. But I ended up having to do a factory reset on my phone and when I tried to use android pay it had deleted my card and wouldn't let me readd it. Posted via the Android Central App

+1 Posted via the Android Central App

What are you talking about? Android Pay is being adopted at a glacial pace when I had a 6P I couldn't add a single card I had to Android Pay all the while every single card I have I can use with Pay. There's over 400+ banks that support  Pay while only about 40 support Android Pay and Chase being one of the largest financial institutions still doesn't support it so yes "nobody" cares about  Pay. Edit: yes I'm aware that Pay has been out quite a bit longer but it's still sad that they at least don't have 100 banks and some banks have even flat out said they won't be supporting Android Pay LOL.

What has been out longer? Posted via the Android Central App

Are you talking about Apple pay? If you are Iwouldnt jump through hoops with excitement jus yet. While the banks may be all over apple pay retailers are yet to support either at a heavy rate. Samsung pay is the only one that can be used across retailers that are still shocked when we use it. I'm not saying apple or android pay suck. If adoption rate would have been quicker I'd use android pay but since it isn't (which also affects apple pay) I wouldn't go around having a bragging party just yet. Posted via the Android Central App

No. When will Chase support Android Pay #TeamFrosty Nexus 6P

The fingerprint features not appearing on my S6. And im on Marshmallow. Posted via the Android Central App

you have to go to setting in the app and manually activate it

There was an app update released today. If you haven't already updated it won't work. Posted via the Android Central App

Version 3.27 is the one that sets up Fingerprint.

Can confirm the LG V10 on Marshmallow works just fine once activated in the newly updated app.

So I wonder if Chase and BofA apps are developed by the same app developers? Posted via the Android Central App

Took long enough. Still waiting for Chase to give up and support Android Pay. Posted on an LG V10

They support Samsung Pay, the only mobile payment app that matters : ) Posted via the app ~ GS7

Works great on my phone. I love this new feature saves me the hassle of entering my long ass password every time! Posted via Samsung's beast S7

Finally. I can't believe that they haven't even added fingerprint support for Google Wallet. Posted via the Android Central App

I have their amazon CC, it's my favorite card Posted via the Android Central App

Finally, I have it set up and it works well. Now if my main bank would follow suit, I will be real happy! Posted via the Android Central App

Wish I could enjoy this on my Note 5, but AT&T thinks its great take their goddamn time with my Marshmallow update! Posted from my Note 5, Nexus 6p, or iPhone 6 plus!

When is AT&T pushing out the marshmallow update? Posted via the Android Central App

That's awesome. Now 2 of my 3 banks support Fingerprint login. Now, let's get Wells Fargo to commit!! Posted via the Android Central App

I got the updated app and on the Note 4, there is no setting to activate it. Bummer.

Sweet! Both of my banks! BoA and Chase! Now come on Schwab!

Works well on the Nexus 5X. Mint Bills supports the fingerprint, Simple supports it, as do Chase and BofA now. Still waiting on Ally Bank. For a bank that only does business electronically they are comically behind the times. Don't get me started on the myriad of Google apps that should support fingerprint but do not.
Android Central Newsletter
Get the best of Android Central in in your inbox, every day!
Thank you for signing up to Android Central. You will receive a verification email shortly.
There was a problem. Please refresh the page and try again.