Casio's latest rugged smartwatch runs Android Wear 2.0, debuts in April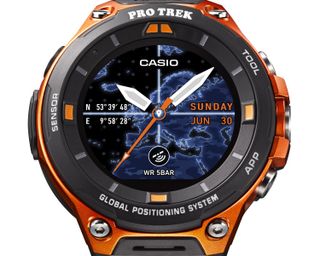 Casio unveiled its first smartwatch last year with the rugged WSD-F10, and now the company is launching an update that adds GPS functionality and Android Wear 2.0. The model is aptly called the WSD-F20, and shares similar features as its predecessor that sees three buttons on the right and MIL-STD-801G rating for protection against the elements, as well as water resistance up to 50 meters (this thing can take a lot of abuse).
The design of the smartwatch makes it look even more rugged when next to its predecessor. Casio added a larger bezel around the screen, which contains text labels for the side buttons and one that highlights the GPS module. As always, you'll be able to launch your preferred apps or one of Casio's built-in tools with the side buttons, and the home button in the center is slightly larger.
The smartwatch also retains the dual display mode, which allows you to conserve battery life by toggling a monochrome mode that just displays the time (like a regular watch). What's new is a low-power GPS sensor that works with the maps feature to enable location tracking even when you're offline. Casio will also roll out a Location Memory app that lets you mark locations on a map.
As noted by Digital Trends, map data is sourced from Mapbox, and you'll be able to download maps for offline use. There's also an "anti-fouling coating" on the screen, and you get two new watch faces that leverage the GPS — Location and Traveler.
The WSD-F20 will be up for sale starting April 21, and will be available in orange and black color options. Casio didn't reveal the pricing, but it is likely to be in the same $500 range as its predecessor.
Harish Jonnalagadda is a Senior Editor covering Asia at Android Central. He leads the site's coverage of Chinese phone manufacturers, and writes about the semiconductor industry, storage servers, and audio products. Contact him on Twitter at @chunkynerd.
They have the huge ruggedized bezel (which I have no problem with and think looks good for a sports watch) but still couldn't find a way to get rid of the flat tire.

I had the original moto360, you eventually dont even know the flat tire is there anymore.

Maybe they got a deal on surplus screens from Motorola? :)

I still wonder how long smart watches will be around. I love the mix of my ms band 2 and 360 for out and about but at the price they are at I don't see them becoming mass market anytime soon.

I'm not sure being mass market is the aim unless you consider the G-Shock line of watches mass market. My guess is that they're fine selling it in the same amounts as they do any of their other watch models. Sufficient to make a profit but not one for every other wrist.

I mean smart watches in general. I know a few people with smart watches most are apple watches but they tend to be the none geak friends I have and even though they kept telling me what they would do when they 1st got the watch none of them use a quater of what they told me it would do and most of the time they don't have the watch on any more.

I understand you meant smart watches in general. My point was that existing watch makers pretty much prove that a smart watch does not have to be on everyone's wrist to make them viable. These companies, such as Casio, don't have a watch on everyone's wrist yet they are making money. They can be perfectly profitable by simply selling as many smartwatches as any of their other models. I think many people believe the only way smartwatches in general will survive is if they becomes a device that everyone feels they must have. I don't think that's the case at all. There is plenty of business to be had without it being a "mass market device". Posted from my unlocked S7 Active/ Jet black iPhone 7+/ peerless Note 4/ or iPad Pro 12.9

Stupid flat tire. When will it win.

I still don't understand these "smart" watches and how they are anything other than a novelty. So this one has some cheesy GPS system that you'll need a magnifying glass to see; you always have to worry about the battery dying and...guess what? You still need a smartphone in your pocket to make the thing work. What's the point? If you need GPS, just whip out your phone. $500.00 for this? You could buy 2 new great Android phones for that. Crazy.

Two "new" "great" phones for 500$? lol

You get what I'm saying I'm NY post above but then again I have a band 2 that I use every day but more for fitness as I bike to work but it lets me use it as a smart watch when at work showing me emails tweets ect. I have a Moto 360 as a watch that looks smart so when I go to places I use this. For me I can get a day and a half out of both devices but I use the 360 more for getting updates like ice hockey scores for my local team as well as all the bits for football games to. I then use it for seeing who is calling me when out and about and the same for a text message as if its someone I don't need to talk to I can discard it rather than having to pull my phone out of my bag/pocket. For me I find both very useful but I only paid about £350 for both in total so I am happy at that price as it fits me but that is the thing for smart watches they don't fit into everyone's life.

I wish Pebble had taken Casio's $70 million!!

Hope they put this out in a stainless/black combo and not just these colors. That would be really slick looking. I might buy, but waiting to see what Google puts out.

Love the look of this one actually. Generally like Casio's G-Shock line as it is.

Yes, I am a big fan of G-Shock as well, but I don't feel like smartwatches are worthwhile for me anymore. I could hardly be bothered with the battery life drain on the phone, as well as the hassles of the Bluetooth connection, for the minimal amount of usefulness a smartwatch gave me.

My 1st gen Moto 360 has started to die on me about 1/2 way into my day. Just got an inexpensive Timex analog watch. I'll see how I feel about it after a few weeks.

I am in. I am an outdoors fanatic and this IS the watch to have. It is replacing my casio triple sensor I use when snowshoeing, camping, hiking, mtn biking, exploring in my off road rigs! etc. DANDY watch.

I don't think it replicates the triple sensor technology as it doesn't have a thermometer which is important to me. I would think they could incorporate the triple sensors into a smart watch. Give me the compass, barometer, and thermometer in a smart watch and I'll buy it.

The last version did as far as I remember.

I just double checked the Casio website including the manual for the last version and the specs and no thermometer is listed. Also, the temperature is normally displayed on the barometer screen on the ProTrek and none is displayed in any of the barometer screen shots or any others. It may get the temperature from a phone, but that depends on a signal. This is not a big complaint, more of a bewilderment that they wouldn't use the tried and true triple sensor in all the other watches.

damn. that's a bummer. My triple sensor locked up on me when I changed the batteries, and I cannot fix it. So I was hoping this would be its replacement. Oh, well. time to buy another triple sensor.

As much as I love Casio, as long as that black bar is there, it's a no from me.

Garmin is the leader in the connected sports watch market. My mid-range Garmin has Android connectivity, GPS, altimeter, heart rate, and a range of sports apps (not Android Wear). Battery life is up to 1 week per charge (depending on how much you use the GPS). If this Casio watch is getting the less-than-one-day battery life of most Android Wear watches, there is no way it can compete with Garmin. I see lots of cyclists and runners using Garmin watches, but none with Casio and I do not see that changing with this new product.

That's really an awesome looking watch in my eyes, I like the rugged look to go along with the GPS function. Show me a geocaching app to go with it and I will really be impressed. The potential $500 price tag runs it right into the non starter field though. Oh well.

Casio is the Ivan drago of watches.
Android Central Newsletter
Get the best of Android Central in in your inbox, every day!
Thank you for signing up to Android Central. You will receive a verification email shortly.
There was a problem. Please refresh the page and try again.