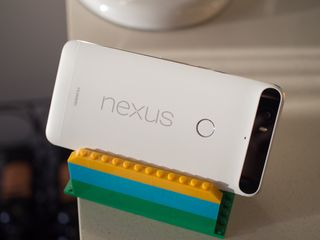 Recently spotted online, a trademark filing for a "Huawei 7P" has the rumor mill churning once again. There's talk that this might be some kind of follow-up to the Huawei-made Nexus 6P, perhaps in a larger tablet form factor. With Google I/O just a month away, there's even speculation that such a device could even break cover at Google's annual developer conference, just as the first Nexus 7 did back in 2012.
Until we see something more conclusive, there's no way of knowing for sure whether Huawei and Google are partnering on the next Nexus tablet. But the circumstantial evidence for it is tantalizing.
It's pretty clear that Huawei values its involvement with the Nexus program. "It has always been a dream for Huawei to work with Google for the Nexus 6P," Huawei VP of R&D Eric Fang told Android Central in Beijing last year. "We believe that Huawei is moving up to the elite and high-range product," Fang added. "So in terms of the hardware and communications we can help Google develop high-range products."
Collaborating on a Nexus product is one way for Huawei to achieve a longstanding goal — to grow its brand awareness and establish itself as a tier-one device maker in Western markets, particularly the United States. And it's not done yet. Huawei's Device VP of smartphones, Chanzhu Li, told PC Mag at Mobile World Congress this February that the company was in discussions with Google about the next collaborative product.
"I think of [the Nexus 6P] as a starting point. Our local team is discussing the next product with Google," Li told the publication. "So far it's not clear [what it will be], but there are a lot of potentials to explore."
It's unclear whether Li was being deliberately coy. But even if the nature of Huawei's next Nexus wasn't clear back in February, Nexus development cycles have been notoriously quick.
"The first challenge [of working on a Nexus] is that we have a very short development cycle," Eric Fang told us following the 6P's launch. Indeed, the original 2012 Nexus 7 was apparently conceived at CES in January, and ready to go four months later.
On the smartphone side, the most credible rumors thus far point to HTC partnering to launch a pair for Nexus handsets later in the year. If things play out in this way, Huawei would be a natural partner for a 2016 Nexus tablet, given its active development of own-brand Android slates and its global reach. And if we are — at least initially — looking at a Wifi-only Nexus tablet, with fewer regulatory hoops to jump through, a dev cycle as quick as the 2012 Nexus 7 isn't out of the question.
Even so, why return to the 7-to-8-inch space when tablets in general are encroaching on laptop territory with ever bigger screens? The success of the first two Nexus tablets might explain this. Smaller, cheaper Nexus tablets were big sellers, and more broadly popular than the larger, more expensive Nexus 9 that followed. At the same time, Google's own Pixel C — effectively a Nexus in all but name — isn't exactly flying off store shelves.
Until Android can realistically challenge Windows in productivity and multitasking, or iOS in its tablet app ecosystem, smaller, cheaper Android slates are going to be the better mass-market option.
A new 7- or 8-inch Nexus would allow Google to showcase Android N's new split-screen multitasking features in an accessible, relatively inexpensive product. Google has an eager partner in Huawei, and the company has shown with its own product portfolio that it's capable of bringing premium metal construction to less expensive devices. As far as internals go, Qualcomm now has great mid-range chips, like the Snapdragon 652, that could comfortably handle the 2K display resolution of such a tablet.
The "Huawei 7P" trademark remains something of a mystery. It's unlikely Google is going to jettison the Nexus brand, and equally implausible that Huawei would channel its own 6P in a completely unrelated product. But Huawei's home country of China presents one possibility. Just as Lenovo sold a modified Nexus 6 in China as the Moto X Pro, Huawei might look to release a version of a future Nexus tablet in the country, perhaps with its own EMUI software onboard.
So we still don't know anything for sure. But there's a compelling case to be made for Google's development of a future 7- or 8-inch Nexus slate. The timeframes involved with previous Nexus tablets suggest it could go from concept to reality relatively quickly, and Huawei has the motive and the means to help Google bring such a product to life. As for Nexus 7P or Huawei 7P? That could equally be a tantalizing clue or a total red herring.
When it comes to release timing, my gut feeling is that Google is more likely to wait until late summer, when Android N is expected to officially debut, for any new hardware launch. That said, a mid-cycle Nexus tablet release wouldn't be unprecedented.
For now, we'll just have to wait and see what shape the next Nexus tablet takes. Keep it locked to Android Central in the months ahead to be the first to know.
What would you like to see in a future Nexus tablet? Let us know down in the comments!
Get the Android Central Newsletter
Instant access to breaking news, the hottest reviews, great deals and helpful tips.
Alex was with Android Central for over a decade, producing written and video content for the site, and served as global Executive Editor from 2016 to 2022.