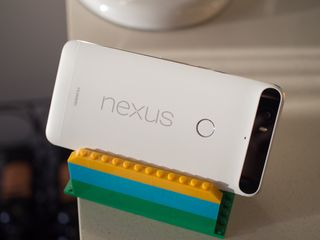 Recently spotted online, a trademark filing for a "Huawei 7P" has the rumor mill churning once again. There's talk that this might be some kind of follow-up to the Huawei-made Nexus 6P, perhaps in a larger tablet form factor. With Google I/O just a month away, there's even speculation that such a device could even break cover at Google's annual developer conference, just as the first Nexus 7 did back in 2012.
Until we see something more conclusive, there's no way of knowing for sure whether Huawei and Google are partnering on the next Nexus tablet. But the circumstantial evidence for it is tantalizing.
It's pretty clear that Huawei values its involvement with the Nexus program. "It has always been a dream for Huawei to work with Google for the Nexus 6P," Huawei VP of R&D Eric Fang told Android Central in Beijing last year. "We believe that Huawei is moving up to the elite and high-range product," Fang added. "So in terms of the hardware and communications we can help Google develop high-range products."
Collaborating on a Nexus product is one way for Huawei to achieve a longstanding goal — to grow its brand awareness and establish itself as a tier-one device maker in Western markets, particularly the United States. And it's not done yet. Huawei's Device VP of smartphones, Chanzhu Li, told PC Mag at Mobile World Congress this February that the company was in discussions with Google about the next collaborative product.
"I think of [the Nexus 6P] as a starting point. Our local team is discussing the next product with Google," Li told the publication. "So far it's not clear [what it will be], but there are a lot of potentials to explore."
It's unclear whether Li was being deliberately coy. But even if the nature of Huawei's next Nexus wasn't clear back in February, Nexus development cycles have been notoriously quick.
"The first challenge [of working on a Nexus] is that we have a very short development cycle," Eric Fang told us following the 6P's launch. Indeed, the original 2012 Nexus 7 was apparently conceived at CES in January, and ready to go four months later.
On the smartphone side, the most credible rumors thus far point to HTC partnering to launch a pair for Nexus handsets later in the year. If things play out in this way, Huawei would be a natural partner for a 2016 Nexus tablet, given its active development of own-brand Android slates and its global reach. And if we are — at least initially — looking at a Wifi-only Nexus tablet, with fewer regulatory hoops to jump through, a dev cycle as quick as the 2012 Nexus 7 isn't out of the question.
Even so, why return to the 7-to-8-inch space when tablets in general are encroaching on laptop territory with ever bigger screens? The success of the first two Nexus tablets might explain this. Smaller, cheaper Nexus tablets were big sellers, and more broadly popular than the larger, more expensive Nexus 9 that followed. At the same time, Google's own Pixel C — effectively a Nexus in all but name — isn't exactly flying off store shelves.
Until Android can realistically challenge Windows in productivity and multitasking, or iOS in its tablet app ecosystem, smaller, cheaper Android slates are going to be the better mass-market option.
A new 7- or 8-inch Nexus would allow Google to showcase Android N's new split-screen multitasking features in an accessible, relatively inexpensive product. Google has an eager partner in Huawei, and the company has shown with its own product portfolio that it's capable of bringing premium metal construction to less expensive devices. As far as internals go, Qualcomm now has great mid-range chips, like the Snapdragon 652, that could comfortably handle the 2K display resolution of such a tablet.
The "Huawei 7P" trademark remains something of a mystery. It's unlikely Google is going to jettison the Nexus brand, and equally implausible that Huawei would channel its own 6P in a completely unrelated product. But Huawei's home country of China presents one possibility. Just as Lenovo sold a modified Nexus 6 in China as the Moto X Pro, Huawei might look to release a version of a future Nexus tablet in the country, perhaps with its own EMUI software onboard.
So we still don't know anything for sure. But there's a compelling case to be made for Google's development of a future 7- or 8-inch Nexus slate. The timeframes involved with previous Nexus tablets suggest it could go from concept to reality relatively quickly, and Huawei has the motive and the means to help Google bring such a product to life. As for Nexus 7P or Huawei 7P? That could equally be a tantalizing clue or a total red herring.
When it comes to release timing, my gut feeling is that Google is more likely to wait until late summer, when Android N is expected to officially debut, for any new hardware launch. That said, a mid-cycle Nexus tablet release wouldn't be unprecedented.
For now, we'll just have to wait and see what shape the next Nexus tablet takes. Keep it locked to Android Central in the months ahead to be the first to know.
What would you like to see in a future Nexus tablet? Let us know down in the comments!
Alex was with Android Central for over a decade, producing written and video content for the site, and served as global Executive Editor from 2016 to 2022.
An update to the Nexus 9. Posted via the Android Central App

Noooooo Posted from my Nexus 6/Nexus 7 2013/Surface Pro 3

Yeah large form factor android tablets just aren't attractive. Posted from my Nexus 6/Nexus 7 2013/Surface Pro 3

Agreed. I have a 10.1 Note tablet and I always go back to my Nexus 7 2013.
Not to mention 16:9 screen ratio :-)

Yes, yes, yes!!! I love the Nexus 9. They gotta keep that size up! Posted from one of my various Nexus devices.

I'd love an updated Nexus 9 running a proper processor instead of a Nvidia Potato. I'd equally love this hypothetical 7-8 inch Nexus 7P with a Qualcomm 652. Posted via the Android Central App

I'd buy a smaller Nexus tablet. I am using an ipad mini and a 2012 nexus 7. I need to replace the 2012 nexus but don't want anything larger than 7 or 8 inches. I have a surface pro 3 if I want a larger device and want it for gaming or other "real work". The 7-8 inch tablets are great for reading news or whatever and they're the perfect size for my kids (4 and 7 years old. My 2 year old plays some as well). I have no interest in anything other than a Nexus though. If this is a Huawei 7P then I'll pass. I refuse to deal with manufacturer's delays and changes. It's either a Nexus or an Apple product when it comes to tablets and phones for me.

How's that 2012 N7 holding up? Mine isn't so great, pretty flakey device all in all. I never say never, but it certainly pushed me even further from ever buying nvidia again. It's best to assume I'm being sarcastic. if I'm ever serious I'll type "/s" to make it clear.

I had one from 2012. Then another. Then another. I said **** it after two replacements and bought a 2013 model.

I have both the 2012 (which my daughter now uses) and a 2013, they still work well. I have had no issues with either device. That said, the 2012 is getting a little long in the tooth. I never did update it to Lollipop though, it's till running 4.4 like a champ. Games are a little slow to load and play and the battery no longer holds a charge well, but other than that, no problems. Because of this I would love to see an updated 7" slate. It's the perfect form factor (and price range typically) for me.

Not good. It is so laggy and slow now. I have it on Kitkat as that seems to be the best for performance but it is still really bad. I've considered a 2013 to replace it but I can't get myself to buy that old of a tablet.

My feelings exactly. If they do release a new nexus 7 following the footprints of the 2013 though I'll probably day one it... Although the 5X doesn't fill me with confidence. It's best to assume I'm being sarcastic. if I'm ever serious I'll type "/s" to make it clear.

That wasn't an Nvidia problem. Do some research. The 2012 Nexus 7 was plagued with terrible NAND flash. My 2012 became basically unusable with how slow it was. My 2013 is a champ. But the 2012 isn't to blame because of Nvidia. That's for sure.

Yeah I'm well aware of the NAND problems, I don't really blame the chip for most of the problems but it's one more in a line of nvidia products that I've owned that have been sub par, while correlation isn't causation, it's enough for me to make a decision. You won't catch me buying a Seagate hard drive either. Bringing up the 2013 N7 proves nothing, that ran an S4 pro. It's best to assume I'm being sarcastic. if I'm ever serious I'll type "/s" to make it clear.

The Nvidia shield tablet is your best bet right now. It's not a Nexus, but the performance I'd good and the form factor is perfect. Plus the ui and most of the nuts and bolts of the OS is stock. Posted via the Android Central App

Amen! My Shield K1 is great. 8" is the perfect size for ebooks and whatnot and Nvidia is so close to stock you don't miss the Nexus experience. They have been really good with updates as well. Best $200 you can drop on a tablet at the moment.

I have the LTE shield tablet. It's great except for battery life... it drains like it's going out of style, and still waiting for MM on it.

This could also just be the sequel to the Nexus 6P and be a phone...

Considering how Google named the Nexus 6P and 5X as follow-ups to the Nexus 6 and 5, and how they've already used Nexus 7 as a tablet, I don't think they'd go with a "Nexus 7" device as a phone.

How about the "Nexus 7P"? 'P' for 'Phone'

Google in a reddit AMA said it stands for premium in other words it's just a letter to use. Posted from my Nexus 6/Nexus 7 2013/Surface Pro 3

I can't see wide use and demand for voice on tablet or watch. Yet with VoLTE particularly on Fi or ubiquitous to carriers it seems very possible. A separate plan for the number seems costly. I suppose people use voice over wifi like Google Voice if you don't have a phone or are into limited minutes frugality. I just can't imagine it as a wide use must have.

Next round of phones. The nexus 5P and 6X Posted via Xperia Z5

Or Nexus x800 xt platinum edition if anyone remembers those days Posted from my Nexus 6/Nexus 7 2013/Surface Pro 3

Hahahahahaha yeah let's take it back to the year 2000 Posted via the Android Central App

More like 2004 but yeah Posted from my Nexus 6/Nexus 7 2013/Surface Pro 3

In that case, I will get a 6PP and a 5XXX.

The internals and pricing talked about in the article speak more to an "X" than a"P" device. Either way it's probably time for a new, budget friendly nexus tablet. It's best to assume I'm being sarcastic. if I'm ever serious I'll type "/s" to make it clear.

I'd Huawei Nexus 7P tablet. I really miss my Nexus 7 (2013). That was a perfect size tablet.

Android needs a good 7 inch tablet, the nexus 9 as a general purpose device is inferior to the N7 2013 in build and initially in software. Posted from my Nexus 6/Nexus 7 2013/Surface Pro 3

I think I would sure like one.

I don't want a large tablet. I loved my Nexus 7 (2012) and almost moved to the near-perfect Nexus 7 (2013). I welcome a new 7" Nexus tablet.

Android just doesn't "work" on large tablets, really. Apple does that MUCH better. Posted from my Nexus 6/Nexus 7 2013/Surface Pro 3

I'd love to see this happen. Posted via the Android Central App

This is a long shot, but I hope there's a version with support for voice calls, so it could be both my phone and tablet.

I just don't get it based on what we can do with the versatile powerful computers small enough to carry in our pocket. Tablet, laptop, and pc sales are rather dismal compared with times past for a reason.

I'd prefer for them to be a partner again for a Nexus phone. I'd give a small tablet a long, hard look though. Posted via the Android Central App

I have gravitated toward larger tablets until recently getting a Verizon Ellipsis 7 for "free." Dreadful, awful machine, but discovered I love that size. I would def get a premium build Nexus 7 tablet by Huawei. I love my 6P more & more each day. Posted via the Android Central App

A trademark filing for a 7P, so it would be concurrent with the 6P / 5X so either a tablet, or I thought Alex was alluding to a smaller 6P at the start. Then would the name make sense.
Do I make sense.
Answers below or on a postcard.

I though HTC is making Nexus for next 3 years as per the reports(rumors?) a few months ago. Well, I wish HTC makes this year Nexus.

Did you read the article? Posted via the Android Central App

I'd be happy with a google version of the Amazon Fire tablet ($50), could pretty much just re-release the N7 2013 at that price and have a winner.

It's definitely time for a new 7" nexus tablet. My current N7 is starting to get up there in age and I am ready for another one to replace it. I don't want a laptop replacement and I don't need something like a surface clone either. Just give me a solid 7~8" stock android tablet with a nice display, decent specs, and a reasonable price point, and I'll be all over it.

I hope Nexus 7P is updated version of MediaPad or P8Max

I still use My nexus 7 2013 daily it still flies. Play games on it for hours. Been waiting for a new seven inch tab. Can't wait. Whoever makes it. Posted via the Android Central App

After using note size phines, for me is a waste of time to buy 7in tablets. Posted via the Android Central App

My feeling also. Posted via the Android Central App

Can't the 7p be a phone. My Nexus 6 is sitting to feel small Posted via the Android Central App

Wut Posted from my Nexus 6/Nexus 7 2013/Surface Pro 3

Please let me replace my Nexus7 (2013). It is just getting a little slow but still sees daily use. Posted via the Android Central App

I am ready to upgrade my Nexus 6

I'm slowly getting there, probably early next year. Posted from my Nexus 6/Nexus 7 2013/Surface Pro 3

First and foremost the naming must be changed. Way to hard to distinguish devices and years. Imagine how easy it would be for us if Samsung and LG and HTC followed.
Nexus 7p-16
Nexus 6p-15
Nexus 5x-15
S7-16
G5-16
HTC10-16 Etc...

Then Apple should also change their phone-naming too :) Posted via the Android Central App

I thought the rumor mill says that HTC signed a 3 year Nexus deal? Or is that just phones not tablets? Perhaps it is a 3 device deal (tablet, phone, extra)

Well, that's the rumor mill. Nothing (including the Nexus 7P) is official until it's official.

Please please please, google! ;)

Something I didn't see in the article... It's also worth noting that, if Asus is, in fact, releasing two phones under the Nexus brand, that there wouldn't be just 2 Nexii devices this year, as has been the norm these last few years (Nexus 4/Nexus 7, Nexus 5/Nexus 7, Nexus 6/Nexus 9, Nexus 5X/Nexus 6P)... Posted via the Android Central App

I don't want to see an Intel Nexus right now, not until the chipset improves. Posted from my Nexus 6/Nexus 7 2013/Surface Pro 3

It'll be interesting to find out what google thinks is so important that they HAVE to release 3 devices this year. I don't know if that exactly means an Intel chipset or what... Posted via the Android Central App

It does and it doesn't Intel won't want a SD chip on a flagship, most likely. Posted from my Nexus 6/Nexus 7 2013/Surface Pro 3

Personally, I'm hoping Huawei stays as the top level smartphone producer for Google. I love the Nexus 6P, and would jump on a 7P if they'd put the 820 processor into it. I also have the Nexus 6, and I really like it (particularly the size), but the 6P is much more jewel-like than the Nexus 6. The only phones that I've liked as much as the 6P are two Samsung Note phones I've had...but then there's the issue of bloated and convoluted Android on the Samsungs. Overall, the Nexus 6P is my favorite phone ever, including 3 iPhones (2 were/are phablets, which is all I buy now).

Huawei usually includes a phone in their tablets. Look to their MediaPad X1, X2, M2 8.0, T1 Pro. I'm hoping a Huawei built Nexus 7 tablet will actually be a smartphone. If so, it will be my next phone, relegating my Moto Nexus 6 to a backup divice.

I would love a successor to my beautiful Nexus 7 2013 which has stood the test of time and performing admirably #TeamFrosty Nexus 6P

My Nexus 7 2013 has aged really well. Marshmallow has given it a fresh make over with improved battery life from doze. It is in no way disgraced by the newer tablets out there. The 1920 x 1080 is still considered decent for 2016, the performance is excellent and it hasn't let me down once. A new Nexus 7 would be very high on my shopping list, but I'd still find a lot of uses for my 2013 model. Posted via the Android Central App

I really hope they don't go as small as a 7 inch tablet. I donated my nexus 7 to a charity because I no longer used it once I got my nexus 6. If they keep the the 5.7-6inch phones I think they need something a little bigger than an updated nexus 7. Posted via the Android Central App

I'm guessing that Google wants to create a "Pro" tablet, similar to Apple. I think SD 800/801 prices have dropped enough to be used in a $200-300 tablet with the Nexus branding. Posted via the Android Central App

Android just doesn't work very well on large tablets right now, there is no way they can compete with Apple on the high end of large tablets.

Nexus 7X or 7P? Posted via the Android Central App

I'd love to see an 8" replacement for the Nexus 7 2013. Of course without an update breaking my tablet software beyond repair, more likely a mobo problem than the software. That was my only problem with my Nexus 7 2013. Posted via the Android Central App

All for this. Fingers crossed.. Posted via the Android Central App

My Nexus 7 LTE (2013) is still working well, Marshmallow has kept battery life good too. But, it is getting up there in age, and I would so love a new Nexus 7, great size for portability but big enough for video and reading. Posted via the Android Central App

+1 Posted via the Android Central App

I just picked up a Nvidia Shield K1, and for me, I think of it as a spiritual successor to the 2nd Gen Nexus 7, not the Nexus 9 or Pixel C that followed. If Huawei really does come out with a Nexus 7P, I want it in my collection! From my Nexus 6P or 5 via the cooler than cool Android Central App

I use my 2013 Nexus 7 when traveling for music, podcasts, and video. I'm waiting for an update and I'll buy instantly. Hopefully this rumor is true-ish. Posted via the Android Central App

Seven inch tablets suck, too small !

I think the Nexus 7 could really do with an update.

I'd love a new 7" nexus tablet Posted via the Android Central App

Anyone on here still rocking a Nexus 10? Mine is still kicking, although the battery took a crap about a year ago. It gets to 70%, and shuts down. Pretty much sits right next to my TV on the charger, for use in streaming stuff on my Chromecast. Screen is still competitive with today's tablets. Speakers too. Posted via the Android Central App

I still have mine. I didn't use it for a month and the battery died. When connected to a charger it wouldn't accept any current. I order a replacement battery from New Power 99 and it runs good as new. Not as easy a replacement as they make it look in the U-tube video, but not that hard. Easier than a battery replacement in a N5.

Absolutely love the nexus 7 2013. Use it regularly to this day. Not excited about a new one. Not that i dont think it'll be any good. It'll be great im sure (given how well the 6p turned out) but im waiting for another 9 or 10inch tablet. I liked the nexus 10 and think something more that size would really shine with multiple windows. I suspect as they polish and build upon N another 10 inch will be released once the os becomes a bit more "laptop/cpu like" (for lack of a better term)

YES! Finally a way to replace my Nexus 7 and AT&T LG G Pad Posted via the Android Central App

Screw a smaller tablet, how about a smaller PHONE? I would kill for a 5" Nexus '5P'. I just cannot deal with the size of the 6P. Why not shrink it 10%? Hell I don't even care if the screen is 1080p instead of quad HD. Make that exact phone, same innards, same materials, 5" screen, don't even care if it's slightly thicker, then shut up and take my money. Ugh.

Nexus 5X? There is literally already a phone that fits most of your criteria.

People who say a large tablet is stupid. Yet most people have a 5.5" phone or bigger. The extra 1.5" to a 7" is a waste of time if you ask me I'd rather just use my 6p than shell out money for a 7" tablet. Posted via the Android Central App

I would love a Huawei Nexus 7P tablet. 7inch screen, looking exactly like Nexus 6P, wifi only, with a fingerprint sensor, 128 or 256GB of internal storage, running Android N (I would call it Nougat by the way). Posted via the Android Central App

So: 1- Release a small 16:10 tablet, with a phone UI and where phone apps actually look acceptable on as your flagship tablet.
2- Wonder why Android is not really working on anything but phones
3- Go back to step 1.

Except Google has bigger tablets out there, Android still doesn't work well on them.

And that's the point. Fix Android and your basic apps first, rather than release small tablets where the inadequacies of Android are less obvious. It may be too late at this point though. Posted via the Android Central App

As much as I love the form factor of the Nexus 9, I kind of loved the Nexus 7 too, especially the 2013 model. I wonder if it would be the traditional 8x5 ratio screen, or 4x3, or maybe the 1:√2 of the Pixel C? I like the 4x3 Nexus 9 but I've never used that in a smaller size. The Nexus 7 was great for games, big enough to really enjoy it, but small enough to double thumb it. I think I'd love VainGlory on one of those. Posted via the Android Central App

Eagerly waiting for a Huawei Nexus 7p small tablet to have on the couch and read/watch tv in bed!
Rather have it at 8" though, as my Nexus 6p is already a beast :)

This I would love since I bought a used 2013 Nexus 7 on Swappa a little while back that I am using right now. Tried the Shield K1 but the battery life was terrible and the screen didn't look near as good so I came back to this and if they would just make the screen at least 8in and speakers on the front it would be perfect! I don't like a 4:3 screen when watching video or I would have probably invested in the N9. Moto X 2014 XT1095
Nexus 7 2013

I would absolutely buy a new Nexus 7, sharing the ipad mini with the wife can be an issue from time to time, plus I prefer Android. I don't see much point (for me) in larger tablets, I might as well just get my laptop out.

You and I think the same way. I still have my 2013 Nexus 7 LTE for watching video, and it works wonderfully well. I hardly have any apps installed on it these days, so it runs quite nicely on Marshmallow. I use my laptop for anything that requires productivity and heavier tasks, but the Nexus 7 is absolutely perfect. Fits in my pocket, has great build quality, and works amazingly as a wifi hotspot. It's one of my favorite devices of all-time. I truly hope Google bring back a smaller tablet...would love a successor.

For me it's either this Tablet or upcoming Galaxy Tab S3 Posted via the Android Central App

They already make a smaller Huawei tablet.. its called the 6P.

Exactly buying a 7inc tablet is waist of a time, well at least for me ever since the note series in used to using 5.5 phones. Posted via the Android Central App

I think there is a perfectly strong case for a Nexus 7P but not with a Snapdragon 6xx but rather the 820 unless they make two models - one cheaper "Nexus 7X" and a higher end "Nexus 7P" which can be supplemented with a "Nexus 9P" or "10P" depending on screen size but it seems like the Pixel series reigns in that segment. I consider everything below 6.3-6.4 inches to be too small for reading and browsing, not to mention general multimedia and is therefore still rocking the Xperia Z Ultra. The original Nexus 7 has a perfect size and an updated version with slimmer bezels could either keep that display area or increase it (7.5 inches or so). What is very important is 128 GB internal storage in one version and a centrally located USB port for simple OTG for expanded storage since microSD is unlikely. A Snapdragon 820-Nexus 7P with 32, 64 and 128 GB options (remember that the S820 isn't the latest and greatest in a couple of months due to new chipsets coming out) paired with a 2K display and Android N with a keyboard accessory would be great and very tempting. An entry level 6xx based 7X with 32 or 64 GB storage could be an entry level solution and those who want a bigger screen can get a Pixel C-2 (successor to the Pixel C). I would be happy to pay around $500-550 for Nexus 7P LTE with 128 GB of storage and Snapdragon 820 in Q4 this year. An entry level 32 GB 652 based 7X could be around $249 and would fulfill those requirements. There is a strong case for a powerful device around 7 inches, which is a sweetspot between the portability of a 5-6 inch smartphone and the display size of a "full size" tablet. This market segment has been under served for a while, either by a lack of products or too outdated hardware (2011 level of specs with 1 GB RAM etc) so it is time to do something about it. LeTV and Xiaomi is addressing the segment now (6.3-6.4 inches) and Google is more than welcome to do their part (Nexus 7X and 7P). There is also another option - namely that another manufacturer team up with Google about making a vanilla N tablet/phablet with powerful hardware and a 7 inch screen which wouldn't be sold as a "Nexus" but be very similar (i.e. something like what Sony does with their concept ROMs for MM and N for the Z3).

Wait, so people are still complaining over a small form factor, low powered phone? Lulz. Small form factor = lower specs. Simply the fact of your matter.

Except the ~5"android phones have the fastest soc out right now...... Posted from my Nexus 6/Nexus 7 2013/Surface Pro 3

I've tried to love Nexus tablets in the past, but they just don't compare to the iPad experience in my opinion. Hopefully this is the year that Android on a tablet experiences a breakthrough.

Loved the original nexus 7. Got me into tablets. Would love a more high end spec wise refreshed nexus 7.

I have a Nexus 5x and I have a 2013 Nexus 7.
Price/performance it's very important for me.
Nexus 7 (2013) it's a great tablet,believe me. Yes,I'm interested in a new Nexus 7 tablet
and very curious about the new (October,November) Nexus 7 phone.

Now that I use a Nexus 6 I'm using my Nexus 7 2013 a big less. But there's still value in that bigger screen. What I'd like to see now is an 8 inch screen with a 16:10 ratio (Just say NO! to 4:3). With the the smaller bezels available today it should be possible to squeeze that screen size into nearly the same footprint as my Nexus 7. Please also include Qi charging in there too (HUGE MISTAKE leaving it off the 6P and 5x) like my Nexus 7. So convenient to just drop it on the cradle before I go to sleep and not worry about a cord. Been thinking about a Shield K1 so waiting to see what Google does.

I'd be interested if they made one with an SD card.

I love my 2013 Nexus 7, but it is a little small for me. I have all but stopped reading eBooks on it, because it's size doesn't make sense, at least to me. I love the size for everything else, but I love to read, and I think an 8-9 inch would be perfect.

Maybe they can put out a 6-6.2 incher as well as a 5.2-5.5 incher this time around. I'm waiting for a larger phone. I had the Nexus 6 but the lack f a fingerprint scanner and so so battery life makes me not use it anymore.
Android Central Newsletter
Get the best of Android Central in in your inbox, every day!
Thank you for signing up to Android Central. You will receive a verification email shortly.
There was a problem. Please refresh the page and try again.