Can you Cast Google Daydream footage to a phone or tablet?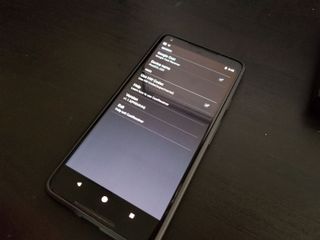 It's always fun to immerse yourself in a world of pure imagination virtual reality, but there are also times where you'll want to share your world with other people. In most cases, a Chromecast will be your best option.
But say you have a spare phone or tablet. It'd be cool to be able to share your gameplay footage with this device. So, can you Cast your Daydream footage to a spare phone or tablet?
Well…
In a word: no. Or at least, probably not. Phones and tablets just don't include the bits that let them act as Chromecast receivers, while Chromecast dongles, Android TVs, and Chromecast-enabled speakers do. Some users were able to get the Cast Receiver Android TV app sideloaded onto an Amazon Fire TV, so there was some hope that this would also work for your phone.
Alas, it doesn't. At least, not for me. I tried sideloading the application onto both a Google Pixel 2 XL and a Samsung Galaxy S8, and while the application ran, neither phone showed as a Cast target for the other phone, my Chromebook, or the Chrome browser on my computer. It can't hurt to give it a try — so long as you trust sideloading the app — but don't set your expectations too high.
Just buy a Chromecast
I hate telling people to spend money when they can just re-use an existing device, but in this case, your only real option is to buy a Chromecast. Fortunately, the Chromecast will be able to do a whole lot more besides just playing your game footage.
See at Google (opens in new tab)
What say you?
Have you ever Cast footage from your Daydream headset? Let us know down below!
Android Central Newsletter
Get the best of Android Central in in your inbox, every day!
Thank you for signing up to Android Central. You will receive a verification email shortly.
There was a problem. Please refresh the page and try again.