Will my phone run Call of Duty: Mobile?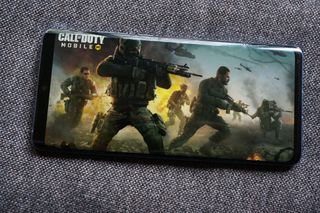 (Image credit: Android Central)
Call of Duty: Mobile is a first-person shooter from Activision, developed by the Chinese company Tencent. Since its October 1 launch, many gamers have been asking if their phones can run the popular game. Luckily, Activision answered this question on its support page.
What android version do we need?
There are a lot of different Android versions out there, and a lot of phones running much older software than the current Android 10. Fortunately, Call of Duty: Mobile supports Android versions all the way down to 5.1 Lollipop.
This is likely due to the developer Tencent having such a global reach. A lot of phones in India and China are running older versions of Android that have been reskinned for the device manufacturer. Call of Duty: Mobile has been downloaded over 20 million times so far, and a large percentage of those downloads are in those two countries. Catering to your captive audience makes a lot of sense if you want to make a lot of money.
Check your version
Checking your version number is slightly different on every phone, but the general rule of thumb is that it can be found in the about phone section in the settings of your phone. Most models have the settings icon — a little cog symbol —in the notification shade.
To access the settings, pull down your notifications from swiping down from the top of your screen and then doing the same thing again. This will show settings panel and will give you the cog icon in the bottom right. From this setting page, it should be simple to find your version number in the about phone section.
What about Memory?
Since Call of Duty: Mobile only requires 2GB of RAM, it should be compatible with a variety of Android phones and tablets. RAM is something that Android phones have traditionally lowballed consumers with, but if you are using any relatively new phone, it will have 2GB or more.
The more RAM you have, the more likely your phone will able to handle the graphics on CoD: Mobile without slowing down. It might even let you play the game on the highest graphical settings. My Pixel 2 XL with 4GB of RAM plays the Battle Royale beautifully on medium settings and the standard multiplayer on high with no lag issues at all.
It's made to play
It's clear that Activision and Tencent want the maximum number of people possible playing Call of Duty: Mobile. The game runs fantastically well on every phone we have tried on it, and we don't see a huge number of complaints about the quality in the wider world either.
The only complaint I have seen is about the Battle Royale. To keep the frame rate up, you need to sacrifice some of the graphic quality when there are 100 players, plus vehicles, all on the same map. It's inevitable, but it's still frustrating to some players. Hopefully, Tencent can optimize the game even further to help lighten the load on the older phones.
Console quality

CoD: Mobile lets you enjoy outstanding multiplayer action on-the-go with friends or random players. The inclusion of a full-fledged battle royale mode is just the icing on the cake.
Get the Android Central Newsletter
Instant access to breaking news, the hottest reviews, great deals and helpful tips.