Businesses can now send RCS texts to Android Messages users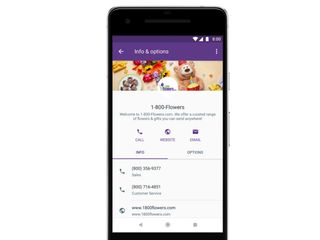 We're expecting Google to go all-in with Android Messages later this year to turn it into a true iMessage competitor, but until that day, folks in the U.S. and Mexico are getting a small treat of what's to come. Thanks to Google's never-ending push of Rich Communication Services (or RCS), businesses can now tap into this to offer more engaging experiences.
Instead of sending bland SMS texts, companies can use RCS to send rich and interactive messages to their customers that use Android Messages. Businesses like 1-800-Contacts, Booking.com, Subway, and OpenMarket will be leading this charge in the U.S., and Mexico will soon follow suit with 5 Piso, DHL, Secretaria de Salud, and more.
Per Google's official announcement:
Google says that it's partnering with Sprint for this initial business rollout of RCS in the U.S., but there are 43 different carriers around the globe working on adopting Google's Jibe RCS Hub.
Android Messages is Google's best chance to compete with iMessage
Joe Maring was a Senior Editor for Android Central between 2017 and 2021. You can reach him on Twitter at @JoeMaring1.
I want RCS to happen so bad but it's frustrating as right now it only works for t-mobile to t-mobile numbers for me. Other users use Verizon messages etc and it just doesn't work. I'm sure LG and Samsung and all companies have their own apps too. This needs to be a standard across apps and carriers. And Apple needs to support RCS when not using imessage but that won't happen

*Sigh*
While I can't wait for an Imessage equivalent on Android, it is annoying that Google rolls out updates, services and products to only a select few countries.

makes me glad I don't use the Android Message app. Although I can see this being the future of all messaging apps.

If this isn't the best reason to dump the app, I can't imagine a better one. Spam messages, facilitated by the app.

I agree. I want features that allow me to send high quality images etc, not be spammed by companies.

You have to have opted in to getting texts from the business in the first place otherwise you report spam no different than without RCS.

Still not needed, plenty of other services available if you want pretty graphics in your text. SMS was a system to send small text messages and for that it does the job well.
Always mucking around with things that just work. Have google thought how much RCS is going to cost people? I doubt it will be classed as a normal text.

Hurry up already, they should have already had an iMessage like eco system. they need to remove all the messaging app and stick to one only.

Yay ! More spam !! But at least it will be richer and more beautifull spam ...

I'm not looking towards the colorful spam messages

So glad my phone have a normal SMS app on it and that at the moment no providers as far as I know in the UK support RCS. Bad enough for people getting spam in text as it is, now they will be able to get it in colour. Text should be left as it is,
Android Central Newsletter
Get the best of Android Central in in your inbox, every day!
Thank you for signing up to Android Central. You will receive a verification email shortly.
There was a problem. Please refresh the page and try again.