BlueStacks announces Android-powered GamePop gaming console and subscription service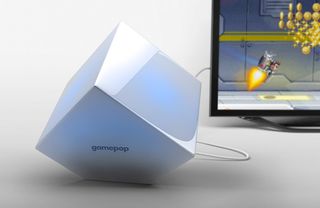 Popular mobile game titles on your TV, using your phone as a controller
BlueStacks, which is best known for letting users run Android apps on Windows and Mac computers, is going in a completely different direction with the introduction of a new gaming console called GamePop. But the console is just half of the story -- GamePop also encompasses a monthly subscription service that lets users play as many games as they want on the console with no additional charges. The console itself is running Android, and can be connected to your TV and controlled from either your phone or a dedicated game controller. Outside of that, we don't have any details on the internals of the device, although the design certainly looks interesting.
To make sure there's a good selection of games to choose from, BlueStacks has partnered with some of the biggest mobile developers out there right now. Names like Halfbrick, Glu Mobile, OutFit7, Intellijoy, Deemedya and many more are all on board to bring their titles over to GamePop. From the developer's perspective, they will receive 50-percent of the subscription price per user -- based on gameplay time -- for having games available on the platform. Additionally, BlueStacks will not take a cut of any in-app purchases if developers choose to have them in their games. Hopefully this generous revenue sharing model can help boost the number of games that come over to GamePop.
GamePop is available for pre-order starting today, and interestingly will be offered for free with a monthly subscription of $6.99 during the month of May. After the initial May pre-order period ends the console will have an up-front cost associated with it, however, which hasn't been specified. Given the quick rise in number of users of its desktop software to run Android apps, we have to think BlueStacks may be onto something. Does it have what it takes to challenge competitors like OUYA though? We'll have to see going forward. Stick around after the break to see a nice introductory video and a full press release for the device, and follow the source link if you're interested in pre-ordering a GamePop console.
More: GamePop
BlueStacks Announces GamePop, Brings Famous Mobile Games to TV
Mobile gaming comes to the living room via new product, service; several top developers on board
Palo Alto, CA May 9, 2013 – Mobile company BlueStacks today announced a new gaming console and subscription service called GamePop. The system includes a custom console and gaming controller free as part of the $6.99 per month service for May pre-orders only. This marks the first time a gaming console has been offered free with a subscription. The company recently passed 10 million users of its App Player software, which allows mobile games to be played on Mac or PC.
BlueStacks has also announced content deals today with several top game developers for the new platform, including Glu Mobile, Halfbrick, and OutFit7 - makers of the popular Talking Tom series.
"BlueStacks has credibility in the microconsole space that others just don't have," said Shainiel Deo, CEO of Halfbrick. "We've been a featured partner in App Player since early on and they've delivered on every promise in terms of distribution. GamePop is a great incremental channel for us."
Other Google app-makers with the coveted "Top Developer" badge coming on the platform include the #1 kids app-maker Intellijoy, as well as Deemedya, Chinese wunderkind Droidhen and many more yet to be announced. "Mobile gaming has been taking off the past few years. BlueStacks' vision is to bring that same experience to bigger screens," said BlueStacks CEO, Rosen Sharma. The all-you-can-eat pricing model for GamePop lets users enjoy a much broader range of games, just as you can watch more movies with Netflix versus the pay-as-you-go model Blockbuster employed."
"Mobile gamers continue to show higher levels of engagement and longer play sessions on larger form factors," said Glu CEO, Niccolo de Masi. "BlueStacks and GamePop offer developers like Glu an opportunity to potentially reach a new audience of gamers with great 3D, high-production value content. We see significant potential in BlueStacks' approach to the console gaming market." Developers keep all of the in-app purchases that run through their apps with GamePop - BlueStacks does not take any share. Additionally, 50% of GamePop subscription revenue will be shared back with developers, apportioned by usage.
BlueStacks plans to market GamePop subscriptions directly from GamePop.tv, which went live today. Their main site, BlueStacks.com the company announced for the first time today clocks 1.6 million unique visitors every month and growing. GamePop will also be featured on BlueStacks' Facebook page, where they maintain a community of 1.2 million fans.
ABOUT BLUESTACKS
BlueStacks was founded in 2009 to bring the energy and creativity of the mobile app world to every type of device. The company is funded with 15M from Intel, Andreessen-Horowitz, Radar Partners, Redpoint, Ignition Partners and Qualcomm. The company's App Player software has over 10 million users. Join their more than 1.2 million Facebook fans at Facebook.com/BlueStacksinc, or on Twitter at @BlueStacksinc
Get the Android Central Newsletter
Instant access to breaking news, the hottest reviews, great deals and helpful tips.
Andrew was an Executive Editor, U.S. at Android Central between 2012 and 2020.