Blackphone is now shipping to security-conscious consumers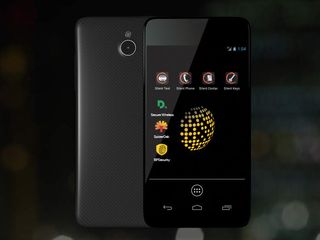 Blackphone is a sturdy smartphone focusing on nothing more than user privacy and security. The Android mobile device focuses on rigorous security and is now shipping to the first wave of purchasers. For those who aren't familiar with the device itself, it's a result of a partnership between Spanish manufacturer Geeksphone and security company Silent Circle. Using a "security-orientated" Android build called PrivatOS, consumers who opt for the Blackphone are able to enjoy a more secure environment for $629.
The device itself was made available for pre-order back in February, promising to provide end-to-end encryption for Blackphone customers who interact with each other. For messaging from a Blackphone device to a non-Blackphone, there will be a one-way encryption that occurs from the Blackphone side to Silent Circle servers. Additionally, Blackphone can mask what information and block apps from obtaining private information. Example being an app requiring access to the phone's address book, prompts Blackphone to intercept the request and tell the app that the address book is empty.
For those who are interested in the specifications, the Blackphone comes with a 4.7-inch display, quad-core 2GHz processor, 1GB of RAM and a 2,000mAh battery. Then there's Silent Phone and Silent Text for secure, encrypted telephony and messaging; a remote wipe feature for contact data; user prompts to switch on local data encryption; plus a bundle of third party security-focused services to further expand the feature set — including SpiderOak secure cloud storage, VPN anonymised browsing via Disconnect, and Kismet's Wi-Fi analyser. It's quite the solution.
Since this is a product aimed at consumers, there's a handy wizard to help guide new users through setting everything up, without being overwhelmed by the introduction to mobile data security. Standard Android apps can be installed but are monitored by Blackphone. The Android device sold out, but the joint venture aims to have pre-orders back up and running on July 14. Did you manage to place an order?
Press release:
GENEVA, SWITZERLAND: June 30, 2014 - SGP Technologies SA, the Switzerland-based joint venture of Silent Circle and Geeksphone behind Blackphone, today announced that Blackphone handsets have started shipping to the device's first pre-order customers. SGP Technologies formally launched Blackphone earlier this year at Mobile World Congress (MWC). There is overwhelming demand for the phone's focus on user privacy and the unmatched array of integrated features for private communications, browsing, and cloud storage that make Blackphone a category-defining leader in privacy phones. Most recently, MIT Technology Review recognized Blackphone on its prestigious list of the "10 Breakthrough Technologies" of 2014. In addition, Blackphone has won two other awards since its media launch: "The 10 Best Products at MWC 2014" and 2014 Red Herring Europe Top 100 Winner.
"We are excited to achieve this key milestone on schedule and ship a remarkable device to customers that is the result of an unprecedented combination of privacy and mobile innovations and visionaries," said Toby Weir-Jones, CEO of SGP Technologies. "Blackphone's arrival puts mobile privacy directly in the hands of professionals and consumers everywhere. In a world where devices and apps increasingly offer features only in return for users' personal or sensitive information, the pent-up demand for Blackphone shows there is strong, international demand for our brand's devices and services that stand apart by placing privacy before all else."
Blackphone is the world's first smartphone built from the ground up to maximize user privacy. Blackphone's security-enhanced operating system, PrivatOS, built on Android™ KitKat, provides users protection and control over security issues without the usual compromises. The unique advantages include:
Private communications: Blackphone features private encrypted voice and video calls and text messaging with attachments via Silent Circle's, Silent Phone and Silent Text apps created by Phil Zimmermann and Jon Callas, giving users the freedom to communicate securely anywhere they find cellular or Wi-Fi connections.
Wi-Fi security: The included Kismet Smarter Wi-Fi Manager prevents Wi-Fi hotspots from capturing Blackphone users' wireless connection history and other information that could be used to track users' locations or patterns of activity and information about sensitive office or home networks.
Security Center: Gives owners complete control over application permissions, allowing immediate changes without rebooting or reinstalling.
Remote wipe and protect: A powerful remote wipe tool gives Blackphone owners further peace of mind in having the ability to control their phone's data from anywhere in the world.
Anonymous Web browsing and VPN: Disconnect Search is the default search provider for Blackphone, offering private browsing protection from invasive Web monitoring by hiding users' IP address, browser cookies and personal information. Blackphone also features Disconnect's Secure Wireless app, which is a smart VPN designed to prevent eavesdropping over Wi-Fi and cellular networks.
Private cloud storage: Blackphone owners can access files in SpiderOak's private encrypted cloud service right from their mobile device, knowing only they have the means to decrypt and access their private files.
Blackphone's initial inventory sold out quickly in the months following Mobile World Congress and SGP Technologies will re-open the Blackphone Web store at https://store.blackphone.ch on July 14 to begin accepting new orders. Customers in certain countries will be able to order Blackphone handsets through the device's carrier partners, such as KPN N.V.
For more information on Blackphone's availability, feature-set and technical specifications, please visit https://www.blackphone.ch or follow @Blackphone_ch on Twitter.
Sign up for Black Friday email alerts!
Get the hottest deals available in your inbox plus news, reviews, opinion, analysis and more from the Android Central team.