Best Peacock shows available right now
Looking for something to watch? We've made a list of all the best shows that you can watch on Peacock now.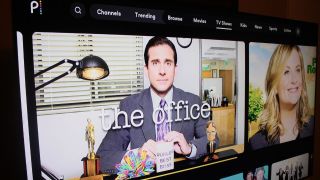 (Image credit: Keegan Prosser / Android Central)
NBC's Peacock streaming service is the digital hub for new and old NBC series, Peacock originals, and various content from other networks. And with both a free tier and two premium plan options, there's lots of content to choose from. With that in mind, we've rounded up the best Peacock shows available right now.
All the shows, movies, and sports you want
NBC's Peacock streaming service is the exclusive home for iconic NBC series like The Office and shows from a collection of other networks. You can also find a rotating lineup of free and premium movies.
Peacock Originals
In addition to featuring a variety of classic series and shows that are currently airing new episodes on TV, Peacock features a lineup of exclusive content. Here are some of the best Peacock originals streaming right now.
Bel-Air
Why you can trust Android Central Our expert reviewers spend hours testing and comparing products and services so you can choose the best for you. Find out more about how we test.
A dramatic reboot of the hit '90s comedy, The Fresh Prince of Bel-Air, Bel-Air stars Jabari Banks as Will and follows the teenager's complicated journey from the streets of West Philadelphia to the gated community of Bel-Air through the lens of modern-day romance, politics, and social issues. New episodes started streaming weekly on February 13.
Macgruber
Based on the Saturday Night Live sketch and the 2010 film of the same name, Macgruber stars Will Forte as the titular hero and follows him as he faces a major villain from his past: Brigadier Commander Enos Queeth (Billy Zane). The series also stars Kristen Wiig, Ryan Phillippe, Sam Elliott, Laurence Fishburne, and Timothy V. Murphy.
Joe vs. Carole
In Spring of 2020, the world was talking about two things: COVID-19 and Tiger King. Like the true crime documentary, Joe vs Carole follows the famous case of zookeeper Joe Exotic (played by John Cameron Mitchell) and his bitter feud with animal rights activist Carole Baskin (Kate McKinnon). All episodes are available to stream now.
Wolf Like Me
Wolf Like Me stars Isla Fisher and Josh Gad as Mary and Gary, whose universes collide following a car accident in suburban South Australia. As the pair get closer, however, Mary's secrets threaten to tear them apart. New episodes stream weekly.
Just Added
In addition to giving subscribers access to a ton of current NBC series, Peacock also adds a variety of new and classic series from other networks. Here are some of the series that were just added to the streaming platform.
The Thing About Pam (Peacock)
Starring Renee Zellweger in the titular role, The Thing About Pam is a dramatization of the 2011 real life murder case involving Pam Hupp (originally featured on NBC's Dateline). The cast also includes Josh Duhamel and Judy Greer, and new episodes are added weekly.
Chucky (Syfy/USA Network)
Inspired by the original Child's Play horror franchise, Chucky follows the titular possessed doll as he commits a series of mysterious murders in a quiet city in the United States. The series serves as a sequel to Cult of Chucky and finds Brad Dourif reprising his role as the voice of the murderous toy. Season 1 is streaming now.
Grand Crew (NBC)
Grand Crew follows a group of young Black professionals in Los Angeles as they strive to live their best lives. The series stars Nicole Byer, Aaron Jennings, Echo Kellum, Justin Cunningham, and Carl Tart. New episodes stream weekly.
Naruto SD: Rock Lee & His Ninja Pals (TV Tokyo)
A spin-off of the popular Naruto manga series, Naruto SD: Rock Lee & His Ninja Pals follows the character Rock Lee as he works on his ninja training. The series features voice work by Yoichi Masukawa, Yukari Tamura, and Kôichi Tôchika.
WWE Network on Peacock
Peacock is also the exclusive home for all things WWE, meaning that signing up for a Premium Peacock plan allows you to watch WWE events without PPV fees. So whether you want to rewatch your favorite match or watch a documentary about your favorite wrestlers, the platform has you covered. Here's some of the best WWE-related content you'll find.
WWE 24
The WWE 24 docuseries gives fans an inside look at both groundbreaking events and the day-to-day lives of some of WWE's biggest superstars. Seasons 1-7 are streaming on Peacock's Premium tiers.
NXT UK
NXT UK celebrates the rich history of wrestling in the UK through the eyes of some of the best wrestlers on the continent. Seasons 1 to 4 are streaming now.
WWE Talking Smack
WWE Talking Smack features exclusive interviews with popular "SmackDown" Superstars, which are recorded directly after the show and include their thoughts on the evening's biggest moments. The Season 6 panel is led by Kayla Braxton and Paul Heyman.
WWE Old School
WWE Old School puts the spotlight on classic wrestling matches from years past. Highlights include the 1976 matchup of WWE Champion Bruno Sammartino vs. "Superstar" Billy Graham, Hulk Hogan's 1979 debut against Ted DiBiase at Madison Square Garden, and the 1991 match that featured "Rowdy" Roddy Piper vs. "The Nature Boy" Ric Flair.
True crime series on Peacock
Additionally, Peacock boasts one of the best collections of true crime content. Whether you're looking for new episodes of Dateline or the real story behind the infamous Dr. Death, NBC's streaming service has you covered.
Dateline (NBC)
Hosted by investigative journalists including Lester Holt and Keith Morrison, Dateline NBC features in-depth news stories and detailed reports on cases covering murders, missing people, and more. New episodes stream weekly.
Dr. Death: The Undoctored Story (Peacock)
Dr. Death: The Undoctored Story is an original docuseries exploring the true story of Dr. Christopher Duntsch, an ambitious neurosurgeon who left a number of patients in Texas maimed, paralyzed, or dead. Episode 1 is streaming for free, while episodes 2-4 are on Peacock's Premium tiers.
Epstein's Shadow: Ghislaine Maxwell (Peacock)
Epstein's Shadow: Ghislaine Maxwell takes an in-depth look at British socialite Ghislaine Maxwell, who was best known for her relationship with financier and serial sex offender Jeffrey Epstein. Episode 1 is streaming for free, while episodes 2 and 3 are on Peacock's Premium tiers.
Drama series on Peacock
Peacock also offers a variety of drama series. From classics like Heroes to buzzworthy new series like Law & Order: Organized Crime and Dan Brown's The Lost Symbol, here's some of the best drama series available now on Peacock.
Dan Brown's The Lost Symbol (Peacock)
An adaptation of the 2009 novel of the same name, Dan Brown's The Lost Symbol, stars Ashley Zukerman as a younger version of Harvard symbologist Robert Langdon and follows him as he attempts to solve a series of puzzles on a quest to save his mentor. Season 1 is streaming now.
Mr. Mercedes (Audience)
Based on the Bill Hodges novel trilogy by Stephen King, Mr. Mercedes stars Brendan Gleeson as a retired detective who sets out on a dangerous mission when a local serial killer begins tormenting him. Seasons 1 and 2 are streaming for free while Season 3 is only available on Peacock's Premium tiers.
One of Us is Lying (Peacock)
Based on the hit YA mystery novel by Karen M. McManus, One of Us Is Lying tries to explain what happened when five Bayview High School students walk into detention, but only four came out alive. Season 1 is streaming now.
Yellowstone (Paramount)
Yellowstone stars Kevin Costner as John Dutton, a sixth-generation homesteader and father who controls the largest contiguous ranch in the United States. Along with his adult children, Dutton must navigate the corruption, politics, and violence of operating the ranch. Catch up on Seasons 1 to 3 on Peacock before binging the new season.
Coming soon to Peacock
Whether you want to catch up on a new episode of your favorite show or are looking for a robust catalog of series that will make you both laugh and cry, Peacock has got you covered.
While many of the shows mentioned above are available to watch via Peacock's free tier, this may change at some point in the future. It's also worth noting that new episodes of current NBC series are only available to stream the next day for Premium and Premium Plus subscribers. So if you're only using the free tier, you'll have to wait seven days.
As far as future content is concerned, Peacock previously announced that it's already working on series reboots of Queer as Folk and Battlestar Galactica. Other original series coming soon to Peacock include the apocalyptic thriller Last Light and the new comedy series Killing It starring Craig Robinson.
With all of that in mind, it's the perfect time to sign up and see if Peacock's free tier or Premium plans are the better fit for you.
Sign up for Black Friday email alerts!
Get the hottest deals available in your inbox plus news, reviews, opinion, analysis and more from the Android Central team.
Keegan Prosser is a freelance contributor based in the PNW. When she's not writing about her favorite streaming apps and devices for Android Central, she's listening to a true-crime podcast, creating the perfect playlist for her next road trip, and trying to figure out which fitness tracker she should try next. You can follow her on Twitter @keeganprosser.