Best Accessories for the LG G7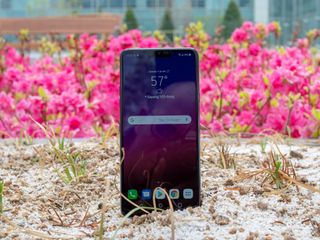 The G7 ThinQ is LG's latest flagship, and despite its ridiculous name it's shaping up to be one of the best Android phones of early 2018.
You can make a great phone even better with great accessories, and there are already quite a few to choose from for the G7! These are some of the best cases, battery packs, and general accessories we could find for the G7 ThinQ.
Spigen Liquid Crystal Case
With five colors to choose from, there's a good chance you'll want to show off the back of your G7 as much as possible. To preserve the clean aesthetic of your phone as much as possible while adding a bit of protection, a thin, clear case is the perfect solution.
Spigen has been making great cases for a wide range of phones for years, and its Liquid Crystal case for the G7 ThinQ is no exception. It protects the back and sides of the phone from drops or scratches, and features cutouts with plenty of room for the camera, fingerprint sensor, and various ports. Best of all, it's only $12! If the Liquid Crystal case isn't to your liking, though, don't worry — we've already rounded up plenty of other great options.
OtterBox Defender Case
If you're more concerned with drop protection than looks, and you don't mind a bit of added thickness (okay, it's more than a bit thicker), the OtterBox Defender might be more up your alley. OtterBox has been one of the biggest names in the case market for years, and for good reason — few other cases offer the same level of shock absorption.
The Defender series even includes a built-in screen protector, though bear in mind it's a plastic screen protector that sits above the display rather than adhering to it, which you may or may not appreciate. At $49.95, it's a little pricey though, so if you can go without the screen protector, the thinner Symmetry series might be a better fit.
OtterBox Alpha Glass Screen Protector
While OtterBox's reputation is mostly built around its cases, the company also makes some of the best tempered glass screen protectors money can buy. The Alpha Glass screen protector keeps your G7's display scratch-free, and should absorb the damage from any serious drops.
For $39.95, though, the Alpha Glass is pretty expensive compared to other screen protectors. There are plenty of cheaper options that should still protect your screen from most damage.
Anker PowerCore II 10000 Portable Charger
The G7 ThinQ may have a 3500mAh battery, but even that may not be enough for some people. If you find yourself burning through your battery faster than you'd like, a portable battery pack is a great way to stay up and running all day. Anker is always a great option for power-related accessories, and the PowerCore II 10000 is perfect for the G7.
While Anker makes bigger battery packs, the PowerCore II 10000 is small enough to fit in any bag or even a pocket, and offers quick top-ups through Anker's PowerIQ 2.0 technology. It's quick to recharge as well; if you have a USB-C cable handy (and if you're using it with the G7, you definitely do), you can top up the PowerCore II 10000 in just four hours. $31.99 for all of that isn't too bad of a deal.
Samsung Fast Charge Wireless Charging Convertible Stand
A frustrating number of recent flagship phones have shifted to glass backs, but excluded the convenience of wireless charging that helps justify the more fragile material. Thankfully, the G7 ThinQ isn't one of them, and charges just fine on a wireless charging pad. While there are plenty to choose from, our favorite remains Samsung's Fast Charge Wireless Charging Convertible Stand.
While the name is a mouthful, the pad itself it simple to use. You can lay it flat or prop up the base, then simply place your G7 on the stand to instantly begin charging. Wireless charging still isn't quite as fast as charging through a cable, but Samsung's unit is still quick enough for most purposes, and it places less wear on your phone's USB-C port. Samsung's wireless charger used to cost as much as $90, but these days you can pick it up for just $46.
Samsung EVO 128GB MicroSD Card
For most people, the G7's built-in 64GB of onboard storage should be plenty, but if you're the type who likes to fill your phone with media, a microSD card could be useful. LG is one of the few remaining brands to support microSD expansion, after all, so you might as well take advantage of it!
MicroSD cards are a dime a dozen these days, but one of the best options for most people is the Samsung EVO. Rated at UHS Class U3, it's one of the fastest cards around, making it perfect if you plan on shooting a lot of 4K video. At $40 for the 128GBGB card, it's reasonably priced as well, but if you need even more storage, SanDisk's 200GB card is a much more affordable option than stepping up to Samsung's 256GB card.
Ultimate Ears BOOM 2 Bluetooth Speaker
LG put a lot of focus on its new Boombox feature of the G7 ThinQ, which utilizes the phone's inner chambering to project much louder audio than you might expect, particularly when you lay it down on a flat surface. That's still not always ideal, though, and if you're hosting a party you'll probably still want louder, clearer audio. That's where a Bluetooth speaker comes in.
Logitech's UE Boom series has been extremely popular in recent years, thanks to its relatively small design and loud output. The UE Boom 2 comes in a wide variety of colors, and sounds fantastic — it's even water resistant, so you don't need to worry too much if someone accidentally spills a drink on it. You can liven up your parties with a UE Boom 2 for around $114.
What accessories look good to you?
Why you can trust Android Central Our expert reviewers spend hours testing and comparing products and services so you can choose the best for you. Find out more about how we test.
Are you picking up any of these accessories for your G7 ThinQ? Or do you have something else in your sights? Let us know in the comments below!
Get the Android Central Newsletter
Instant access to breaking news, the hottest reviews, great deals and helpful tips.
Hayato was a product reviewer and video editor for Android Central.