Is this the beginning of the end for Google Play Music?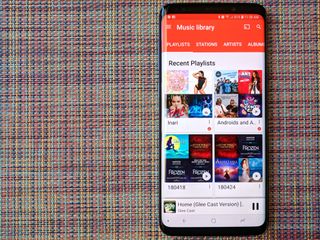 (Image credit: Android Central)
What you need to know
Google has removed the ability to gift Play Music subscriptions with the latest version of the app for Android.
You can still gift a Google Play Music subscription using the web version or an older version of the Android app.
Google has already confirmed that it plans to eventually replace Play Music with YouTube Music.
Earlier this year, Google issued a notice saying that it eventually plans to replace Google Play Music with YouTube Music. Shortly after the notice was issued, Google announced the shutdown of Play Music's Artist Hub. The folks over at 9To5Google have now discovered that Google has quietly removed the ability to gift a Play Music subscription from the latest version of the App for Android devices.
Previous versions of Google Play Music included a "Send Gift" option under General in Music Settings, allowing users to gift one-, three-, or six-month subscriptions to friends or family. The latest Play Music version 8.21 for Android, which was released earlier this week, removes this option completely.
You can still gift a Play Music subscription if you have an older version of the app installed on your device. The gifting option is also available on the Play Music web app.
However, Google's support page on sending Play gifts by email states Play Music subscriptions can no longer be purchased as gifts. The message on the Google support page seems to suggest the ability may not be available for much longer.
Since Play Music is expected to be replaced with YouTube Music in the near future, it is likely that Google may add the ability to gift a subscription in the near future to its newer music streaming service.
YouTube Music
YouTube Music, which is currently available in 62 countries around the world, is a video-centric music streaming service. While you can use it for free, a Premium subscription lets you download your favorite music for listening offline and have your music play in the background even when you turn off the screen or use other apps.
Lame. It might not have been a mass market hit, but Google Play Music has been a perfect fit for my needs; I'll be sorry to see it go. Not sure what I'd replace it with, honestly.

I am in the middle of my free trial with apple music, so far so good

I recently gave YTM a "test drive" for a month. It's decent, but it's "radio" algorithm needs work. I like Stevie Wonder, and I like Green Day, but not in the same playlist! I expect that as Google transitions to YTM full-time, it's features and capabilities will expand.

You should try Retro Music Player. It's absolute perfection! I purchased the pro version after only minutes of trying out the app.

Amazon or Apple. Honestly I don't want my music service on YouTube, for obvious reasons. Same with Movies and TV. Guess it's time to delete my music locker and move on.

I love this app and would miss it. It would be in less reason to be loyal to Android.

They kill the app I'll go to Spotify, I don't like a music app focused on videos.

Master Google knows what's best for you lol

You can tell it to play songs only

I agree I really don't like YouTube music

This is how I feel I don't want to have to play a video for my music. But that YouTube premium is sooo tempting to keep .I don't want to have to have more than one service for music

You can straight up turn the videos off in YouTube Music. Just album covers like any other music app.

Still think zune pass was the best one on the market but moved a few years ago to Google music which seemed the best but now on Spotify after play music started to have bits removed and not a fan of YouTube music at the moment

Zune destroyed everything in terms of music... Hardware, software, and service. It couldn't get by the Apple consumer road block of ****** bags that never used it and just kept telling people it sucked when in fact it was superior to every last thing out there.

Zune was the coolest thing then

They better figure out a way to merge your library and playlists from Google Play Music to YouTube Music. Also none of the other streaming services allow you to upload your own music. I have a ton of music not available on streaming services.

"They better figure out a way to merge your library and playlists from Google Play Music to YouTube Music" This exactly. I'm not fussed too much if they kill GPM for YTM provided I can move my playlists over. If Google don't/can't do this then they can stick YTM where the sun doesn't shine.
I will be so pissed if I lose my playlists I have spent months compiling on GPM.

Google... Sh** or get off the pot, with the migration of GPM to YTM.

I vote for get off the pot.

Welp. I guess as a former iPhone user it's good I still have everything in my iCloud library w personal songs and playlists that you can't even find on YouTube. Google why you do this? I am confusion.

I want to be able to download a song directly to my phone's music player without adding some exclusive only player.

So do I need to ramp up my Play Music downloading yet?

YouTube Music is a steaming pile, and still low quality. I can't listen to music on iPhones because of quality either. Guess that leaves Qobuz for the high end stuff, and Amazon music for songs I can't get on Qobuz.

I hope they put auto download option in Google Podcasts before dropping GPM.

I'm torn on this. Youtube Music is a garbage app. I go back to it every couple of months to try to see if it has improved, and it hasn't. My prolbme is that I subscribe to youtube premium, and I don't want to drop that subscription because I do get a ton of value out of the youtube part of youtube premium. But then I don't want to have to add spotify for another $10/month just for music. Basically, I need google to make youtube music not suck, or I'm going to have a very difficult decision to make.

I've always hated Google Music. I tried it numerous times and it always had issues when I paid to use it. Songs would randomly skip for no reason, plus various other annoying hiccups. I finally gave up and I'm 100% all in with Spotify Family plan and love it.

"Basically, I need google to make youtube music not suck"
I'm with you on that!

I have YTM mainly for the ad free YT and my own downloaded music. I don't really listen to a lot of music like I used too, mainly podcast these days.

Don't kill Google Play Music until you have fixed the bugs in YouTube Music.

Meh, I don't really miss Google Music since I haven't used it. I downloaded the free YouTube Music app and it's not bad at all. It will definitely see a helluva lot more use than Google Music (which I deleted, well uninstalled from my phone). Plus once I logged in to YouTube music all artist channel subscriptions are there, all my favourite artists, my playlists etc. Straight from the main YouTube app. Didn't have to do anything else. I'll see how bad it gets with the adds. Already noticed that I'm getting the YouTube premium advert in my Notifications bar...which could get annoying... Probably Google Movies will be next...
Android Central Newsletter
Thank you for signing up to Android Central. You will receive a verification email shortly.
There was a problem. Please refresh the page and try again.