Barnes & Noble Nook Touch review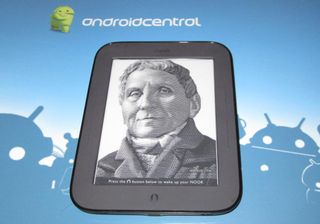 The all-new Nook (aka the Nook Touch) is Barnes & Noble's follow-up to its successful e-reader of the same name, which for months served as the Kindle's primary competitor. Barnes & Noble also has the Nook Color, an intriguing e-reader/tablet hybrid running Android that is universally accepted as one of the most affordable tablets on the market. The newly released Nook Touch should be seen as a competitor to the original Nook, not the Nook Color because it is designed to perform one function well: to serve as an e-reader. It runs Android, but will you get a full Android tablet experience on it? Read on to find out.
The hardware
One of the differences you will notice immediately with the new Nook Touch is how small it is, particularly when compared to the original Nook or to the Kindle. The original Kindle and Nook boast 7-inch screens and have long been considered to be ideal for holding in one hand. I would question that notion after testing the new Nook Touch. The screen size is 6 inches diagonally, but the Nook Touch is smaller, thinner and much lighter. It is lighter because Barnes & Noble decided to get rid of everything but the screen and implement a touchscreen interface with e-ink technology (more on that later). Other hardware features include the forward/back buttons on the front of the device as well as the Nook button, which is used to wake it from sleep mode and access the five main options. There is a micro-USB port to charge the device and an SD card slot.
Software
One of the most important aspects of the new Nook is its combination of e-ink technology with a touchscreen interface. This is made possible by an infrared sensor rather than a capacitive touchscreen. I was anticipating having issues with it, such as unresponsiveness and inconsistency. However, I have been very pleased with it thus far. It has been very responsive and has provided a very smooth experience.
The Nook Touch, like its predecessor, also runs Android. It boasts Android 2.1 Eclair, though you might not even notice because of the customization Barnes & Noble has implemented. Barnes & Noble wants a device that excels at e-reading first and foremost and the Nook Touch certainly does that. However, because it does run Android, it is very capable of being hacked and already has been by the Android community. For example, Angry Birds was ported to it, though it is admittedly going to run slow due to the slower processor and black and white e-ink screen.
When you're navigating around your Nook Touch, there is a main menu that can always be accessed by pressing the Nook button on the bottom front of the device. This will give you five options:
Home: The Home screen provides shortcuts to commonly used services. It will show you what book you are currently reading, other books in your library and recommendations from Barnes & Noble
Library: The Library button gives you an overview of everything currently in your library, both downloaded to your device and in the Cloud
Shop: Shop brings you to the Barnes & Noble store, where you can purchase content
Search: Search allows you to search both your device and the Barnes & Noble Shop for titles
Settings: Gives you the opportunity to customize your Nook Touch. One of the options allows you to change which buttons are the forward/back buttons
E-Reader performance and content
As an e-reader, the Nook Touch excels because Barnes & Noble chose to focus on doing one thing really well: function as an e-reader. The Nook Color, while a fantastic device, is not the best e-reader, in my opinion, because it tries to do too many other things. As an affordable tablet, it is tough to beat, but as a dedicated e-reader it underperforms in my view. The Nook Touch is light, has very impressive battery life, works incredibly well in sunlight and has a touchscreen. All of these factors create an extremely pleasurable user experience.
Content for the Nook Touch can be bought from the Barnes & Noble Nook Store, which boasts more than 2 million eBook titles. In addition, the device supports the following file types: ePub, PDF, JPG, PNG, GIF and BMP. Much of the content on Google Books is in the open ePub format, so you will be able to transfer that content to the Nook Touch seamlessly. Finally, the Nook Touch also has an impressive feature that some of its competitors lack: the ability to borrow books from the public library. The library books are available nationwide and users will have to register with their public library to take advantage of this feature. Once they register, they can borrow books for free, again in the ePub format.
Social
In addition to being a dedicated e-reader, Barnes & Noble has tried to add some social features to improve the experience. While it is a valiant effort, I have had a rather clunky experience with these features, particularly when trying to add contacts. The entire premise of the social effort is to share books or recommendations with social networks such as Facebook and Twitter. I added my Google Contacts but never felt compelled to share from the Nook Touch. If I enjoy a book on the Touch, I am more likely to share it on Google+ or Twitter from a different device because it is much easier to do with a full Android tablet experience. I want my e-reader to do one thing and one thing well: to allow me to read books well for a long period of time.
Hacking
One of the reasons the Nook Color gained popularity throughout the Android community was because it was so easy to hack. The Nook Touch has already been rooted and was even spotted running Angry Birds. Now the experience on a device with a slower processor and a black and white e-ink screen is going to be much different than a dedicated tablet, but we appreciate the effort nonetheless.
U-Boot root hacks Angry Birds onto Nook Touch
Root instructions for Nook Touch
A Quick Comparison:
| | | | | | |
| --- | --- | --- | --- | --- | --- |
| Nook Touch | Nook Color | Amazon Kindle WiFi | Amazon Kindle 3G | Barnes and Noble Nook WiFi | Barnes and Noble Nook 3G |
| 6-inch e-ink infrared touchscreen | 7-inch color touchscreen | 6-inch e-ink screen with physical keyboard | 6-inch e-ink screen with physical keyboard | 6-inch e-ink screen | 6-inch e-ink screen |
| $139 | $249 | $139 | $189 | $119 | $169 |
| 7.48 ounces | 15.8 ounces | 8.5 ounces | 8.7 ounces | 11.6 ounces | 12.1 ounces |
How does it compare to its biggest competition and previous iterations? I know that there are other e-readers out there, but I am going to compare it to Amazon's Kindle because it and the Nook are winning the market at the moment. The Nook Touch is the smallest, thinnest and lightest reader to hit shelves thus far. The Amazon Kindle WiFi 6-inch is set at the same price point but is larger than the Nook Touch because of its physical keyboard. Amazon's two Kindle versions can also be bought for $114 for the Wifi-only and $164 for the 3G if you don't mind ad-supported devices. The Nook Color, also a Barnes & Noble product, is the best selling e-reader, but is also a different form factor. It boasts a 7-inch color touchscreen and offers a more tablet-like experience than the rest of the competition. It performs as not only an e-reader, but as a portable, hackable Android tablet. The biggest question to ask yourself then, if you are deciding between the Nook Color and the Nook Touch is: how important is e-ink? Some folks can read perfectly well for hours on an LCD screen while others prefer the more paper-like e-ink.
The wrap up
After using the Nook Touch from Barnes & Noble, I would highly recommend it to someone looking for a device that is asked to do one thing well: perform as an e-reader. The compactness and price point of $139 are very compelling. Like the similarly priced Kindle, it only has WiFi, so download the content that you want before you take off for a place without WiFi. If you are looking for a lightweight, portable and effective e-reader, I would definitely consider the Nook Touch. Please find more photos after the break.
If you're interested in purchasing a Nook Touch, they can be bought from Barnes & Noble for $139 (opens in new tab)
Nice Review. When my first generation Nook 3g dies (which it shows no sign of doing), this is the device I will buy to replace it. Not having to use physical buttons for turning pages is just one less thing to go wrong. Have to jump in and recommend Calibre to any one who has a library of ebooks and just about any ereader device. (Free for windows, linux and mac). It makes it so easy manage and sideload all ebooks purchased from other than Barnes and Noble, as well as convert them from format to format. This is important because B&N dropped PDB format, so you may want to convert your old library to epub. Oh, and Squaretrade folks. Way cheaper than the extended warranty B&N offers.

It has physical buttons for turning pages!

But you don't have to use them. The entire screen is active, and you can swipe forward or backward to turn pages.

I assume you know you don't have to use the physical buttons on the nook original either... just swipe the lcd screen. I do both on mine and am glad to see the new nook has physical buttons as well as the ability to swipe.

I bought a Kindle 3 a couple days ago, and plan on getting a Nook Touch today to compare them
I think in the end, I will choose to keep the Nook, simply because the size. An e-reader doesn't need a keyboard, IMO.

Absolutely fantastic ereader. Form factor, interface, price, it's all great.

First of all, thank you for reviewing this for what it is - an ereader. As an owner of a Kindle2 I have to say this is an awesome looking device. If I did not own a K2 I would jump all over this - if anyone has tried a color tablet outside they will agree e-ink is the only way to experience reading outdoor. Even though I am a Kindle homer I hope this does well as it should given the specs and the incredible price point.

I bought the new Nook for my daughter's birthday. The main factors that sold us was that it's compatible with e-books checked out from the library and supports the ePub format. I'm really impressed with it. The device is very well made. The touchscreen interface works well and is much more intuitive than Kindle's button based navigation. For those that still prefer to flip pages via buttons, those are still provided. This is good design choice. Too often, product designers take an either/or approach. One thing the review didn't mention is though the Kindle and Nook use the same e-ink screen, the new Nook uses a caching mechanism that reduces the flashing effect on page turns so associated with e-readers. This addresses one of the caveats that had prevented me from considering e-readers in the past as I waited for the e-ink technology to improve.

I will most likely be getting my wife the nook touch for her birthday but the one thing I wonder about is if there are any official (or good quality 3rd party) reading lights that clip onto the nook? When traveling with young children we often have to turn the hotel lights off early. With a phone and a TF101 I'm set, but my wife needs a light for her books. Is there any light on the market that clips onto the nook "elegantly" and does a good job of lighting the whole screen? -Suntan

B&N sells a clip-on book light that is made specifically for the new Nook. I took at look at it when I purchased the reader but opted against it as we have other existing book lights that we can use.

I have the original Nook and it's been great. The smaller form factor of this and the new Kobo make it a worthy replacement. Lately my wife's been using the Nook a lot more so I may get one of these for myself. I'm actually leaning more towards the Kobo, though.

What I'd really like to see is if someone can hack the web browser to work better with the e-ink screen and perhaps get a 'page down' key going, considering that scrolling doesn't seem to be the best. If this could be an e-ink tablet that could really let you read news on the Web instead of just subscription-based content, I think they'd have themselves a hit.

I Really like this device... but I'm LOCKED IN to Amazon... I think Amazon has more content
Android Central Newsletter
Get the best of Android Central in in your inbox, every day!
Thank you for signing up to Android Central. You will receive a verification email shortly.
There was a problem. Please refresh the page and try again.