AT&T LG Optimus G Jelly Bean update is official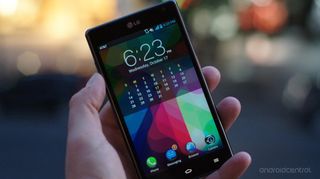 The over-the-air update started hitting devices a day ago, but today it's official -- AT&T's LG Optimus G has its Jelly Bean upgrade. AT&T PR has confirmed the update to Android 4.1.2 Jelly Bean, bringing improvements such as "Project Butter" performance enhancements and Google Now predictive search.
The update also enables the ISIS Mobile Wallet -- an NFC-based Google Wallet competitor currently in testing in Salt Lake City. Utah and Austin, Texas.
To grab the update, turn on Wifi and head to Settings > General > About phone > Software Update > Update. Once you're updated, hit the comments and let us know how you're getting on with the newer version of Android.
Source: AT&T
Alex is global Executive Editor for Android Central, and is usually found in the UK. He has been blogging since before it was called that, and currently most of his time is spent leading video for AC, which involves pointing a camera at phones and speaking words at a microphone. He would just love to hear your thoughts at alex@androidcentral.com, or on the social things at @alexdobie.
I got my update yesterday, and I haven't run into any major glitches so far! I really like it, it definitely looks smoother. I think that's more of a change of the animations slightly than anything else, it doesn't really open apps faster. Scrolling from screen to screen is faster. My only complaints are that it deleted one of my folders, Google Chrome stopped working until I did an update, and I had to restart the phone a couple of times before things starting working at 100%. Battery life seems to be slightly improved. With ICS, my drain was about 5% per hour while on standby/WiFi. Now it's more like 3.6%/hour with a mix of standby and active web browsing.

Just got my update this morning. My OG feels a bit sluggish, compared to when it was running ICS. Apps open a bit slowly. It used to be a smooth phone. Not any more. I am going to factory reset and see if it fixes the lagginess.

hi I leave outside of US , so i dont use a AT&T sim card , i use one from a carrier of my country on my LG optimus G , is anyway that i can updated with ODIN or somthing else cuz i really want Jellybean on my Optimus G.

It went smoothly for me and everything appears to be faster plus longer battery life. So far loving it!

Mine won't update. I just tried on my of, and it says its up to date on 4.0.4 wth

I just did an update but it still says 4.0.4
Android Central Newsletter
Get the best of Android Central in in your inbox, every day!
Thank you for signing up to Android Central. You will receive a verification email shortly.
There was a problem. Please refresh the page and try again.