Asus Zenwatch landing in the U.S. November 9th for $199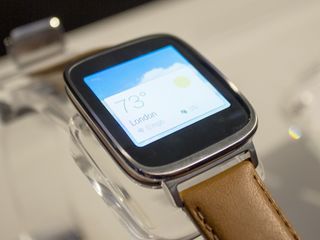 As we continue on the rounds of new Android Wear devices this year, the Asus Zenwatch will be the next in line for a U.S. release. In just two days — on November 9th — the Zenwatch will go on sale at Best Buy for $199 before landing in Google Play at a later date.
The Asus Zenwatch is one that has been anticipated by many for its more stylish hardware than other current Android devices. We first heard of it back at Google I/O before seeing it live at IFA in Berlin. If you haven't yet seen it in action, be sure to check out our full hands-on here.
As a refresher, the Android Wear powered Zenwatch is sporting a 1.63-inch AMOLED display at 320x320 resolution, along with 512MB of RAM and 4GB of onboard storage.
Will you be picking up a Zenwatch? Hit up the comments and let us know!
Source: TechCrunch
By day, Adam is a writer for multiple Future Publishing brands with over fifteen years of experience. He's expertly researched and written hundreds of articles ranging from mobile phones to mobile homes to baby mobiles. By night, he's a gadget geek, avid disc golfer, 80s nerd, cord cutter, cook, husband, dad, and memory collector.
If it heads to Amazon then yes. I want to see how a metal band looks as well. Posted via the Android Central App

Gift card? Posted via the Android Central App

Well let's just say I have over a hundred and fifty dollars in Amazon gift cards lol Posted via the Android Central App

Lucky duck! That's awesome! Posted via the Android Central App

I sell back college books Posted via the Android Central App

Do they offer you half of what you paid or less like gamestop does with games? Posted via Android Central App

It depends on demand. Wait until the new semesters begin when people need them and they go up in value. Posted via the Android Central App

Do you perk? Lol Posted via Android Central App

Interesting looking device. I'm more of a fan of round watch faces but if this runs better than the Moto 360, maybe I'll bite. Any word on that Android Wear Lollipop update? Posted via the Android Central App

Been wondering about this myself. It seemed especially odd since they just pushed out the GPS/offline music update.

Don't think this has GPS.

I think your hands on link is linked to the wrong article This watch looks fantastic... I may definitely bite on this if it has some good looking watche faces available. The LG GwR is too expensive as far as I'm concerned, and a bit too big. This looks nice and thin and very stylish. Also, of course, need to see how battery life and performance are with this watch. I'll definitely be waiting on reviews before making a purchase Posted via the Android Central App

Wasn't this supposed to be $99-149 dollars? That's why everyone was so geeked. At $200, I'd rather wait for a sale and get a metal Moto360 for a little more.

Yeah, what happened to that?

They were never specific enough that you could say they're going back on their word, I think the most specific statement was it'd be under $200... Voila, $199. I think a lot of people did expect it to be cheaper, myself included. ASUS doesn't have quite the retail presence of the other OEM (let alone the PR budget)... Then again, LG priced/sized itself out of contention for many and even the 360 is $50 more. I'm happy with the 360, but if I didn't have it I'd probably hold out for a sale on this. I'd really like to see a $99 Wear watch that tosses all style considerations aside and is built just to be an exercise watch... Cause there's no way I'm using a fancy watch with a metal links band or a leather band for running five miles come rain or shine, but I also don't wanna wear a silicon strap on a daily basis.

Smart watches everywhere this month for the holiday Posted via the Android Central App

Here's the correct link for the hands-on: http://www.androidcentral.com/hands-asus-zenwatch At the originally expected price of $99~$149, I would have really considered this. At $199, not so much.

I will wait for Black Friday Sales!

Ah man I've been waiting on news on this watch forever. Can't believe it's finally releasing in two days. I'll have to go check it out in stores. The watch is very sexy with that tan band. It's either this or the 360 but I've been leaning more towards this one. Posted via the Android Central App

I was in the same boat but with the lack of news about this watch I finally caved and bought the 360. I'm happy enough with the 360 but I think, reviews pending, I would have preferred the ZenWatch. Too late for me though.

I just ordered the 360 with the metal band yesterday. Arrives next Friday. It's the charging that made the decision for me. None of these stupid unique connectors with conductive metals getting exposed to sweat and the elements, it should all be Qi on smart watches!

With only 500 watches in Stock. Posted via the Android Central App

I really like this one, it'll be tough deciding between this and the 360!

For 200$ that's actually cheap IMO I gotta see the reviews first and see it in person but its much better than gear live that around the same price Posted via the Android Central App

I'll consider picking it up after it goes on sale for below $150.00. Posted via the Android Central App

Yeah I am with you on that one. Posted by my soon to be retired Note 3

Well, I'm still going watchless. $200 is too much for me to spend on a smartwatch. The Zenwatch was rumored to be sub-150, but apparently that never happened. SOMEONE bring out a watch that's below $150 and I will gladly consider it.

I will check this one out since Sprint tells me that the Gear S requires me to get a plan. I can not take my Slim Card out of my Note 4 and use it in the Gear S. Bull $hit...you not getting another penny for 2 years service when I got my phone! Posted via the Android Central App

That's because the SIM card in your note 4 is a uicc card, and is only used for LTE services. CDMA/3G still uses the phone's esn.

Actually looks very nice, and $199 is a fair price. Were people really expecting it to be $99? That's pretty crazy, a metal Casio g-shock costs that much.

I was expecting 150 since the CEO apparently confirmed that it was under 200. Posted via the Android Central App

I'm buying this Sunday. Posted via the Android Central App

I'll be saving up for this. Hopefully a black Friday sale might bring the price down. As long as the battery life is decent I'm on board. Posted via the Android Central App

When will I be able to buy android wear watch for $100? Posted via Android Central App on 1+1

Last week? $69.99 to be exact. http://slickdeals.net/share/android_app/t/7308930 Posted via the Android Central App

Omh YES YES YES Posted via the Android Central App

don't forget to pick up a mover's pack at the post office for 10% off

Did you guys do a comparison between the Moto 360 and Zenwatch? I'm a watch guy and can see myself having more than one AW watch. The ZenWatch at $199 looks like a definite add for me.

If the CEO said it was gonna be under $200 he just didn't say how much under 200$ so its still under 200$ by a dollar lol a lot tech sites said it will be around the 150$ area but I'm sure after looking at the market they figured 199$ should be good price range. I got a Casio g watch GBA 400 that hooks up Bluetooth to playback music controls and that was 200$ but I sold it for 190$ because I barely use it and trying to decide on getting the 360, LG R watch or this the Zenwatch but wanna see what fossil and Intel have coming with android wear Posted via the Android Central App

Unfortunately...not attractive to me. And I really would like a 2nd, casual option.

If it has good battery life, then I might get one.

50.00 maybe, i might get one Posted via Android Central App

New?? You can barely get a timex for that!

This watch looks nice, but I won't consider an android wear watch unless it has gps. Posted via Android Central App

Nice looking design, can't wait to see a full review by the folks here at AC, then may buy based on their review.

It's a nice design but unless you're using a black background watchface, the bezel becomes really noticeable and looks less like a typical watch. I've personally got my order in for the LG G Watch R and i'm hoping they'll release the bezel accessories like shown on these versions (http://www.amazon.com/gp/product/B00OPWDUNS/ref=as_li_qf_sp_asin_il_tl?i...)

Definitely picking this up on Sunday. It's a nice watch for work and I'll wear my 360 on the weekend. For 200 dollars it's a fair price. Posted via Android Central App

Called two best buy stores and they don't seem to think they are getting it. Currently it's not in their system or on their website. What gives?? Doesn't seem to be releasing at best buy today. I call and nobody seems to know what the hell I'm talking about. Posted via the Android Central App

Likewise. (One saleswoman actually Googled it and said "Launches in Best Buy November 9th - oh! Yeah, we haven't heard anything about it, and it's not in our inventory system, but it does look cute - I want one!") The original TechCrunch article must just be wrong, as there does not seem to be any info available about this that wasn't sourced from that original article. Posted via Android Central App

I called a third store and after spelling it out for him three times he finally got a manager to check and then comes back on the phone and asks "what size did you want?" ... I dumbfoundedly responded "it's a watch, it's adjustable... are you sure we're talking about the same thing??" He says "yes, the new android wear SmartWatch... it just launched today so they probably don't know anything about it. We have it in stock." So... in conclusion... forget calling the store and just go in because, as per usual, the associates at best buy don't know their heads from their asses. Dumbest sales reps I ever deal with, aside from maybe Radioshack associates. It's embarrassing how little they know about their products sometimes. Posted via the Android Central App

Can I ask what metro area you are located in and if you actually got it?

I'm in New Jersey. Considered central Jersey, I suppose. No I didn't get it yet. The stores closer to me are saying they don't have it. The store that said they did have it is 45 mins away. I work in that area so I'm just going to wait until tomorrow to pay them a visit. I'll still stop by the best buy near me when I head out later, just for kicks... I doubt they have it though. I called twice just to make sure. Can you tell I really want this watch? Lol! Posted via the Android Central App

Thanks for the update. Hopefully it'll at least show up on the Best Buy web site some time before next weekend so I can pick it up then without having to call around first.

Called the best buy in san diego no one has it. Thinking about getting this as a daily driver and rocking the 360 on the weekend. Now I'm concerned about the no gps thing!

Went to the local (jersey city) BestBuy and they dont have it. NYC also empty, but the BB inventory system shows it priced at $229 and not $199. Did anyone actually pay $199? Posted via Android Central App

Are you sure about this date? It's the 9th and no ZenWatch on bestbuy.com and I went to two Best Buy stores today and no watches at either store. Employees at both stores also had no idea when the watch will arrive.

Nothing in Bethlehem, PA. Going to check in Livingston, NJ tomorrow by work. Posted via the Android Central App

just saw the official product page went up at bestbuy.com but says coming soon and price $229. called and check 4 different best buy stores in the Charleston sc no one had a clue. this has to be one of the biggest fails as a product release i have seen. but at least there is some official recognition that it does exist now by best buy.

Yep... not only is it late, it's $30 more than advertised... What a disappointment so far. Posted via the Android Central App

So did that store you contacted yesterday actually have it? Posted via Android Central App

Nope. That kid didn't have a clue what he was talking about, he made it obvious... so just to get off the phone with me he said "yea we have it, come on down..." They don't give a shit... I guess why should they, for a measly $10 an hour. That and they're mostly high school kids who are secretly giving you the middle finger while they "help" you... no surprise there. Posted via the Android Central App

I actually wrote a letter to the Asus PR people listed in their announcement on their web site. I pointed out that not only is it not on bb.com, stores have no idea what anyone is talking about and gave them a link to this article so they can see all these comments. Also note, I just looked on bb.com again (http://www.androidcentral.com/ext?link=http2F%2Fclick.linksynergy.co...) and the page is now show stating "This item is no longer available". What a cluster f of a release.

I wish AC would update this freaking post, just to show people they're aware of this situation, and actually give a shit... just sayin. Posted via the Android Central App

#zenwatch on twitter is the best place to see what everyone is saying. But none of the websites that made the announcement has updated. wondering too when we will start getting official news.

Ahhh good call, I didn't think of Twitter. Yeah I'm dying for some official news! Posted via the Android Central App

A couple of hours ago, I was able to put this in my bestbuy.com cart, and they even offered expedited shipping with arrival dates this week. It also said I could order the watch and pick it up in 3-5 days at several stores near me. Now it's all changed. Not available for shipping or in-store pickup. It's an ever-changing landscape.... Think I will ignore this device until I can see one in person.

Yea I saw that too... don't wanna chance it. I'll wait for it to actually arrive in the store. I don't trust best buy or Asus at this point. Posted via the Android Central App

Someone on wearable posted they work for bb and that stores will have it Friday.
Asus website still has it at 199.00 Posted via the Android Central App

Hope that's correct! But I'm not holding my breath on that one... thanks for the update!! That'd be awesome! Posted via the Android Central App

Best buy website changed it to $199 as well .. now we gotta see if the people who took the plunge and ordered it during the brief time it was available yesterday at $229 get refunded that $30... what an ordeal this is turning out to be. Posted via the Android Central App

Agreed Posted via the Android Central App

A very small number of these are now in stock near me. Ordered one by phone - waiting for me at the store. Wish me luck!

Got mine on Friday. The strap is outrageously uncomfortable on my wrist. The rigid metal clasp that sits underneath leather strap sits more against the side of my wrist than on the underside. The largest setting is not big enough for me, either. I'm going to try buying a different band. As far as functionality goes, Android Wear seems to be pretty cool when I do wear the watch. My biggest gripe is that I cannot dictate a long message or text - it is sent as soon as I stop my first sentence. It's also pretty frustrating that I cannot edit any of the often-incorrect voice recognition. Also, when I walk away from my phone and the watch disconnects, it never seems to reconnect automatically when I am back in range. If I go into the Android Wear app on my phone, where I see a "Connecting..." message, then I manually disconnect/connect, it connects quickly. If I leave my phone at my desk while I answer the door, let out the dog, or grab something from the kitchen, I don't want to have to open an app on my phone and reconnect just to get it working again. Will try to update this after I get a different band and wear it daily. Posted via Android Central App
Android Central Newsletter
Get the best of Android Central in in your inbox, every day!
Thank you for signing up to Android Central. You will receive a verification email shortly.
There was a problem. Please refresh the page and try again.