Ashley Madison for Android: A bad app for doing bad things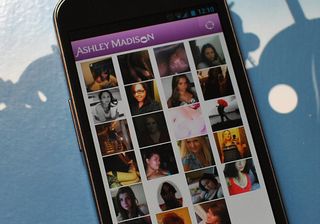 It's tough to listen to satellite radio these days without hearing an advertisement for Ashley Madison, an online community that boasts having more than 12 million anonymous members looking for some degree of companionship. The difference between Ashley Madison and other dating sites is it openly caters to people looking to have discreet affairs.
I'm happily married, and having an affair with someone online isn't exactly on my agenda anytime soon, much to the relief of my wife and kids. But I also can't escape those damn commercials. And since Ashley Madison has an Android application, I figured it was in my professional duty to check it out. A few thoughts, after the break.
So a few thoughts on the Ashley Madison app, in no apparent order:
Damn, it must be lonely out there. I was never good at dating. Not sure things is going to make things easier on anyone.
Signing up was easy. Just give a little basic biographical info. Why, yes, I'm 6-foot-4, 250, and work out like there's no tomorrow. OK, I'm not. And, no, you don't get a picture. What kind of a boy do you think I am? Please respect my discretionary requirements. OR whatever.
Sure. I'd like to see women who live nearby. Wow. That's a lot for this town. Do I know any of them? Don't think so. That's a good sign. Let's see one up close.
Dunno about you, but I hope I look half that good when I'm 46. I'm sure the other specs are legit though. Who'd fudge those?
Ah. I can search for women age 66 and up. Good to know.
Ahhhhhh. So there's the rub, so to speak. Up until now, everything's been free. But you can buy "credits" so that you can actually contact people on the Ashley Madison service. Until now, it's been look, don't talk. $50 for 100 credits, or up to 1000 credits for $250.
But here's the real kicker: Say you want to delete your account: That'll be $19.99, please and thank you. That's right. Ashley Madison will "hide" your profile for free. But to actually delete the thing? That's going to cost you money. Ridiculous.
Anyhoo, there's a married guy's brief look at the Ashley Madison Android app. If it exists, we'll review it. That's our motto. At least in this case. Now to figure out how to file an expense report for that $19.99.
Sign up for Black Friday email alerts!
Get the hottest deals available in your inbox plus news, reviews, opinion, analysis and more from the Android Central team.