Are you happy with the Galaxy S9+?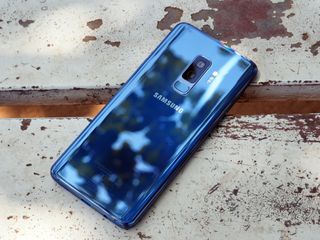 This year, Samsung introduced more changes than ever between the Galaxy S9 and S9+. Although both phones share a lot of similarities, only the S9+ has dual rear cameras, 6GB of RAM, and a larger 3,500 mAh battery.
A lot of people in the Android Central forums have been switching over to the larger Galaxy S9+, and they're doing so in favor of the Note 8, iPhone X, and a lot of other high-end devices.
We decided to check in to see how happy (or not) our S9+ owners are, and these are a few of the responses.
Now, we'd love to hear from you – If you've got the Galaxy S9+, are you happy with the phone?
Android Central Newsletter
Get instant access to breaking news, the hottest reviews, great deals and helpful tips
Joe Maring was a Senior Editor for Android Central between 2017 and 2021. You can reach him on Twitter at @JoeMaring1.
I'm loving the S9+ so far.
So glad I waited for the next iteration of the S8.
It's kind of like when then S6 wasn't fully baked and they came out with the S7 the next year.

I picked up a Qualcomm-variant dual SIM (SM-G9650) and came from a S7 edge dual SIM and every aspect of the phone is superior, EXCEPT all-around camera performance. The selfie camera on the S9+ is definitely better, but the rear camera has yet to impress me. I was really questioning whether I got a unit with a defective camera, but some shots are giving me hope and I'm keeping the S9+ in the hope that a near-future update will reduce my camera-related concerns. Other than that, no regrets.

Came from note 8. Really liking the s9+ so far. Ar emoji is fun. All just holding me over until note 9 though.

Battery life is pretty mediocre for me but I love the phone overall. Still excited for the Note 9 though.

I'm a heavy user and frequent phone switcher. Prior to picking up the S9+ i currently had in rotation a Moto Z2 Force, a LG V20, and a Huawei Mate 9. I would use each for a week or two, then move the sim to the next so I wouldn't get bored. After 2 weeks with the S9+, my Huawei Mate 9 is up for sale on eBay. I'm going to give either the Moto Z2 Force or the LG V20 to my son, and then sell the other one as well. I have pretty much zero complaints about my S9+

I have 3 jumps remaining at TMobile this year but I still can't bring myself to give up my Note 8 for the S9+. I just feel like the Note 8 is still the better overall device.

Same here I returned it today. Hard to justify a jump for the same phone. Munus the S-Pen.

I'm just curious... Who do you have to justify your purchase to?

jus·ti·fy ˈjəstəˌfī/ verb 1. show or prove to be right or reasonable. "the person appointed has fully justified our confidence" synonyms:give grounds for, give reasons for, give a justification for, explain, give an explanation for, account for;

Sometimes people justify things to themself, to make sure they are doing the right thing...

I upgraded 3 phones in 4 months was very had to justify to myself.

Isn't it every month and not 3?

Returned it. After using it and my Pixel XL2 it was obvious which one to keep. Plus the S9+ camera couldn't quite keep up. When you have simple shots washing out that was it.

Love the S9+ only need a little better battery standby time performance. Disabled bixby button immediately. Came back from S8+ after the trade in fiasco last summer, to Honor 6x to LG V30, and the S9+ is clearly superior to all ..camera low light performance is amazing.

Don't own an S9 or S9+ and nor do I have any plans to either, the Pixel 2 XL is my number one choice as I've always been a pure Android and Google fanboy, that's not to say that the S9 and S9+ aren't great phones, they are (Samsung has nailed it in there beautiful designs and displays) but Samsung doesn't offer me what I want, a clean UI, a consistently fast, smooth experience or consistent monthly security patches and quick updates and only the Pixel 2 XL has what I want and stock Android works for me, I don't really need to disable anything, and no carriers to get in the way ot duplicate apps that are inferior to Google's own apps or features that are mostly gimmicks that I won't use and I'll have the best camera IMO with the Pixel 2 XL. But I respect those who choose the S9 and S9+.

Who are you trying to convince yourself or us

If you care about security you should be on iOS. I mean, you're already in love with the Google iPhone, may as well get the real McCoy.

If you care about faux security you mean? ios is in no way more secure.

I'm sorry but how many people on iOS had the floodgates to their personal data opened by Facebook? Oh thats right.

I don't want an iPhone, been there, done that,I want Android because I want control over my device, freedom flexibility, customisation and openness andt I like my Android clean, smooth and bloatware free I don't need duplicate apps of superior Google ones or features that are nothing more than novelties, and not really useful, which only the Pixel offers me what I'm looking for. And stop calling the Pixel the Google iPhone, it's not, it's still an Android phone, you can still do everything every other Android phone can do, I don't care for expandable storage as 128GB is more than enough and pair that will unlimited storage for photos and videos makes the Pixel the complete package that has what it needs which is all the core features and doesn't need anything else IMO.

I am so impressed by your visionary analysis of a phone you don't even own or even thinking of owning. No doubt the XL2 is a good, most here know that. Stop trolling. Secondly, I went and played with the S9+ today and really liked it, Samsung's promo was over and the trade in offer for my S8+ was laughable. If in the future, and it has in the past, Best Buy puts the S9+ on sale, and get a decent trade in, or resell it for a better price. I will get it.

I may not own a Pixel 2 XL yet but I've long since decided it's the phone for me, when my financial situation is sorted I'm not trolling, I'm stating my opinion, now Samsung's software may be fine for you but it's not for me, I like my Android experience clean and clutter free like my current Chinese phone (Leagoo M9) I'm using.

Coming from the S8+ I am amazed how much faster everything opens and runs. When the reviews said about a 20 percent increase in speed I think it's more like 30 percent. My favorite feature is the Dolby tuned stereo speakers, they blow away all the competition especially the pixel!

Probably the extra RAM also. I switched from a S8 to a note 8 and everything is just quicker and smoother.

I truly believe I would've been happy with the S9+ but I decided to wait a little while and I gotta say I'm glad I did. After what I just saw from Huawei yesterday I'm pretty much sold on the P20 Pro. The biggest hurdle is how I can go about getting the phone since it's not officially supported in the US and band compatibility and all that extra stuff. If all else fails I'll probably get the S9+ as it still offers the least amount of compromises versus any phone on the market right now.

Not to me, the Pixel 2 XL is the best Android experience, with only the core features and not any mostly useless features err gimmicks that I know I won't ever use and all the perks of fast and timely updates plus on time security patches to go with that clean and smooth experience, I don't need wireless charging, SD card slot as 128GB is more than enough along with unlimited Google storage for photos and videos which I know that the S9 also offers but it's the Pixel 2 XL that offers me what I'm looking for.

We understand that the pixel is best for you.
We are just waiting for you to realize it.

Like that one security patch that lets Facebook harvest your contact data and call logs!? That's my favorite feature of the Google Branded Pixel Phone from Google featuring Google Assistant on the Google Phone called Pixel a phone from Google... Stop being a pretender Bruh, just get the X and enjoy the deluxe stainless steel and glass, respect for your privacy, software update support for LONGER than your Google Shiggy Digg phone and keep it movin'.

The Facebook fiasco is to do with Android phones from 2015 running lollipop, which didn't give a choice but to give apps all access to your phone which Google fixed with Marshmallow (Android 6.0) and it isn't the case now with a Pixel. I'd Pick Pixel all day long over the inferior, overpriced, locked down and restrictive iPhone X (I hate that notch) that Apple will slow down after a year with it's "update" which will be full of glitces bugs, good with that iSheep.

P20 Pro does look great, to as of recent news, they're not going to sell it in the US, because I too would have considered it. Hopefully it will change. And really don't want to spend that much for an warrantied phone. I also understand others feel different on that.

Had the S9+ for about a week. Decided to return it for the S9. It was just too big for me. I have large hands and thought I wouldn't mind the bigger screen but it was just too much work to use and it felt heavy in my pocket. Happy with the size of the S9.

I just got the Note 8 in November, not ready for a new phone just four months later. Let's be real, in 2018, do people really try to convince others to get one phone over another? The hotness will always be around the corner. If you're still rocking a Note 4 or iPhone 6, man, that's your choice and God bless you for making it. We all love phones and tech, no reason to come at each other over personal preferences. Stay blessed.

I left a comment .... not sure what happened to it. None-the-less, I JUMP'ed from the iPhone 8 to the s9+ a week ago and couldn't be happier. The s9+ is a beautifully built piece of kit and if not for the slipperiness of it without a case, I would leave it naked (so to speak). The screen is the best I've seen yet on a smartphone... period! Even with a case and glass screen protector it feels good in-hand and is just the right size. My wife's iPhone 7s Plus seems rather bulky in comparison... even she likes the feel of the s9+ better. This past weekend was our daughter's prom... a perfect opportunity to put the camera through its paces. The day was sunny and we were under a pavilion next to a lake for the prom picture event. The pictures I took were stunning to say the least. In all honesty I have never gotten pictures from any phone that look like this. I had other parents sporting high end Nikon and Canon DSLRs coming up and asking to see the pictures I had taken. They were stunned that a smartphone camera could take such high quality pictures. The parents of my daughters date asked if I could send them the pictures I took as they were not able to get anything that compared with their iPhones. To be fair, I believe they had iPhone 6's and not 8's or X's. So their cameras were a generation or two behind. None-the-less, the s9+ far exceeded my expectations. Am I happy with the change... you bet I am! On the software side, I really don't care one way or the other about Touch Wiz. It doesn't bother me and certainly doesn't slow the phone down that I can tell. This phone is faster and smoother than the iPhone 8 I came from. In a word... Samsung really got this one right.

Good overview. Glad you're enjoying the device!

I dont miss the S pen. I didnt use it that much. I really like the S9 +.

I love my s9+. I had the s8. Big improvement so much better. Love this phone.

been testing an s9+. My u11 generally takes better pictures. About 8 out of 10. Battery life is basically identical. But the u11 is a year old and has a smaller battery. And the thing is hard to hold onto, the metal frame sticks out. The curved screen is pointless and only leads to phantom touches, and huge glares. It's also ridiculously narrow and tall. Can't wait to be back on the u11 full time.

I went from s8 to s9+ . I felt the standard s9 was too similar. So far s9+ has been great.

Having used the s9+ for nearly two weeks now, I cam confirm that it's the most complete phone I've ever owned.
Android Central Newsletter
Get instant access to breaking news, the hottest reviews, great deals and helpful tips
Thank you for signing up to Android Central. You will receive a verification email shortly.
There was a problem. Please refresh the page and try again.