App in the Air soars onto Android as your perfect airport companion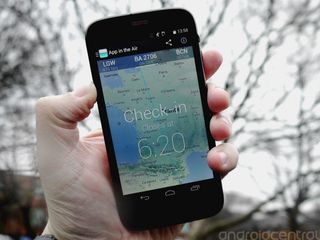 One of my absolute favorite travel apps for iOS is called App in the Air. As you may guess from the title, it's a flight tracking app. We've no shortage of those in the world, but this one caught my eye immediately because of its eye catching design. Now, whenever I fly, it's the number one app I use until the plane takes off. And now, the developers have brought it to Android.
Make no mistake though; this isn't some lazy port. The developers, have designed each version with its respective platform in mind. The Android app is clearly an Android app, and the iOS app is clearly an iOS app. I've been playing around with the Android version for a few weeks now, and it's every bit as good as I hoped it would be. Let's take a closer look.
The main user interface is very simple. You're presented with three tabs, each of which overlays onto a Google Maps representation of the data. Using the screenshots above for a flight between London and Barcelona as an example; we have a tab for London Gatwick airport, the specific flight, and for Barcelona airport.
Swiping left or right to one of the airport tabs first up zooms the background map view to the airport location on the map. It also tells you what time and time zone it is there, and at the bottom flashes up an airport tip. This is one of the nice features about App in the Air; the social aspect. Users are able to upload tips and tricks for making life as pleasant as possible at the airport. Tap on the on-screen tip to open up a whole list of them, with thumbs up/thumbs down rating system in effect to help you pick out the better recommendations.
The middle tab is the one you'll probably be paying most attention to while you're at the airport. This is the one that keeps you updated with the specifics of the plane you're boarding. Scrolling up or down through the list gives you times that check-in closes, when boarding closes and up to date information about take off and landing times. As details change the app will update the information for you. For example, when heading out to CES it notified me that the plane would actually be taking off 10 minutes after I expected. It's not 100% accurate, but then, it also relies on data outside of its control. But in three long haul trips with the iOS version, it's been plenty accurate enough.
So, that's what you see in regards to your flights, but what about adding them? Well, there are two methods for this. The first is manually with your airline and flight number, or you can do it via TripIt import. I use it connected to my TripIt account, so every time I have a flight booked somewhere, I don't have to touch anything to have the details populated in App in the Air. Swipe in from the left, and the slide out menu that appears will list and summarize all your upcoming flights. If you're not using TripIt, you can back up all your flight information to the cloud, but this requires Facebook login as authentication. Other methods are being explored by the developers for future inclusion, but Facebook authentication is how they went in the iOS app, so it's how it is here too. You can also use Facebook and Twitter login to share details of your globetrotting adventures with the world.
That's mostly it. It's a simple app that's designed extremely well and carries out its purpose equally as such. App in the Air is totally free to download and use, but monetizes through in-app purchases. Before you begin to groan uncontrollably, the purchases add extra functionality in the way of notifications, but they're by no means necessary to get satisfying use from the app. Push notifications are just that – and pro tip; if you've got a smartwatch that you can see these on it's a hellova combination at the busy terminal – and text messages can be sent to up to three different recipients. So you can keep the family informed just as much as you are.
A years subscription is $29.99, or you can do it for 1 month at $2.33 or for 5 flights at $3.99. It's a little cheaper than something like a TripIt Pro subscription, but then it's also not offering as much as TripIt Pro either. But if you fly a lot and just want to be notified, then it's worth taking a look at.
So there we have it. It's a fantastic travel app that I'm really pleased to see on Android. It's a huge part of my travel arsenal – thankfully now on whichever device I happen to travel with – so give it a try, and let me know what you think.
Get the Android Central Newsletter
Instant access to breaking news, the hottest reviews, great deals and helpful tips.