Anker Soundcore Boost Review: Big sound, sleek design, one flaw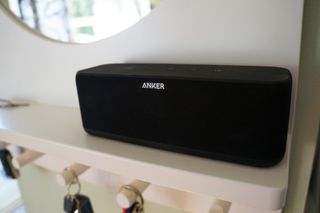 Anker's been known for its battery packs, but it may soon be equally respected for its Soundcore line of Bluetooth speakers. The Soundcore Boost was released for 2017 and features improved sound quality and deeper bass, along with a redesigned exterior that is both flashy and adds extra functionality.
At $80, it's twice as expensive as the reliable and rugged Soundcore 2, so what does that extra money get you? Much better sound quality and a great portable speaker for around the house.
Overall design
The Soundcore Boost continues the Anker tradition of monolithic Bluetooth speaker design — minimalist, sleek, and available exclusively in black. The Boost stands out from the other Soundcore speakers with a more refined look that's clearly aiming to find a home in your living room rather than your camping gear.
It's hard to ignore the curvaceous design of the wraparound speaker grille on this speaker — classic and clean with next to no speaker bezel if you will. On top, you have your usual assortment of controls with the addition of the "BassUp" button which kicks up the bass without distorting the music. The charging port and aux input are behind a rubber panel on the left along with a USB port for charging devices.
The other really convenient features built into the Boost is NFC compatibility. The NFC-sensor on the top is a smart addition that makes pairing phones painless and perfect for parties.
The Anker Soundcore 2 earned praise in my review for its rugged portability after testing it through a rainy camping trip. The Soundcore Boost works equally well as a portable speaker and features the same level of IPX5 water resistance, but the fancier wraparound speaker grille design makes it feel more suited for a bookshelf than a book bag.
Sound quality
The Soundcore Boost delivers some of the best I've heard from a portable Bluetooth speaker, but especially when well-placed within a room. I've found putting it at head height on a bookshelf or something similar delivers the best acoustics.
Of course, the main audio feature here is BassUp, which lets you boost the bass with the push of a button. It allows you to go louder with a deeper low-end that doesn't distort or buzz. It's a nice feature that's easy to use and quite noticeably improves the low end of music or spoken word without distorting the rest of the mix.
Part of the reason why I believe the Soundcore Boost is best as a stay-at-home speaker is that it does such a great job of filling a room with sound — at a reasonable volume but especially with BassUp activated. If I'm cleaning up the house and moving around between rooms, I'll place the Soundcore Boost in a central area of my house with BassUp on and it'll send my podcasts or playlists throughout the house reasonably. It's as loud as an Amazon Echo speaker but a little clear at the highest volume levels.
For me, the Soundcore Boost is a great companion speaker for keeping around the house. On a near daily basis, I'm using it paired to my laptop to watch videos or listen to a podcast in the shower, and it's always available for providing music at a party or around the bonfire.
Battery life
With the extra subwoofer and fancy features included in the Boost, you had to know there'd be a hit to the battery life. Whereas the Soundcore 2 boasted an incredible 24-hours of playtime, the Soundcore Boost claims a respectable but underwhelming 10 hours — and that number will also depend on your usage of BassUp or the USB port to charge your phone.
The lesser battery life is another reason why the Soundcore Boost makes more sense as a stay-at-home Bluetooth speaker. While I've reliably taken a Soundcore 2 speakers with me for a weekend camping trip without needing to recharge, I'm less confident taking the Boost. It's ironic, too, since it's the Boost offers the great feature to also let you charge your phone.
It's not a dealbreaker in and of itself, but coupled with the higher price point, it's a fair conclusion to sacrifice the audio upgrades and cool design for a speaker with a battery that just keeps chugging.
Should you buy it?
The Soundcore 2 was an easy recommendation to make for a $40 Bluetooth speaker, so the question you're left asking is whether the Soundcore Boost's enhanced sound quality and sleek new design are worth paying twice the price of its speaker siblings.
It will also ultimately come down to your specific needs for a Bluetooth speaker. If you're looking for a fun speaker to throw in your backpack and take with you everywhere, I would definitely lean towards recommending the Soundcore 2, but if you're looking for a more advanced portable speaker that's built perfectly for a dorm room or office or just something with a little more oomph to the bass the Soundcore Boost might be worth the extra investment.
Had Anker managed to deliver a 24-hour battery along with all the other features found in the Soundcore Boost, it would be an easy recommendation to make. But at $80, with great options available for significantly less it becomes a matter of your lifestyle and personal tastes.
Get the Android Central Newsletter
Instant access to breaking news, the hottest reviews, great deals and helpful tips.
Marc Lagace was an Apps and Games Editor at Android Central between 2016 and 2020. You can reach out to him on Twitter [@spacelagace.