Android Wear 2.0 is making its way to the LG G Watch R and Watch Urbane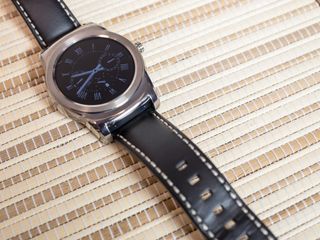 The LG G Watch R and first-generation LG Watch Urbane may seem like aging fuddy-duddy smartwatches to some, but they're still holding on. The three-year-old Android Wear smartwatches are slowly seeing the update for Android Wear 2.0.
Per Android Police, wearers of the G Watch R and Watch Urbane have confirmed the arrival of Android Wear 2.0 on their respective smartwatches. It's possible they're part of a "third wave" of updates, too, the first of which hit the Fossil Q Founder, Casio Smart Outdoor Watch, and TAG Heuer Connected, and the second of which began rolling out to other Fossil, Michael Kors, Nixon, and Polar watches.
A quick shout out to those sporting Motorola's second-generation Moto 360 or the original Huawei Watch. We figure you're likely hoping you're next in line for the update to Android Wear 2.0.
Florence Ion was formerly an editor and columnist at Android Central. She writes about Android-powered devices of all types and explores their usefulness in her everyday life. You can follow her on Twitter or watch her Tuesday nights on All About Android.
Have to check if my GWAR is receiving it. The thing has been turned off for quite a while as Android Wear, as it stood, was pretty useless to me. On the other hand, there hasn't been a single Android Wear watch that's pretty enough to justify me buying another one out of looks alone.

That sucks. Couldn't leave the house without my watch

Awesome! Unfortunately my charger is at work even though urbane is at 70%. There is an update there waiting for the charger though. :) 👍

Got it today for my LG Urbane, it slowed my watch's performance to a crawl. Also, updating the watch and all the apps really drained my battery. Excited to see how it does tomorrow on a normal day.

Just reset your watch like 3 or 4 times in a row......You need to clear the cache .... Once you do that.....smooth as butter

Yep, for the first hour after update, it was unusable. Also it's still pretty buggy. First impressions? I somehow like the new notifications, I really don't like app menu and especially missing swipe left gesture to open it. Probably it's time to try Asteroid OS again :).

Nothing is showing up on my GWAR though...

I got the update on my LG Urbane. it works great! I noticed a big improvement in battery. It's been off the charger since 4:30am and it's now 10:15 and I have 57% battery left. Usually by the end of day it would be almost dead.

Still rocking my"fuddy-duddy" Urbane. A newer one would be nice, but just can't justify giving up on this one. Maybe if 2.0 makes it slower for some reason.

Nothing for my Urbane. Hope to get the update soon.

What about the Urbane 2nd Edition LTE?

Got it today on my G Watch R... the first 30 minutes the watch was unusable and the battery went down really fast. I just left it on the table alone doing its stuff. After it became responsive again I rebooted it and now is working as fast as before with 50% battery lost in the update process. Some apps take much longer to start, maybe temporarily.
One thing I do like is the new interface, much better use of the round screen.

The spam here is getting out of control. Why can't they make it so it is easy to report it? Along with all the ads ac throws at you it's really getting out of handhand.

Same experience as most of you. Watch went into severe slowdown right after the update, but after a reboot, seems to be working fine now. Looking forward to seeing what battery life will be like, I was getting two days on MM.

Guess I have to dust off my GWR and see what the hoopla is all about. Nothing will make me go back to AW after using the Gear S3 Frontier but It would be nice to have something to tinker with.

I freaking love it so far. Smartwatch for a chef is great... 2.0 just made it better on the urbane. God bless you Google and LG!

Hope I get it soon. Still waiting for my LG Urbane. I have the Huawei too. Hope It's out soon for it.

I'm still waiting here, too. LG Urbane v1 here.

this is beyond a cluster ****..moto360 2nd gen still w a i t i n g ...

Was tired of waiting for Wear 2.0 on my Asus Zenwatch 2 so went out yesterday and bought a 2nd hand Urbane - got it home, put it on charge and hey presto, the update downloaded. A little buggy for the 1st hour or so and major battery drain with downloading existing and new apps on the watch's Play Store. This new update has breathed life into the o/s and an 'old' watch - sent a few messages from the swipe keyboard (it's of course tiny but works really well). The flow of the o/s feels so much better and professional - it no longer looks garish and like a cartoon. At last it rivals Apple and Samsung's Tizen watch o/s

Wow...I've had my watch over a year and I check update daily and still don't have it... :(

AW 2.0 for LGU2 coming at the beginning of May

2.0 just hit for my Urbane, 8083. Yay!
Android Central Newsletter
Thank you for signing up to Android Central. You will receive a verification email shortly.
There was a problem. Please refresh the page and try again.