Android Wallpaper Review: Captain America Live Wallpaper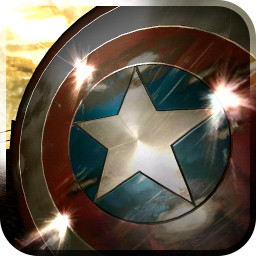 We've briefly mentioned this one before, but I thought it was so awesome, it deserved a full-blown review. It's the Captain America Live Wallpaper, and while it looks good on a phone, it looks even better on a tablet.
It's as straightforward as they come, with no settings menu to speak of. You either use it as your wallpaper or you don't. In stock Captain America fashion, the shield repels bullets that you can activate by touching the screen.
Once you've picked it as your wallpaper, you can change the angle of the shield by swiping around your screens. When you're on your home screen, it's perfectly centered. Swipe left and right and the angle changes appropriately. Simple, but awesome.
Performance is fine, with the Tegra-2 never missing a beat, so there's no screen lag whatsoever. To top it off, if you tap on the Captain America icon that'll be added to your home screen, a menu pops up that allows you to set the wallpaper and buy the Sentinel of Liberty game, and it has some rockin', heroic music.
It's a free install, so if you enjoy the comic books, the movie, or just feel like being really patriotic, get to the Market and start downloadin'.
More pictures and download links are after the break.
Android Central Newsletter
Get instant access to breaking news, the hottest reviews, great deals and helpful tips
Pretty cool. Would defiantly look better on a tablet vs. a phone.

just put it on my Samsung Infuse & TF (Asus Transformer). Even with the huge screen on the Infuse, you're right, looks better on a tablet.

If you tap the shield, bullets and sparks appear. it is a sweet wallpaper.

I actually got some lag on my transformer. It is something you can deal with but after i got another regular wallpaper it was a lot smoother

Same here. I installed it on my Galaxy Tab 7 and it brought swiping from screen to screen down to a crawl. It has been just fine using other live wallpapers, but this one was very laggy.

Now if they would just make one where Wolverine tears through the wallpaper all would be well.

I liked it. Had it on my Desire, but unfortunately, if you have a weather/clock widget, half the shield is covered. But on a tablet, it has to be awesome!

This is pretty awesome on my Galaxy 10.1. No lag at all.
Android Central Newsletter
Get instant access to breaking news, the hottest reviews, great deals and helpful tips
Thank you for signing up to Android Central. You will receive a verification email shortly.
There was a problem. Please refresh the page and try again.