Android Things Console developer preview is available for those who like to tinker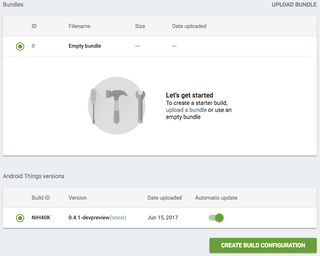 Ready to sync more things together in your house to make the next, best smart home? Android Things now offers a console for developers to more easily interact and tinker with all the devices operating on the Internet of Things (IoT) platform.
The Things console essentially gives developers more control over what's going with their connected Android Things-compatible devices. As explained in the official Android Developers blog:
The console offers a variety of features that let you individually control each of the IoT devices you might have running Android Things, including the ability to update the firmware. You can also use the console to configure Google Play Services on each connected gadget in your house or to create custom factory images and side-load APKs. Any devices you register through the console will also receive future software updates for Android Things, including the forthcoming Developer Preview 5.
There are links in the original post to a beautiful set of documentation, and Google encourages you to join its IoT Developers Community if you aren't already.
Get the Android Central Newsletter
Instant access to breaking news, the hottest reviews, great deals and helpful tips.
Florence Ion was formerly an editor and columnist at Android Central. She writes about Android-powered devices of all types and explores their usefulness in her everyday life. You can follow her on Twitter or watch her Tuesday nights on All About Android.