Android Quick App: Quickoffice Pro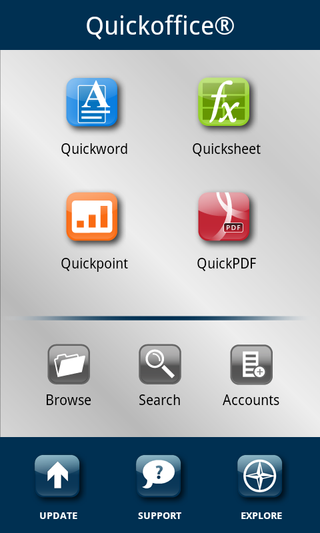 Using your phone to do everything is all the rage these days, be it sending emails, connecting on Facebook, or editing documents. There's a few popular options in the Market for this, but we'll start by taking a look at Quickoffice Pro.
Quickoffice Pro is one of the more widely known viewing and editing apps, largely in part because a free version of Quickoffice comes bundled on certain phones. As far as a document viewer goes, this app is great, but how does it stand as a full editor?
Before we delve into that, I've got to talk about the look. The interface is slick as oil, with a kind of glossy, iOS feel to it, but that's not a bad thing. It's polished and really refined, plus it's obvious where everything is located. Want to deal with PDFs? Fine, click the big PDF icon. It's this kind of simplicity combined with functionality I can really get behind.
Opening or editing files is a snap. If you know what kind of file it is, just click the associated menu button, and pick the appropriate location of the file. Is it on the microSD? There's an option for that. Is it hosted somewhere in the cloud, like Google Docs or Dropbox? Tap that menu and within seconds, your file will be loaded up and readying for viewing or editing, right on your mobile phone's screen.
Speaking of cloud services, Quickoffice Pro supports Box.net, Dropbox, Google Docs, and MobileMe from the get-go. To add one of these accounts, click on 'Accounts' and choose the appropriate option. You'll be prompted to enter your information, and once it's been verified, your cloud storage will appear as an option on every menu to pull files from. It's quick and easy, and it gives you more freedom about where you're storing your files. Quickoffice Pro also supports syncing with SugarSync, and if that's something you're interested in, your registration email will tell you all about it.
As far as the file editing capabilities go, I couldn't be more pleased. I tried on both a Word document and an Excel file, and with both, it was a breeze. Word documents are especially straightforward, just type and you're off. Excel can be a bit trickier, depending on how many cells you've got, but that being said, I could still navigate and type without problem in landscape and portrait alike. With Excel files, you've also got the option to format cells, numbering, alignment, and borders.
Something you'll notice almost right off the bat is that the menu button actually brings up dual menus on your document, so if there's one menu you're after, you might need to exercise a bit of double tap to get where you want to be, but that's such a small, split-second thing, it won't ever become a bother.
Overall, I think Quickoffice Pro is a great option for people who need to be able to access and edit documents wherever they are, no matter the time of day. It's clean interface, easy-to-navigate menus, and rich, full rendering of files makes this an easy app to navigate and take full advantage of. At $9.99, it's far from free, but still priced competitively when compared to the other options in the Market.
Download links as well as more pictures can be found after the break.
Sign up for Black Friday email alerts!
Get the hottest deals available in your inbox plus news, reviews, opinion, analysis and more from the Android Central team.