Android Quick App: OfficeSuite Pro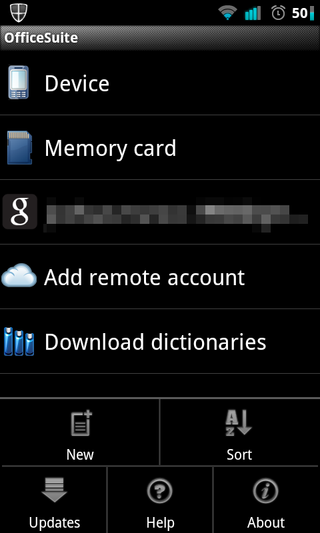 If you're not one for aesthetics or Apple-like gloss but still find yourself needing to edit documents from your Android device, OfficeSuite Pro might be the app for you.
OfficeSuite Pro tries to stand against the stalwarts of mobile document editing, Quickoffice Pro and DocumentsToGo, and while it offers the same basic abilities of editing and creating files, it otherwise borders on being so basic, you'll wonder why you settled on this instead of the aforementioned Goliaths of the Market.
As I've already mentioned, there are no bells and whistles on this baby. What you see is what you get, and that picture up top is your main menu. When I opened the app I thought, "Surely this isn't all of it?" Oh, but it is. It's plain, which might strike some folk's fancy, but a little bit cleaner UI wouldn't do any harm.
By default, you're presented with all the places you can pull files from. Internal storage, your SD card, or your Google Docs account are your three options. I know that it says "Add remote account" with a cute little cloud icon next to it, but your only option on that screen is to add a Google account, so if you're looking for SugarSync, Dropbox, Box.net, MobileMe, or any of the other options that might be out there, I suggest you look elsewhere.
Actually finding and opening files isn't terrible, but OfficeSuite Pro doesn't even organize your files by type, so when I went into my Google Docs list, it's got Word files bumping up against Excel files. For me, not having too many files, that's not a problem. If you're someone who does a fair bit of editing from your phone, though, you're probably going to want to keep your files separated, something this app does not.
Actually editing a file is fairly in line with it's competitors. Move your cursor to where you want to type in a Word file, choose your cell on an Excel file, type, profit. Fortunately, OfficeSuite Pro contains the requisite formatting options that we've come to expect across the board, so you won't be without those if you choose this as your editing route.
Honestly though, if you're looking to create or edit documents on your Android device, I'd go with either Quickoffice Pro or DocumentsToGo. For the same price ($14.99), DocsToGo at least gives you a more usable UI coupled with Dataviz's desktop syncing option. For five dollars less, you can get an equally stunning UI with Quickoffice Pro as well as Quickoffice's multiple cloud syncing options. If you like what you see, by all means, go the OfficeSuite Pro route, but for your money, I think there's better options available.
More pictures and download links are after the break.
Get the Android Central Newsletter
Instant access to breaking news, the hottest reviews, great deals and helpful tips.