Android Quick App: Juice Defender Ultimate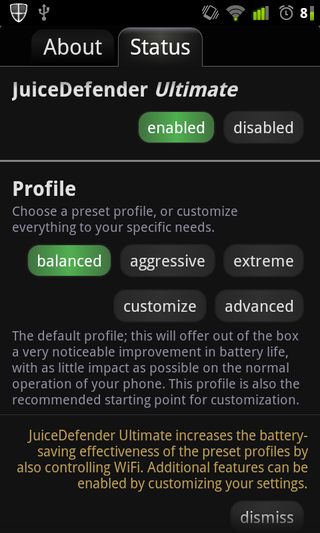 We've all been there: You played Angry Birds for too long or manually refreshed your Gmail inbox incessantly. Before you knew it, your battery was in the red. Unfortunately, this app won't help that, but for everyone else who uses their phone in moderate-to-heavy amounts without needing to always be on it, I'd suggest Juice Defender Ultimate.
Juice Defender Ultimate is actually a paid upgrade to Latedroid's free add-on, Juice Defender - battery saver. If you want the highest degree of control over your battery, though, you'll want to upgrade to the Ultimate (over 9000?) version.
Upgrading to Juice Defender Ultimate nets you a whole slew of new options, namely in the "customize" and "advanced" menus. It also comes with three fairly comprehensive presets, if you don't want to fiddle with all sorts of choices but still want your battery life to last all day.
I myself used mostly the balanced customizable profiles, and saw great dividends from both. The best part about any of the presets is that they're click-and-go. Regardless if you want balanced or aggressive, take your pick and the app handles the rest.
If you feel like getting a little bit wild, customizing your own plan is relatively simple as well. You gain another menu to poke around on, as well as some neat options for controlling various data networks. You can either grant or deny Juice Defender Ultimate permission to auto-disable 3G and Wifi, as well as enable a feature called "Location," where Juice Defender Ultimate learns where the networks are that you connect to, and enables Wifi whenever you're in range.
Perhaps my favorite feature, though, is the scheduling feature. With this choice, you can let the app periodically enable data connectivity so everything still has an opportunity so sync. The intervals range from five minutes to two hours, and even using the five minute one (which I used exclusively), I saw my battery life increase exponentially.
To anyone whose battery life leaves a bit to be desired, I'd recommend Juice Defender Ultimate wholeheartedly. It's a one-time fee of $7.13, but it definitely works. And hey, think about how much you're saving compared to an extended battery!
Pictures of my average battery use, more app screenshots, and download links are all after the break.
Get the Android Central Newsletter
Instant access to breaking news, the hottest reviews, great deals and helpful tips.