Android Quick App: EasyTether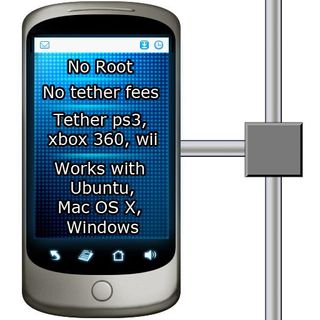 Like many of you out there, I believe in the Gospel of Root. The first thing I did when I picked up my EVO 4G was root it and stick CyanogenMod on it. My phone was fast, utterly Senseless, and if I needed it, available to tether in a pinch. Because of that, apps like EasyTether seemed like a waste.
Then I picked up an EVO 3D. Root went away, but I still had internet. No big deal. Then I moved and the internet wasn't going to get turned on for another day. I broke down, bought EasyTether, and wanted to see if it was worth it.
In short, it totally is, especially if you're not rooted and never plan on going that route. There's not a lot to say about EasyTether, except it just works.
From the get-go, Polyclef Software's app has you taken care of and walks you through the few (and simple) steps to get your phone tethered. The first time you launch the app, it'll ask you if you have the desktop component installed on your computer. Choose no and you're taken to a list of operating systems to select. You'll download the desktop installer straight to your phone.
From there, plug in your phone, install the program off of your SD card, and you're in business. Your computer will add another hardwired modem called EasyTether Network Adapter (if you're on Windows, at least), and you're all but one step away from a contract-free, rootless tether.
All you need to do is make sure your phone is in USB debugging mode and plug it into your computer while you're running the desktop client. Just don't forget to make sure you enable USB connections from the app's menu on your phone. From there, you can use your phone's 3G to surf the nets as your normally would.
But what if you have 4G, you ask? Oh, that works too. I actually found that out on accident (I put my phone on 4G so I could talk and surf at the same time) but it definitely jolted the speeds when EasyTether was connected and my phone's 4G was turned on. So that's definitely awesome.
Overall, I couldn't be more pleased with EasyTether, even if I'm not using it now that the internet has been installed. For a one-time fee of $9.99, I can have free internet anywhere I go, hassle free. I can see this being a boon for anyone, but especially if you travel frequently and don't root your phone, you'll probably save a load at airports and hotels. I know next time I go out, this is what I'll be using.
A few more pictures and download links are after the break.
Yes probably a n00b question but how is this "legit" with the carriers? I'm guessing you have to have a tethering plan but at that point why not use the built in hotspot?

I don't have a tethering plan with Sprint. As such, I used this app for wired USB tethering, which is the only option it gives you. No hotspot.

Yes so isn't that the same as Wireless Tether with the exception it is through USB? Still using tethering without paying the carrier the fee? I support that haha just seems weird it could be a paid app available on the market. Maybe I'm missing something though.

No. You aren't missing anything. Actually, Easy Tether Pro won't even appear on market for verizon customers anymore. As for it being 'legit', not in the least. But, there is nothing the carriers can do about it. Welcome to free enterprise.

On Sprint, it is not legit. Using any type of [unpaid] tethering breaks the terms of your service agreement. "Use at your own risk". Sprint could, at any time, be more forceful. It is also a no-no on Verizon, and they are more forceful already. Other issues with this arrangement: * Wired only, no wireless
* Doesn't work with the Xoom or probably other tablets for tethering. This is a huge negative for me now.
* As mentioned, it is "cheating"
* Only one machine can connect
* Requires a client binary (I believe) But positives: * At least with wired, it will be charging your phone from the bigger (supposedly laptop) battery
* Has Linux support
* No need to root (and void your warranty, and shut out of updates, etc)

@briantufo, Sprint requires that EVO 3D users purchase an additional monthly WiFi hotspot fee (i think it's around $20). The USB tethered option would eliminate that.

do you know if this will work with the xoom?

yeah, can i use it on my Thunderbolt to give internet to my Asus Transformer? -Tm

I have a galaxy 10.1, reading through the description, it would seem that Honeycomb is not a supported OS. Can someone confirm that.

It will not work with Android tablets

The hotspot on the regular EVO isnt free. This app wouldnt work for me since I need wireless tether to use it to tether my PS3

Yay, this is almost reason enough to get rid of Ubuntu. Thanks, now, let's see how long it takes for someone to release a cheaper, app.

You might just try plugging it into Ubuntu without this app.
You'd be amazed how many phones are seen as a network device (modem) with no software at all when you install a few of the proper linux drivers.

One such app is Klink, which is not only cheaper but can also be faster than ET. (One 4g case was reported publicly at http://forum.xda-developers.com/showthread.php?t=1153780)

This program works beautifully if you have one of the supported OSes. I personally use it for my Fedora 15 and Windows 7 computers and have no problems. I have also got many of my relatives to use this due to not requiring root access. I've used this program to HOST the internet from the following:
Samsung Epic 4G (Eclair, Froyo and Gingerbread)
Samsung Galaxy Tab on Sprint (Froyo & Gingerbread)
EVO 4G (Froyo & Gingerbread)
EVO 3D (Gingerbread)
Motorola Droid X (Froyo & Gingerbread)
Motorola Droid 2 (? OS Version)
T-Mobile G2 (? OS Version)

BTW, this is (or at least was a few days ago) $5 on the Amazon App Store.

It was, but doesn't look to be anymore. It shows it back @ $9.99 now.

I downloaded the lite version just 2 days ago to test it on my Evo Shift and immediatly paid the 10 bucks to have the full version. It is fully worth it! The speed is fast and it is hassle free; for those that don't want to bother with rooting or just can't right now this is a must have. You also don't have to pay the $10 if you just want to use the free version the difference is you can't access https urls and can't tether to game consoles.

I used this for about 9 months as my home internet connection with my Hero... Since I was only home during the evening, and weekends I figured paying for a wired connection was a waste. I racked up around 8GB one month, and Sprint never blinked an eye at me. Since then I have gone to a dedicated line from my cable company (and upgraded to the Evo 3D), but like mentioned... great app to have as a backup when you don't have free wifi for your laptop, and don't want to pay for the wifi hotspot feature... even a nice back-up for your home internet.

Love this app, especially since it works with Ubuntu!

But ....... who carries a laptop around with them anymore?? Tablet anyone?

Great, 3:10pm, EST and I according to the bar code, it's not found, and I can't find it by searching for it. DOes it matter that I'm on Verizon and DroidX?

yes Verizon blocks all tethering apps in the official market from Google

They can be seen by visiting the Marketplace via wi-fi instead of the regular 3G/4G mobile connection.

You can get it from the Amazon App market. I got it for $4.99 from there. I used it with my BB and on my Droid X from Verizon as well.

So I might not have to pay TMo the $15 per mo. hotspot fee?

This app doesn't work, cannot get it to install the desktop version, spend hours. found pdaNet, worked like a champ!

An article about shared internet connections and there were no speed tests done? Come on now. I expected better for front page material on AC. :(

The point of the article isn't about what kind of speeds I got tethering, it's about the fact you can, without root access.

Tablets are useless. My netbook and thunderbolt are aok I need.

Netbook.. LOL .. Ever used an Evo 4G wirelessly tethered with an iPad 2? Yeah, that's right. I said it. On AC. Deal with it.

Used EasyTether and PDANet on my Hero (RIP) when our cable went out for a day. Daughter needed to get her homework in for a class. EasyTether free worked quite well, while PDANet dropped connection all the time. Another great use for this app is if you have only one wired cable connection at home and that's being used and you cannot hook the home PC up (no wireless card). I have used ET from my Evo (which was set for WiFi) and blew through sites quite well until I got my wireless nic card.... Love the app...

Two quick comments: ditch the cable company's router/firewall/wifi just get a modem and use your own firewall. Second, a linksys 4 port switch costs 20-30 bucks. Glad it worked for you.

It's worth noting that if you have a limited data plan (ie: 2gb per month, etc.), free Internet is limited to however much bandwidth you have in your plan. And if you use the Internet like I do, you could potentially rack up some serious overages. But if you have unlimited data, this sounds like a tremendous option provided you have good signal where you need it.

I personally use WiFi Tether from here http://code.google.com/p/android-wifi-tether/ but you have to root, and the part I like is FREE!!!

That's the exact same app as this one already on the market. https://market.android.com/details?id=android.tether&feature=search_result

I use this app on my Droid X OTA stock Gingerbread (on sale for $5 from Amazon App market) and have used it on my BB as well. Good app. Jst wish they would create a bluetooth option like PDA-Net. IMO, that would be the only reason I would switch from ET to PDA.

Yes. Its true. PDAnet offers a Bluetooth option. But unless you are looking for 28K (Dial-Up Modem) type speeds. I would not recommend PDAnets' wireless Bluetooth option. EasyTethers' USB wired connection is by far the better choice... Much fewer dropped data connections and more reliable when streaming video. I have tried both. EasyTether pays for itself immediately! Well worth the price.

I downloaded easytether app through ammazon app store because google pulled them. however it works awesome

any AT&T people tried this yet? and more specifically on an Inspire4g? would love to have the tether access again now that im on android rather than ios, but want to check on this detail before dropping the $10 on it.
thanks

I generally don't recommend this app to my friends on ATT. No other reason than the data cap that is on your plans. But, if you have a work around on that (IE grandfathered in), then it will work fine.

Can I use the easytether with my EVO 3D to give my Galaxy Tab 10.1 (wifi only) 3g internet connection? If so, please explain how to set it up. As well, does easytether interfere with the normal working of the phone or void any warranty?

I'm not positive, but I don't think Honeycomb is a supported operating system to download the desktop client to.

I don't think so. It's not a wifi hotspot like I'm assuming you are thinking. It actually comes closer to turning your phone into a modem. I've never actually payed any attention to tablets, so I don't know if they have full USB ports (like the ones on your computer, as opposed to micro ports like on your phone end). But, even if they do, I doubt you could download the windows client and make it work on a tab. That would be the only way I could see to do it. As for it interfering with the normal working, it's just like any other time you use data. If you are on CDMA, you can't do data and voice at the same time. If you can on your phone's data plan as is, then you can with ET. No voiding of warranty either.

I've been using EasyTether for quite a while now and love it. I just upgraded to the Thunderbolt yesterday and EasyTether was the 2nd app I put on it (followed by Swype keyboard) and it works great. My access FLIES with 4G. This IS my internet access. One guy asked about how legit it is - my understanding is that as long as it's not an inordinate amount of usage then the carrier isn't concerned. My use of EasyTether and my laptop is really no different from what I would do on my cell phone, but just with a bigger screen and a real keyboard. I don't download anything much - the occasional song, some YouTube - nothing that most of us don't do directly on our phones anyway. Highly recommended!

You mentioned travelling. I'm a truck driver, so that is my life. I could pay 20 a month for wifi at each truck stop chain I break at, and still not have access if i break at a customer. I could pay the 30 a month for a tethering plan, or 60 a month for a mobile broadband. None of those would be as convenient or (in almost all cases) as fast as ETP has been for me. I'm actually using it now. But, a word of caution. If you are on a limited data plan (such as what Vzw just rolled into, or ATT), Don't. I routinely hit 6 gigs a month. I don't think your bill would be pretty. But, if you are on an unlimited, have at it. You won't go back.

ATT blocks this app in the market

I have a DroidX2 and EasyTether is outstanding, I was lucky enough to get it when it was on sale at amazon for 4.99, but it's still worth the 9.99 it currently is... One Question though....Does anyone know if it will still work with the new Gingerbread 2.3 update Verizon is pushing through this week? I guess that update is still optional, and I know Gingerbread is cool and all, but I don't want to lose this app if I update...
Android Central Newsletter
Get the best of Android Central in in your inbox, every day!
Thank you for signing up to Android Central. You will receive a verification email shortly.
There was a problem. Please refresh the page and try again.